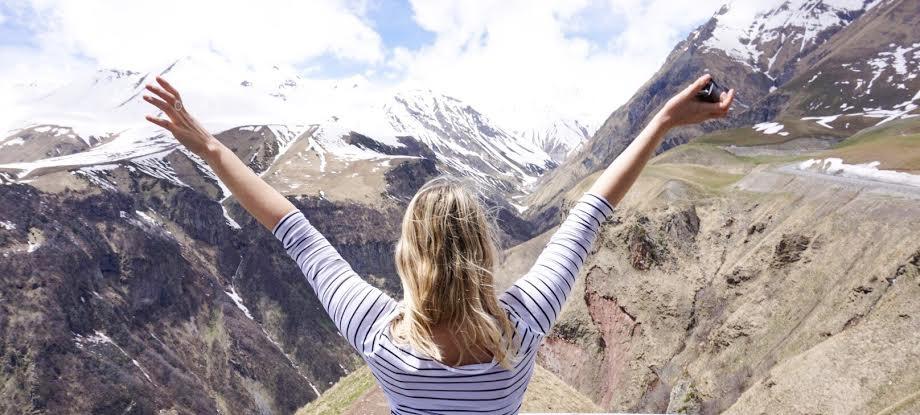 At 10:00am Goram, our driver, picked us up in Tbilisi and led us to his silver Honda in preparation for our day trip to the Kazbegi Mountains! I was pleased to see it was in good condition as the only other car we had been in whilst in Georgia was a beat up taxi from the airport with a major lack of suspension. Dad noticed though that his driving seat was on the right side of the car like our cars at home in the UK however in Georgia, like in the rest of Europe they drive on the right side of the road..
Either way it didn't seem to bother Goram as before we knew it we were heading up the highway, out of the city with Goram pointing out iconic buildings in his broken English.
A trip to Kazbegi had been on my Georgia bucket list from the moment Dad and I decided to go. I did look into staying a night or two there but as we were in Georgia for only 6 nights and didn't want to be moving from place to place constantly we decided to base ourselves in Tbilisi and then do a day trip to Kazbegi from Tbilisi and I certainly wasn't disappointed with our decision.
---
To see full details of what to do, where to eat and where to stay in Tbilisi check out my Full Guide to Tbilisi, Georgia!
If you're looking for a place to stay in Tbilisi, Fabrika Hostel is a great option Checking into: Fabrika Hostel- Tbilisi, Georgia
---
Booking onto an organised group tour in Georgia can be hard, there are plenty of places selling tours but if they don't have the right numbers then they won't run the tour or you'll have to pay the full price yourself that would normally be split between a bigger group. We made a last-minute decision to go to Kazbegi at 20:00 the night before so with only a private tour on offer that's what we did, but honestly, it was worth the extra money 100% as the car and journey were comfortable and enjoyable and it turned out to be my best day in Georgia!
---
If I were doing this trip again, I would pre-book one of the below tours in advance to save me spending time trying to find a company and paying more than I thought!
After we left the city behind us we soon started to see farm land surrounding both sides of the road and straight away I was happy that we had done the trip as it reminded me that there's so much more than just the capital city to Countries and it's good to see more of a Country by car. We were heading North to Kazbegi through Georgia just a few km from the Russian border and would be travelling up the Georgian Military Road which if followed would take us all the way to St Petersburg in Northern Russia (and probably even further).
The landscape was quickly changing, Dad pointed out a big mountain in the background and Goram simply laughed and told us that this was a tiny mountain compared to what we would see later in the day, our excitement was building!
Our first stop on the way to Kazbegi was the start of the Zhinvali Dam and Reservoir, it was just a quick pull-up-on-the-side-of-the-road stop but it was certainly very pretty. Although Dad and I were more distracted with the herd of sheep passing us a long the road with the shepherds, donkeys and dogs keeping all the sheep together. Dad said they were taking the sheep to higher grounds now Spring was here and this was another stark reminder of how traditional ways of farming and living were still in tact here.
We carried on driving along the edge of the Reservoir until we got to the Ananuri Fortress Complex, we parked up and headed straight to the church and to look out at the surrounding mountains. It was an iconic Georgian scene with the mountains, river, and cross on top of the fortress.
After some photo taking we headed back to the car via the market stalls that were in the car park, I was pleasantly surprised to not have locals shouting at us to look at and buy products, instead we were able to browse in peace.
A Full Guide to Tbilisi, Georgia!
---
Remember to get insurance before you go on your trip! It's something I know a lot of us forget or think isn't important but it is! If you still need to purchase travel insurance I'd recommend World Nomads. Firstly you can get insurance even if you're on your trip right now! Secondly they offer 24/7 emergency assistance, trip cancellation, protection of gear, and a lot more. Plus they're flexible and simple! Just what we need! Get a quote here!
---
From here we carried on North getting closer to Kazbegi and getting higher and higher. The scenery also got more incredible as we went. After about an hour we reached a really mountainous area and started passing some towns that in the winter are bustling Ski towns. We stopped for lunch at a petrol station with a deli area and of course I had to a cheese-y bread type thing as this is one of their local foods!
We jumped back into the car, really keen to reach Kazbegi and the mountains around us started to get more incredible with every corner we turned! Now and again we'd also see lone houses and churches up on the hill and I couldn't imagine living so isolated!
On the horizon we saw a crescent shaped concrete thing, I had no idea what it is was and quickly started taking pictures but luckily we had a stop here, so we pulled into the car park and jumped out. The first thing that hit me was how fresh the air was!! I couldn't believe it! I had a sudden flashback to being in South America in Peru or Bolivia and it must have been because of how high up we were with such fresh air as I haven't been that high above sea level since then!
We were surrounded by huge snow-capped mountains, there was a person para-gliding between the mountains and in front of us we still had what now looked like a crescent shaped viewing platform, so we headed up the road to check it out. At the time I had no idea what it was which was the only down side to not being on an actual tour with a guide. I did look it up later though and it is the Georgian & Soviet Russia Friendship Monument built in 1983.
I was even more surprised as we got closer to it as I realised it had been painted and was incredibly colourful. I had a sudden realisation that I had never seen a picture of this before…ever! And that doesn't normally happen to this social media addict and I felt very happy about it, like I had just discovered it! (although obviously a lot of people do know about it and I am sorry that I have just ruined the feeling for you as you now know about it!).
The view from up here was possibly even better than the view from where we had parked! A bit of research later on once I was back in Tbilisi told me that we were now overlooking Devils Valley of the Caucasus Mountains!
A Full Guide to Tbilisi, Georgia!
After getting a whole lot of photos we headed back to the car. I honestly felt high on life from seeing such a beautiful sight and breathing in such fresh air. It was one of them moments where you think, why don't I go into the mountains more than I do and vouch that the next trip will be a mountain trek or something! (back on lower ground I remember that I live in London and a mountain holiday isn't next on the agenda but one can hope!).
I was also very excited as this stop seemed like the grand finale however we were yet to even reach our actual destination of Kazbegi. We still had about a 40 minute drive from the monument to Stepantsminda which is the town below the Mt Kazbeg but also referred to as Kazbegi in a lot of accommodations location info.
Now, honestly I wasn't too sure what was going to happen next. I knew that the church I wanted to see, and that I assumed we were going to see, was high up on a mountain but I didn't know how high, how far and how steep! The lady who sold us the tour said it would take 30 minutes to walk to the top or advised that we could get a jeep by ourselves or share with other people who were at the bottom. So when we pulled into a car park after arriving in Stepantsminda and were ushered straight from the car into a 4×4 with another local driver and waved off by Goram it left both Dad and I feeling rather confused. Naturally we tried to put our seat belts on to be told, no they didn't work..
We started driving a long a narrow, windy road through what appeared to be a village and straight away we were on an incline up. We were also driving past a lot of people walking.. why aren't we walking I wondered??!! My Dad does have a bad knee which Goram must have picked up on and I just assumed that he assumed we wouldn't do the walk for some reason.
That reason became clearer however as we got further and further away from the car park and higher and higher up and passed more and more people and the road become bumpier and bumpier (literally the road was so bumpy!!) because I realised that it is one hell of a walk and that indeed, we were being taken right to the top.. which yes, I was pleased about, as was Dad.
Checking into: Fabrika Hostel- Tbilisi, Georgia
The journey was bizarre thats for sure, we were bumping around, I was trying to film and take pictures but quite frankly getting motion sickness looking through the lens, we often had a huge drop down one side of us with nothing but a bit of chicken wire between us and the drop and we were also catching up with some other vans and 4×4's which were in-front of us. If you drive like we did then you take a slightly different route towards the church than if you walk due to where the road goes and after a 15 minute or so drive we were entering a field with a church perched high on the top of another small hill.
This wasn't quite what I had been expecting, admittedly I hadn't researched the church or how to get there so I didn't have many prior, accurate expectations but this certainly wasn't it! We navigated one of the dirt tracks which led to a car park area before getting out extremely dazed and still quite confused at what had just happened in the last 15 minutes!
Dad also pointed out that the dirt tracks were a real sign of this place being ruined fast, winter had just gone so of course the field would be muddy but these tracks a long with the road we had just took are not going to last much longer with the amount of traffic that go a long them day in, day out and is now increasing as tourism in Georgia is increasing! (I wouldn't be surprised if a cable car is installed in the next few years to be honest.)
We quickly shook this off though and headed up the little hill to the church. This is the Gergeti Trinity Church. Basically this church is one of Georgia's icons, if you've seen a picture of a church in Georgia surrounded by mountains then it's likely to be this Church.
We had a look around and took in the incredible views and from here you can see down to the town of Stepantsminda which is actually bigger than I expected it to be. We didn't stay for too long as there isn't that much more to see. I did keep a look out for people who were crossing the field on foot and wondered how they'd actually found the walk. It seemed to be pretty intense and wondered if they had known that before starting off or not!
We were then back in our 4×4 for another bumpy journey back down to the town. We got out and of course I wasn't sure what the set up was in regards to payment, had we already paid for this in the main tour cost? Had we not?
As I expected it was extra so we paid the guy 80GL (£25.00), got back into Goram's car and were heading down the Georgian Military Road back to Tbilisi which took about 3 hours. Even though we had done the exact journey just a few hours before I still loved looking out the window at all the scenery as Georgia is one pretty Country!
Overall it was such a great trip! The stop at the friendship monument was by far the highlight of the trip for Dad and I, maybe because we didn't expect it and didn't expect such incredible views and fresh air or maybe because getting to Gergeti church was bit of an unexpected whirlwind.
The details:
We booked the trip to the Kazbegi Mountains at the below agency on Davit Aghmashenebeli Avenue (not far from Fabrika Hostel) once we were in Tbilisi. We paid 210 GL/ £67.00 for a private driver for the day. (however I think we could have got it for 200GL if we had bargained or looked around). There are also a huge amount of agencies selling tours to the Kazbegi Mountains on the other side of the river to where we booked this.
Personally I would recommend heading to Kote Abkhazi Street to check out all of the agencies and tours and prices on offer or book one of the below tours in advance, especially is it's low season and there are not enough people in Tbilisi to make up a group tour:
On top of this price was also the 4×4 as mentioned above and a tip so it was quite pricey but definitely worth it as it was a comfortable and stress free day and we certainly couldn't have gone all the way to Georgia and not gone!
---
Here are my other 3 blog posts from Georgia which will help you out:
A Full Guide to Tbilisi, Georgia!
Visiting the Thermal Bath's in Tbilisi & Which one to choose!
Checking into: Fabrika Hostel- Tbilisi, Georgia
---
Have I made you want to visit Tbilisi in Georgia?? I'm a total Skyscanner addict and find some great deals through their site. Why not look up some flights on Skyscanner now!?
To look on their app instead, click here!
I would recommend staying at Fabrika in Tbilisi which you can check availability and book on Booking.com here!
---
Remember to get insurance before you go on your trip! It's something I know a lot of us forget or think isn't important but it is! If you still need to purchase travel insurance I'd recommend World Nomads. Firstly you can get insurance even if you're on your trip right now! Secondly they offer 24/7 emergency assistance, trip cancellation, protection of gear, and a lot more. Plus they're flexible and simple! Just what we need! Get a quote here!
---
To SEE this trip check out my Vlog! Which shows you all of the amazing views (or at least most of them!) and just how bumpy that ride was!
**If you have any further questions on the trip then let me know in the comments or by tweeting me!**
SaveSave
SaveSave
SaveSave