This post may contain affiliate links. I will receive a small commission if you use these links.
---
Camden Town is a weird and wonderful part of London. Located North of Central London, just 1 stop away from Euston train station it's a right of way for tourists to visit and marvel at the crazy shop fronts, check out Camden Market for some yummy food and perhaps see the canal lock open up.

Whether you live in London or you are visiting London, here is my Camden travel blog and Camden Guide on how I recommend you spend the perfect day in Camden Town visiting Camden Town Market, and the surrounding area, whilst also trying to avoid the crowds!
Camden Town Guide
Find What You're Looking For Easily Here!
History of Camden Town in London
Camden is known as the more punky part of London. Punk exploded in Camden in July 1976 at the Roundhouse which is still a popular music venue in London today.
Prior to the 1970's Camden was an abandoned part of North London, home to a lot of drunks and disused rail good yards from 100 years previous and although it no way resembles how it used to be at all, from its pre-punk days or glory punk days, it is a lot more grungy than other parts of London and you can still feel it's punk effects, even if they are pretty commercialized these days. I loved this article on how Camden was found back before its punk days.
Camden isn't just for tourists though, plenty of Londoners head to Camden on the weekend to eat at the best food stalls at Camden Market, chill by the canal and have a few drinks in the many pubs and bars in Camden.
The Best Time to Visit Camden
You can go to Camden any time, any day, rain or shine but the best time to visit Camden Town is on a weekday, especially if you're not a fan of crowds.
If a weekend is all you have that's fine, there are more food stalls open on the weekend and you get more locals down there so it's a nice vibe, but be warned it does get a lot busier on the weekend.
The best time of day to get to Camden is 10:00-11:00 am because the markets in Camden Town are just opening but it's not yet too busy.
---
---
How To Get To Camden Town
Camden has its own tube station, it's on the Northern Line just above Euston Station. You can get there from either Northern Line tube line (the northern line splits a lot), there's also a station on the Overground Line called Camden Road which isn't directly in the centre of where you want to be in Camden but it's not far at all so if this station is easier for you then definitely go there.
If you're not in London already and need to book train tickets to London, be sure to check out The Train Line. I use them all the time to compare the best train times, journey lengths and prices!

Things To Do In Camden
Camden High Street
Camden High Street is the main road through Camden, so when you come out of the Camden tube station turn left onto Camden High Street. Here you'll find quite a few high street shops but once you've gone down the road a bit you'll soon come across the shops with the cool shop fronts so make sure you keep looking up.
There are a lot of shops selling selfie sticks, phone cases and London memorabilia, however in the midst of these shops there's also some vintage stores, tattoo shops and punk clothing stores, and you'll soon start to see the grungier side to Camden that it's known for which I told you about earlier in this Camden Town Guide.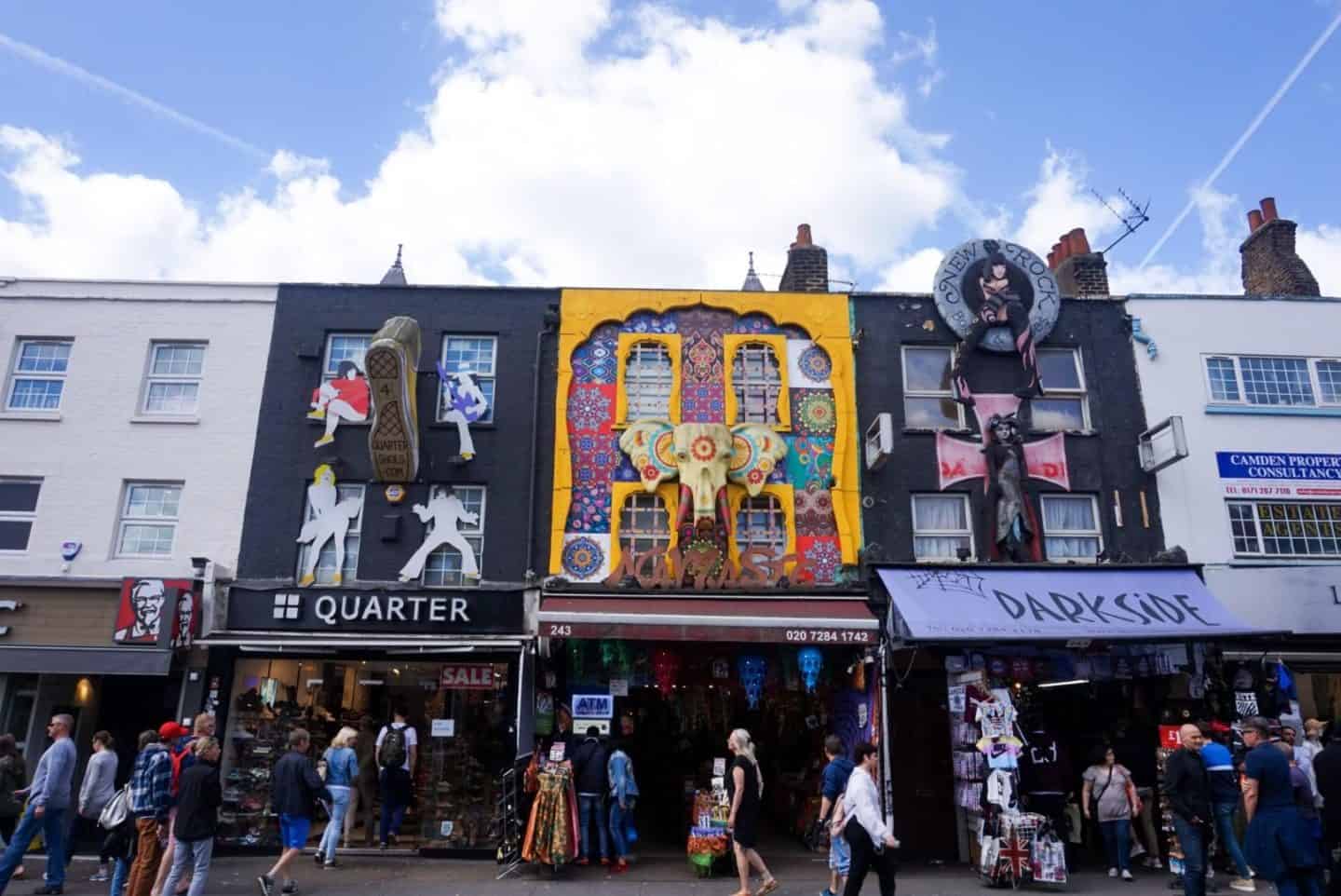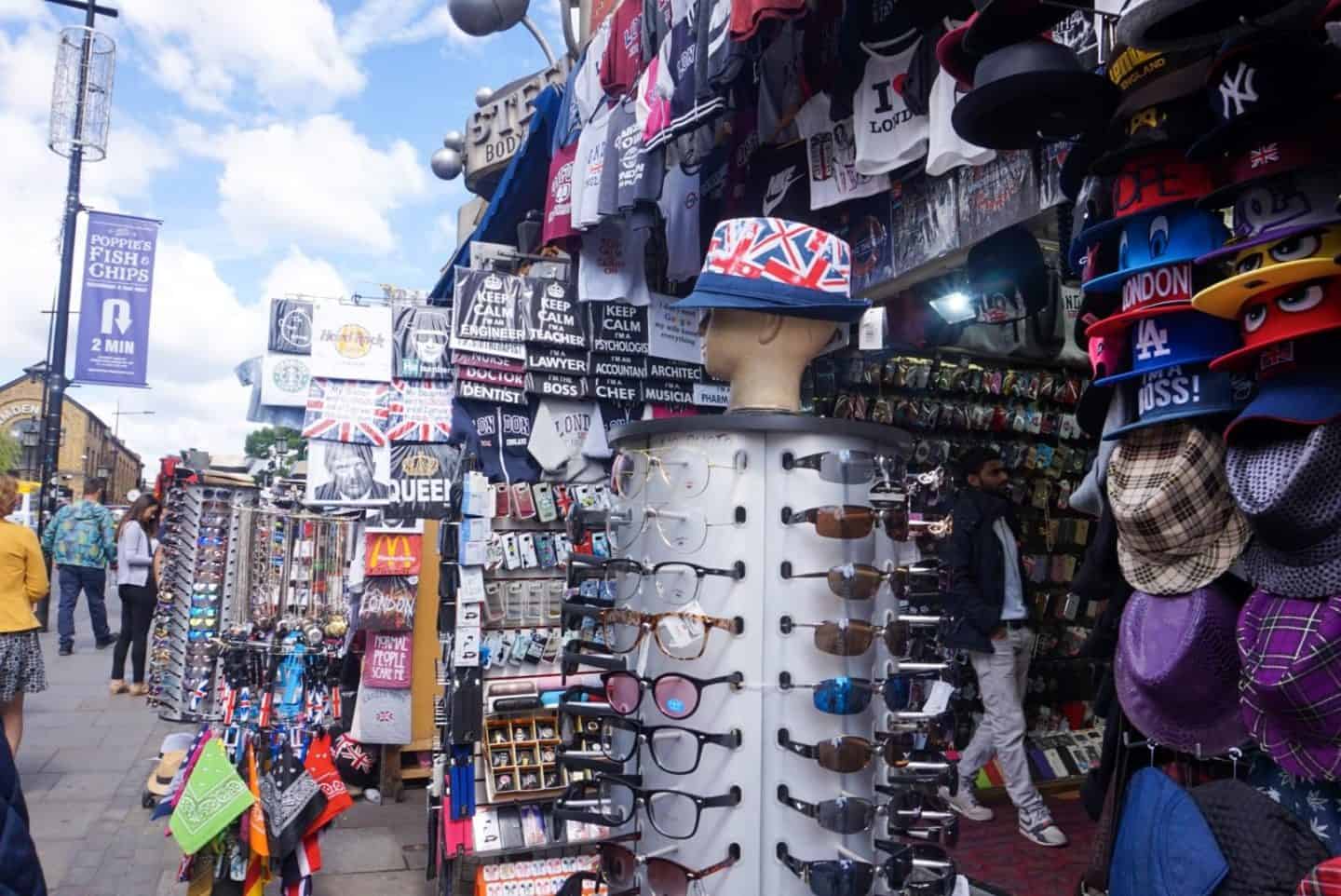 Camden Lock
Very soon you'll come across the Canal, if you aren't from the UK and aren't familiar with canals then it's interesting to see the locks and if you're lucky you might actually see the lock open in Camden to let a boat through!
In front of you, you'll also be able to see the famous Camden Lock sign on the bridge and Camden Market to the left of you.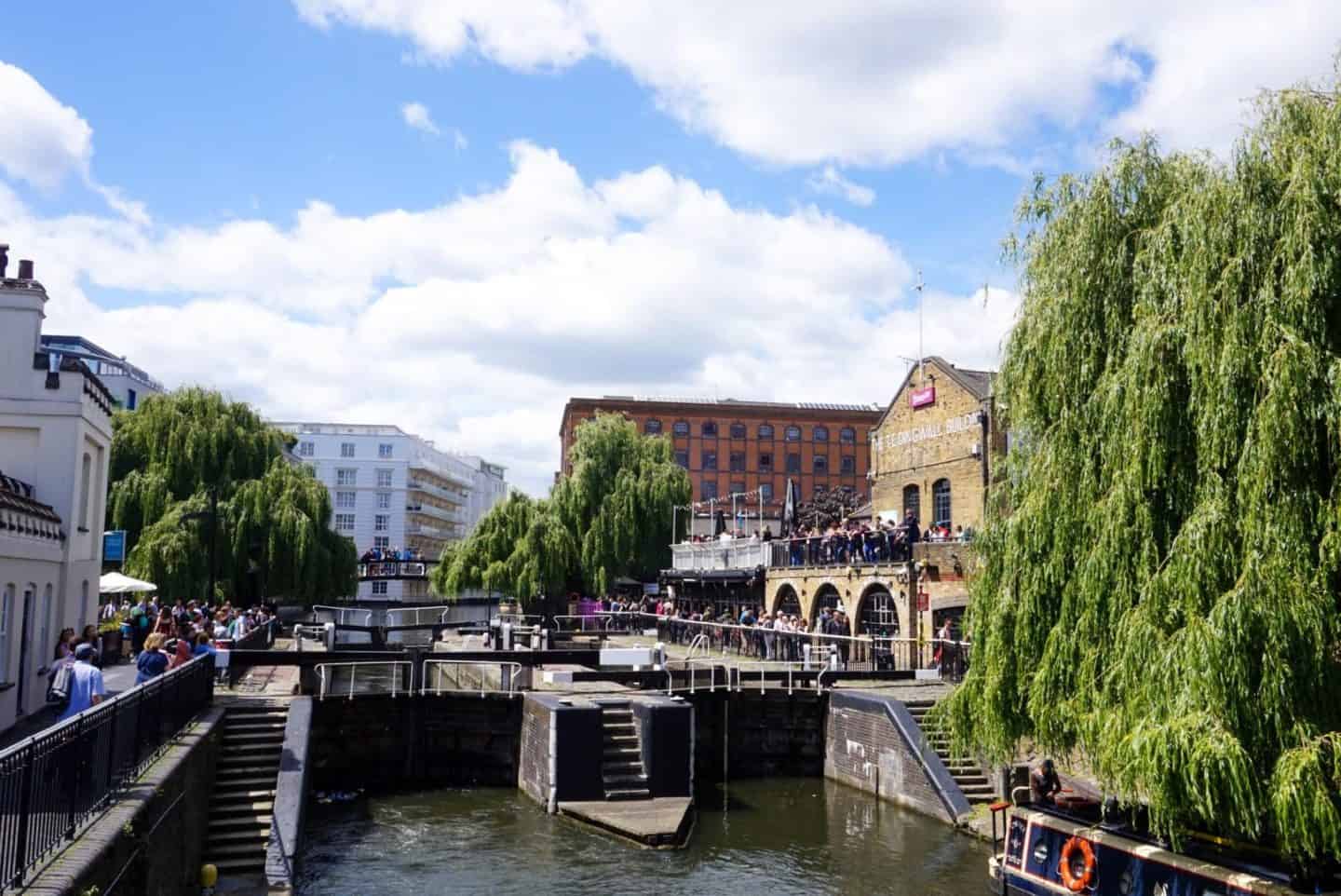 Camden Market
Now head into Camden Town Market and spend some time wandering the markets, and not just the Camden food markets.
There's a huge amount of clothes and accessories stalls too. There's an inside area full of stalls and the outside areas wind all the way back. It's a bit of a maze, to be honest, and I'm always so surprised just how big it is in there so just keep wandering and take any little walkway you fancy.
Remember to go down to the Stable Market too (this is where the horses were kept back when the railway ran through).
The best thing about Camden is that it's perfect for any age, there are lots of things to do in Camden with teenagers.
Camden Stable Market
My favourite part of the markets is the part slightly further away from the canal- the outside Stable Market area. It feels like it has slightly more space but still lots of great stalls, here are some pictures so you know which area I mean:
Another thing Camden is famous for is the legacy of Amy Winehouse who lived in Camden until her death in 2011.
There are always events and exhibitions on which honour her life and music but there's also an Amy Winehouse statue within Camden Market which is very popular and usually has people queuing to take photos with her (it's also an icon on google maps so you can't miss it!).
Whilst you're in this area be sure to head into Cyberdog. It's not for everyone with its very loud music and rave gear but it's an experience that's for sure!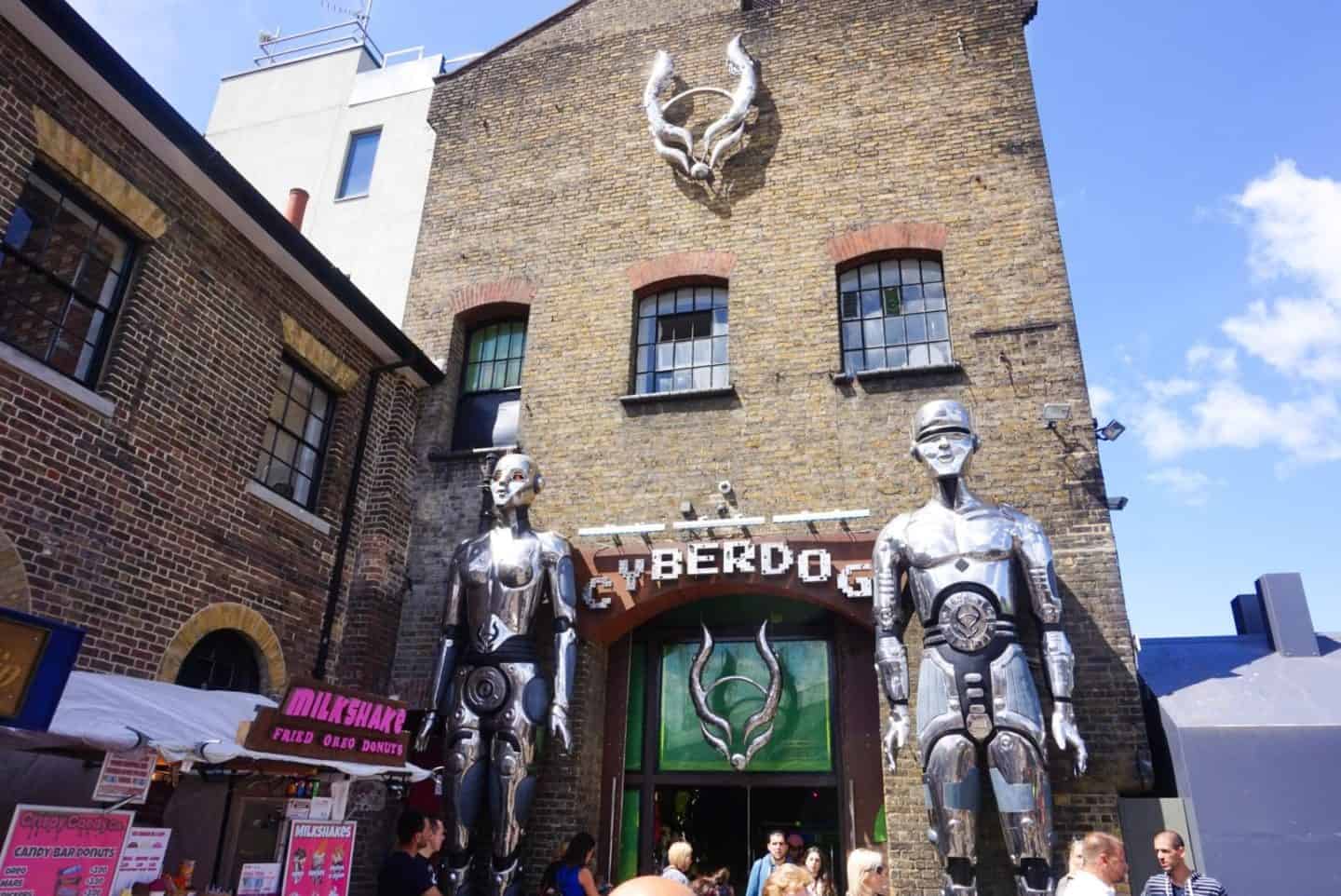 Camden Street Food Market
Now you've had a good look around and assessed all the food options and worked out what the best food stall is in Camden Market its time to get some food from the many, many street food stalls.
There are literally soo many options with food from all over the world, as well as some unique options too, personally, I love the Halloumi Fries!!
Although, to be honest, I don't recommend Camden Food Market when it's raining because there's not much cover. Here are some things to do when it rains in London though.
To SEE Camden Market and the Street Food it has on offer, have a watch of my YouTube Video here:
Camden to Primrose Hill Walk
As the markets start to get busy I would suggest in this Camden Town Guide, heading back out onto the main road which is now Chalk Farm Road and continue to walk away from the direction you came in up to Chalk Farm Station away from Camden Town. Along this road, you'll pass the famous Roundhouse that I mentioned above.
There's also lots of cool street art here too to keep an eye out for it on the buildings and side of buildings!
Just after the Roundhouse turn left onto Regents Park Road and veer left along the bridge over the railway lines.
---
---
This will automatically make you feel like you're in a completely different place than before and that's because its the Chalk Farm area, still in the Camden borough. Continue up Regents Park Road which is a road I love as it's so pretty with some lovely shops and cafes.
Also, keep a lookout for celebrities in this area as I've heard people say they have seen a few big and Z list celebrities as it's a fancy street and there are some very nice houses around it.
As you head further up the street you'll start to come upon a park in front of you (and 2 red phone boxes perfect for some posing like below).
This is Primrose Hill, it's always full of people lying on the hill enjoying the sun when the sun is shining and still pretty full even when it's not sunny. If you take the walk up to the top of the hill you are rewarded with an amazing view over London with pretty much all of the iconic buildings and sites in view.
Full Post: How to walk to Primrose Hill, Regents Park & Regents Canal from Camden.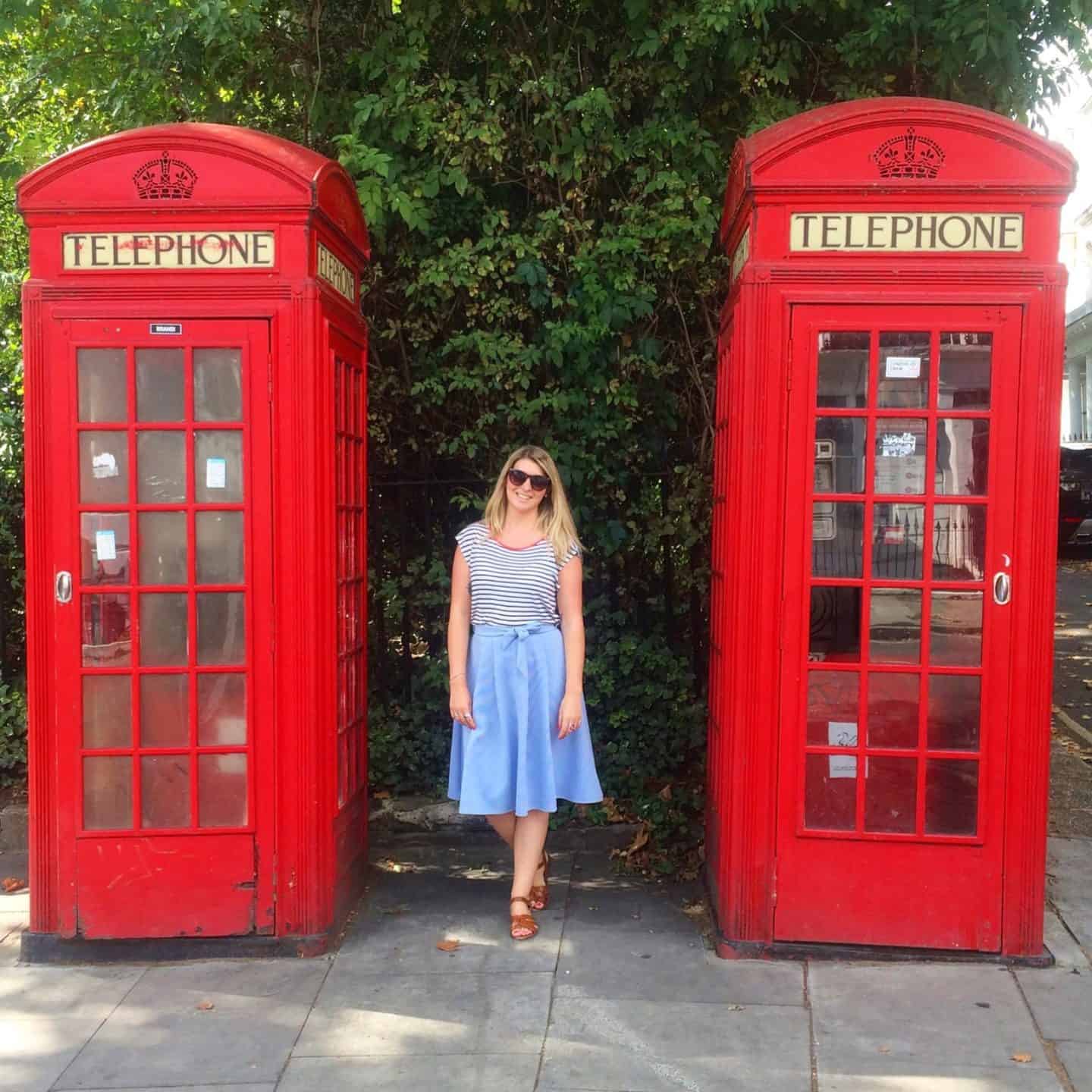 Regents Park
At the bottom of Primrose Hill and across the main road is Regents Park so you could take a walk around here, London Zoo is also here and often you can get a peek at some of the animals. Whether you do or not, what I love doing from here and I really recommend you do too, is to walk along Regents Canal which lies in between the two parks, and walk back to Camden Town along the canal.
TheRegents canal walk is really nice as it's quiet and chilled and makes you feel as though you aren't even in London! You'll also pass the canal boats, of which there are some really creative and unique boats! Not only this but there are also some quite fancy houses lining the canal!
You'll soon know that you're reaching Camden Town again because as you get closer you'll start seeing a lot of people sitting out by the canal with some food and a drink and enjoying the atmosphere. It's also great to see Camden from this perspective down on the water's edge.
Now you're back in Camden Town this doesn't need to be the end of your day in the area. The market shuts at 6:00 pm but after all that walking and exploring why not treat yourself to a drink as there are loads of cool and quirky pubs in Camden. If you are travelling alone or like the idea of a Camden pub Crawl to see some of the best bars and pubs Camden has to offer (and there are many) have a look into this:
First off, by the lock there is a Wetherspoons called The Ice Wharf which is always really busy, it's good to go here if you can get a seat outside or on the floor on the edge of the canal and the other good thing about Wetherspoons is that the drinks are super cheap! There are also a few other bars overlooking the lock in this area like Lock 17.
Another great place to enjoy Camden's nightlife and roof Garden, especially in the Summer is Proud Camden at the back of the markets as it has a great atmosphere and a really cool rooftop!
People are in a mix of outfits, from day clothes due to exploring all day to going 'out out' clothes ready for a night out in Camden. Whether you go for an afternoon/ evening drink or go to kick off your night out it's a great venue with awesome music.
Where To Stay In Camden
Camden is a good location to stay in London because it's on the Northern Line which is a good London tube line, it's close to Central London and it offers so much.
There are a number of hotels and hostels in and around Camden but the most popular accommodation directly in Camden Town and accommodation near Camden Markets are apartments.
A hotel that is right in the middle of the action, overlooking Camden Markets and the Canal is the Holiday Inn Camden Lock which is rated well. Camden Enterprise Hotel is a good boutique hotel in Camden if that's what you're looking for.
If you want a hostel in Camden in a great location, check out Smart Camden Inn Hostel and St Christopher's Inn Camden. For a hostel a bit further away but still in a good location I can recommend Clink78.
There are also a lot of apartments on Booking.com and Airbnb to give you that London local feel, check out these Camden Airbnb's!
And that's what you need to know about visiting Camden Town in London!
---