This post may contain affiliate links. I will receive a small commission if you use these links.
---
North Wales is a must-visit destination in the UK! It's mountainous, it's wild, it has islands, it has the highest peak in England & Wales, it has pretty seaside towns, it has beaches, it has friendly people, and so much more!
Luckily you can see a lot of North Wales by car with just 2 days in North Wales on this North Wales Itinerary. Of course, you will not be able to see all of it but you will be able to Climb Snowdon, visit the island of Anglesey, see some Beaches and nice Towns, and you might even have time to fit in an adrenaline activity!
I spent 2 nights, 1 full day and 2 half days in North Wales which is why this North Wales Itinerary looks the way it does, but if you want North Wales weekend itinerary and therefore 2 full days you can combine Day 1 & 3, and mix and match the ideas to suit your schedule and the weather!
North Wales Itinerary
Best Time of Year to Visit North Wales
Wales is a good place to visit all year round, as long as you are prepared for the weather. Summers in Wales can be lovely but Summer holidays bring a lot of tourists to Wales and many places in North Wales get very busy.
Winters are less busy but the weather can be wet, cold and very harsh, especially up in the mountains.
I think the best time to visit North Wales are the shoulder seasons of Summer, so late Spring around May and June, and early Autumn in September and October.
Here's my complete post on the best time to visit Wales by each season and things to do in Wales!
How to get Around North Wales
A car is definitely needed to get around North Wales. Whilst public transport is available in the form of buses and trains, to get to hidden places and to get around in a timely manner, driving is best!
The roads in North Wales can get very small and windy, you may be shocked by how small the country roads up here are! Here are my top tips for driving in Wales to help!
If you need to hire a car check out Rental Cars here who compare prices and options with all the popular companies.
Where to Stay in North Wales
I would recommend staying in accommodation in the Snowdonia National Park on the first night of this North Wales itinerary. Firstly because it's stunning, but secondly, it's a great central area.
I stayed at YHA Snowdon Pen-Y-Pass Hostel which was a great hostel to base myself in North Wales because it was right on a selection of trails that lead up to the top of Snowdon. But more on that later.
Whether you're staying in accommodation in the Snowdonia National Park or not, be sure to plan a drive that takes you through the National Park. You'll be surrounded by Mountains, go in and out of Valleys and it will probably make you wonder why you've never been here before!
Even if you aren't visiting North Wales for a Wales Road Trip enjoying it by car is a great way to explore the area.
Related post: Wales Road Trip Tips & Places to Visit on a Wales Road Trip!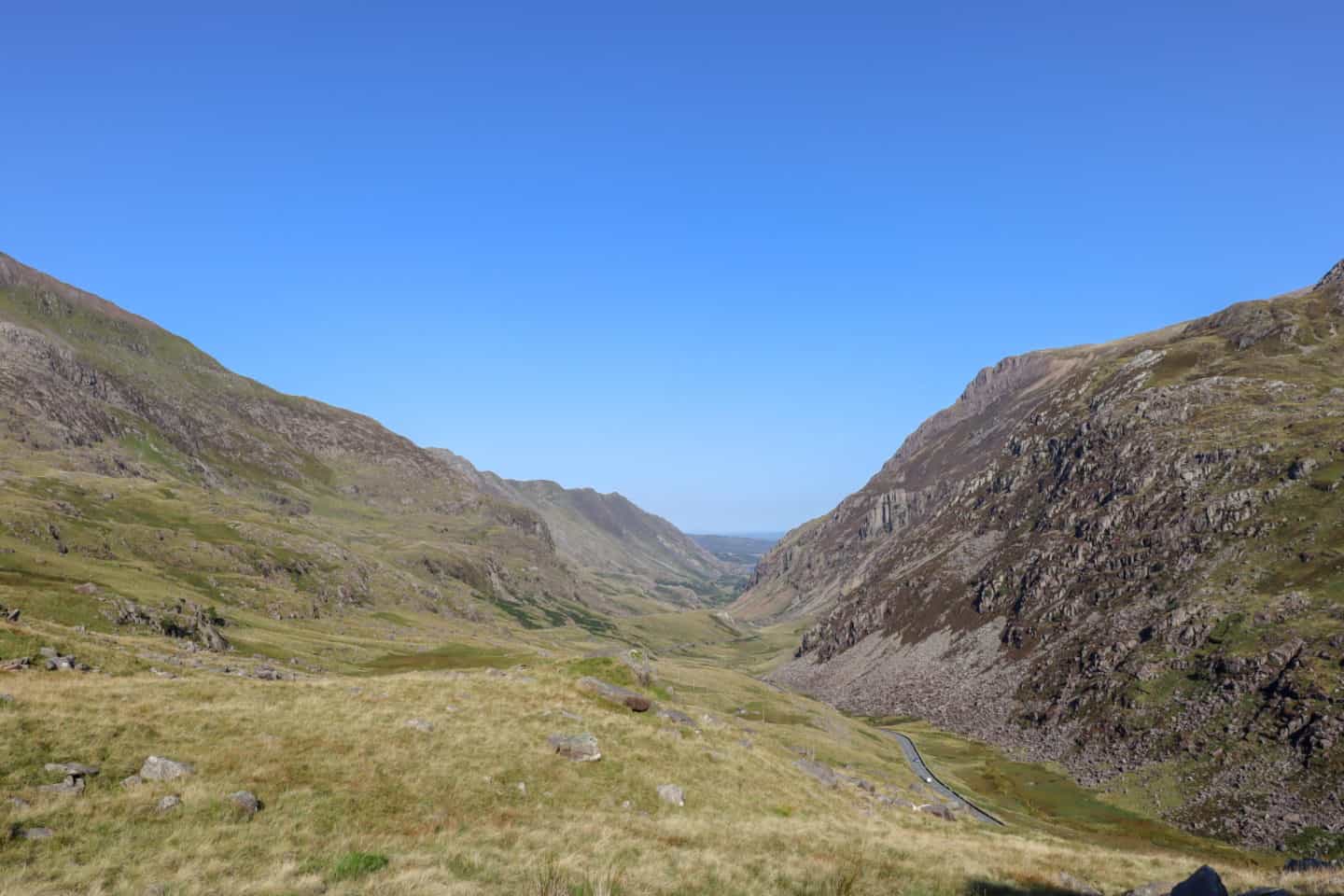 2 Days in North Wales
Day 1 – Afternoon
Anglesey Island
On my North Wales itinerary, I decided to drive right to the tip of North West Wales and cross the bridge onto Anglesey Island on my first afternoon, it was a great choice and this is what I recommend you do too. Anglesey is known for its beaches and ancient sites and is accessed by crossing the 19th Century suspension bridge onto the island. It's pretty impressive!
Beaumaris is a town on the Eastern side of Anglesey and I decided to go here because it was pretty easy to get to from the bridge onto the island. It took me just 20 minutes to reach after crossing the bridge.
Beaumaris is a pretty town with a seaside feel to it, it has lots of colourful buildings, a castle, and views looking over the water to Snowdonia on the mainland of Wales.
Beaumaris has a harbour which offers popular boat trips to Puffin Island. If you have children going to Puffin Island from Beaumaris would be a great thing to do! And of course, you can still visit without Children!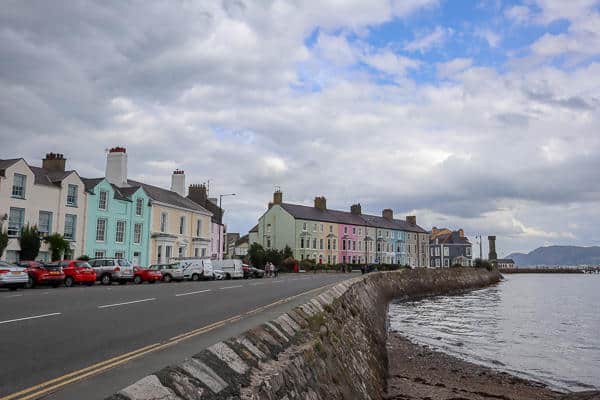 Just 20 minutes down the coast is Penmon Beach and Penmon Point, the stoney beach is only small but it has a really relaxed atmosphere as well as being very pretty and also has incredible views across the water to Snowdonia.
There is an iconic Lighthouse and a nice Cafe. It cost's £3.00 to access the point at a toll road but it's worth paying it.
North Wales Day Tours
If you don't have access to a car in Wales or you want a knowledgeable local guide to show you the best places in North Wales, have a look at these tours that you can book and include them in your North Wales itinerary!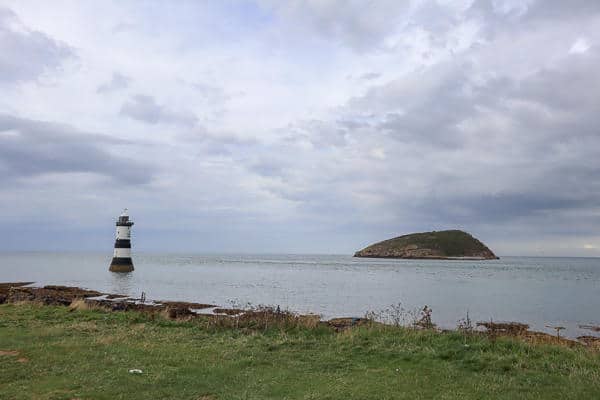 I recommend these places in Anglesey because they are close to the bridge that accesses the island and if you are short on time they are the best places to visit on Anglesey due to this, however if you have more time you could go to Holyhead and Holy Island, which is pretty much another island off of Anglesey.
Alternatively, you could visit the town of Bangor which is just across the water from Anglesey back on mainland Wales.
For more ideas on what to do in Anglesey including great places to Eat and Drink in Anglesey, see my friend Sophie's blog post: The Ultimate Guide to Anglesey
More of my Wales Posts to help plan your trip:
Climb Snowdon
Day 2 – Full Day
The second day on your North Wales itinerary has to be spent by climbing to the highest peak in England & Wales – Snowdon.
There are 8 trails to get to the top of Snowdon which is really great as it helps keep walkers dispersed, if everyone had to walk the same track it would be pretty busy!
If you don't want to hike up Snowdon, or you are visiting Snowdonia with kids who may not be able to do the hike, you can get the Snowdon Railway to the top and back down.
3 of these routes leave from Pen-Y-Pass which is literally across the road from the YHA Snowdon Pen-Y-Pass Hostel, I told you it was a good location!
Here's my full post on Climbing Snowdon from Pen Y Pass!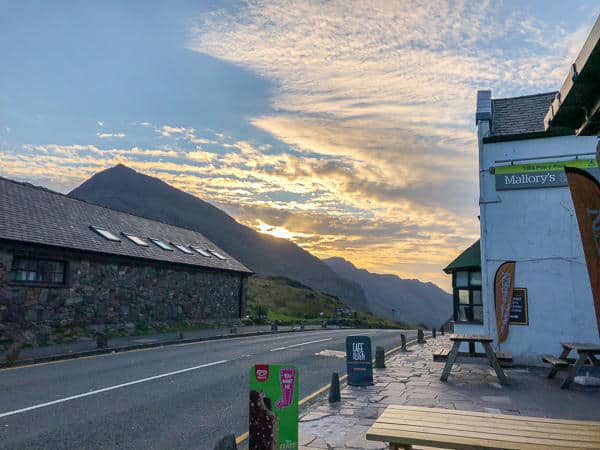 Obviously, I don't have anything to compare it to but I loved my walk up Snowdon via the Pen-Y-Pass route and therefore would recommend it to you.
There are 3 Snowdonia walking routes are – the Pyg Track, Crib Goch and the Miners' Track.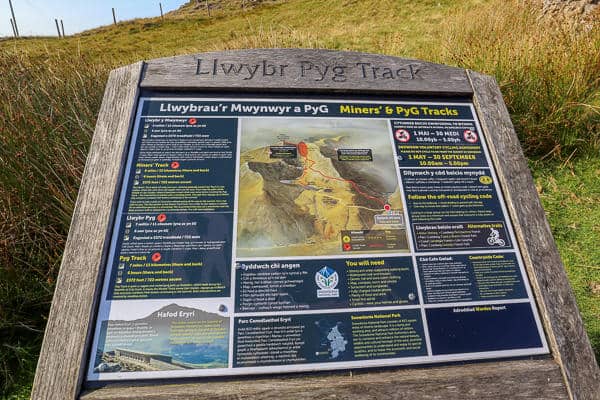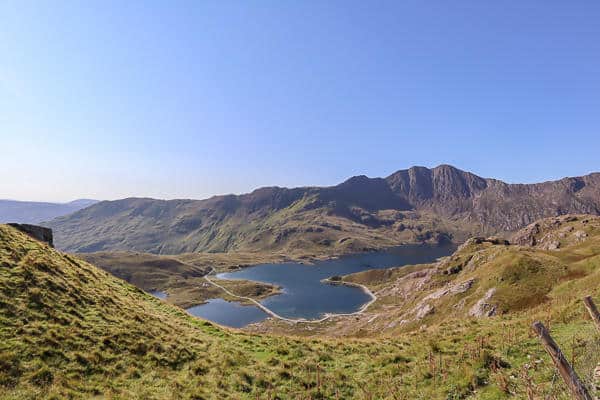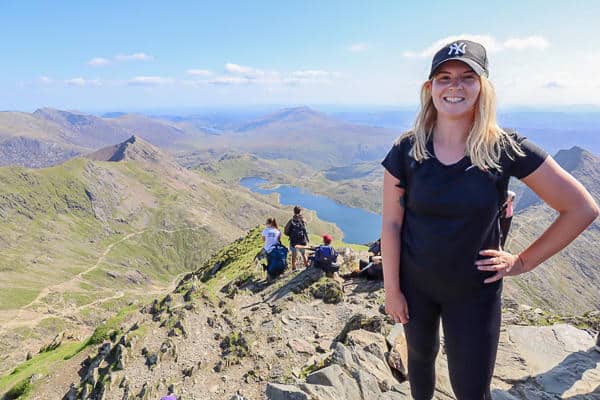 I started the walk at 9:30 and finished at 14:30 and if you do the same, or you head out even earlier, you'll still have all afternoon to explore more of the Snowdonia National Park.
Llanberis
A 15-minute drive from Pen-Y-Pass is the town of Llanberis. It's home to the National Slate Museum which I found really interesting.
Slate is such a big part of North Wales, it's economy and history so it was interesting learning about it and being able to recognise the slate mountains when I drove passed them.
Llanberis is a small town but it has a few cafes that you could get some well-needed lunch at after the walk and it has a nice lake if you can walk anymore and a children's play area.
Adrenaline Activities in North Wales
Day 3 – Morning
You just did one adventure activity hiking to the top of Snowdon so why not do another adventure activity in North Wales?! Whether you do this before you go home or combined with Day 1 of your trip to North Wales this will really complete the trip and be an epic addition on your North Wales itinerary!
One of the most popular adrenaline activities to do in North Wales is go Zip Lining with Zip World!
They have 3 locations in North Wales all offering slightly different things, you can do a Zip Safari, a Forest Rollercoaster, go on a Quarry Tour or go on Velocity 2 which is the fastest Zip Line in the world right now!
Surf Snowdonia is another cool and unique thing to do in North Wales! It's an artificial Wave Pool perfect for surf lessons whether you're a beginner or a pro!
Horse riding in Snowdonia is another great activity and Snowdonia Riding Stables are a good company to book with!
More places to visit in North Wales
If this isn't your thing and you'd rather see more beaches, waterfalls and towns on your North Wales itinerary, some places close by that you could visit that Abbie Jade Wanders recommends in her North Wales Bucket List blog post are:
Fairy Glen – a magical Gorge
Swallow Falls– an incredible waterfall
Watkin Path Waterfalls – more waterfalls which a short but nice walking route to them
Llandudno & Great Orme – A seaside holiday town with a nice beach and activities
Aber Falls – a great waterfall accessible for all the family
Conwy & Conwy Castle – one of the best castles in Wales and a small city to visit
Here are even more places to visit in Wales!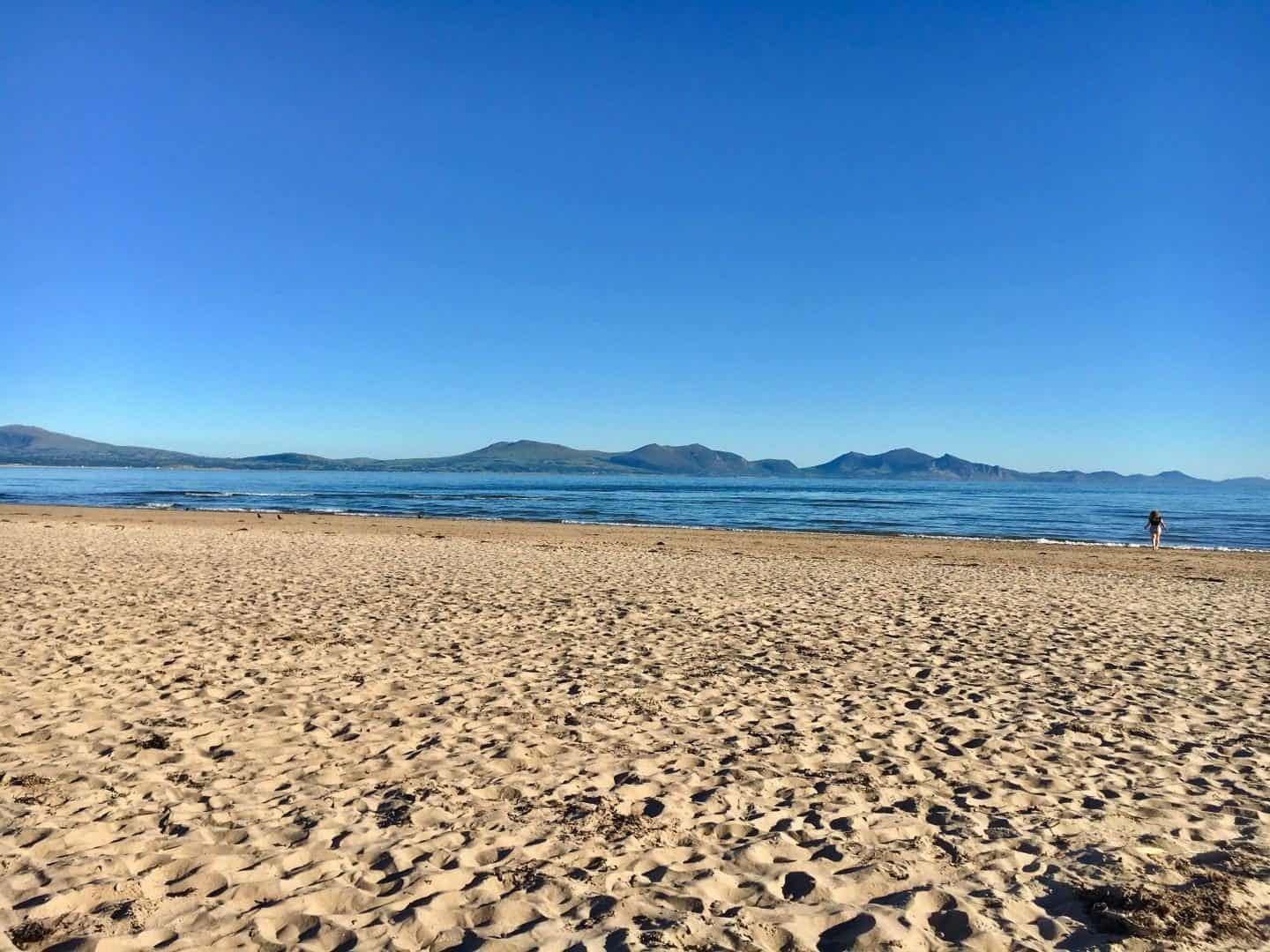 All of this will give you a great 2 days in Wales and the perfect North Wales Itinerary.
As I said you can mix and match these ideas to fit in with your schedule (and the weather!) but hopefully they give you some ideas of things to do in North Wales and specifically some unique things to do in North Wales!
---
Car Hire in North Wales – You'll need a car to see everything I have recommended if you need to hire a car check out Rental Cars here who compare prices and options with all the popular companies.
---
I was a guest at YHA Snowdon Pen-Y-Pass but all thoughts and opinions are my own.