This post may contain affiliate links. I will receive a small commission if you use these links.
---
A trip to the City of Essaouira on the coast of Morocco is bound to be relaxed and chilled. This is going to happen because of a few things, firstly there aren't a huge about of things to do in Essaouira, there are things to do and see but there are no real iconic tourist spots that need ticking off and queuing for.
Secondly, although it is an African and Arab City it's not intense like other places in Morocco, the locals are friendly to tourists and are going about their day, most of whom are not involved in the tourism of the city and this all adds to a really nice and relaxed atmosphere.
If you are thinking about visiting Essaouira and wondering how to spend 2 days in Essaouira this post is for you, if you still need convincing on whether or not to visit, be sure to read my post 8 Reasons Why I Think You Should Visit Essaouira!
This is my recommended 2 Day Essaouira Itinerary including tips on the best places to visit in Essaouira, the best things to do in Essaouira and where to eat in Essaouira!
Essaouira Itinerary
1 Day in Essaouira
I'd recommend staying in a Riad or Hotel within the Medina of Essaouira, this means you will be in a great location and the walled city of the Medina is the area you will spend the majority of your time. I used Booking.com to book my Riad and there are plenty available on there so have a look for one here if you haven't already. I'd also recommend having breakfast included so you don't need to go out and search for breakfast.
There are also so many amazing Airbnb's in Essaouira and you can get entire places like this one to yourself in the centre of the city for a great price! Here are some great options:
Enjoy breakfast at a slow pace and then head out into the streets of the Medina.
Essaouira Medina
I enjoyed the Medina in the mornings the most actually, the stalls are all slowly opening and the sellers are slowly waking up meaning it isn't too busy. It's also nice to see some of the closed stalls and closed doors as there are many impressive doors in the walls of the Medina.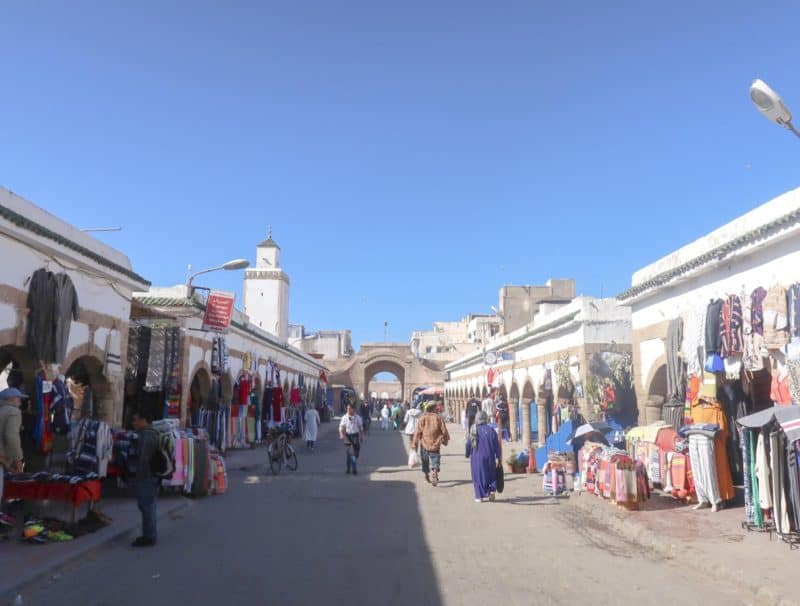 Essaouira Fort
Next on this Essaouira itinerary, make your way down to the Fort at the end of the City and pay the 10MR/£1.00 to enter.
This is the most popular 'tourist attraction' in Essaouira I'd say and it's mainly thanks to the circle in the stone and the blue boats beneath. It's fun getting a picture in the circle and the city ahead looks really picturesque. It's also possible to walk up the stairs to the top of the Fort where you can see another awesome view of the City and Harbour.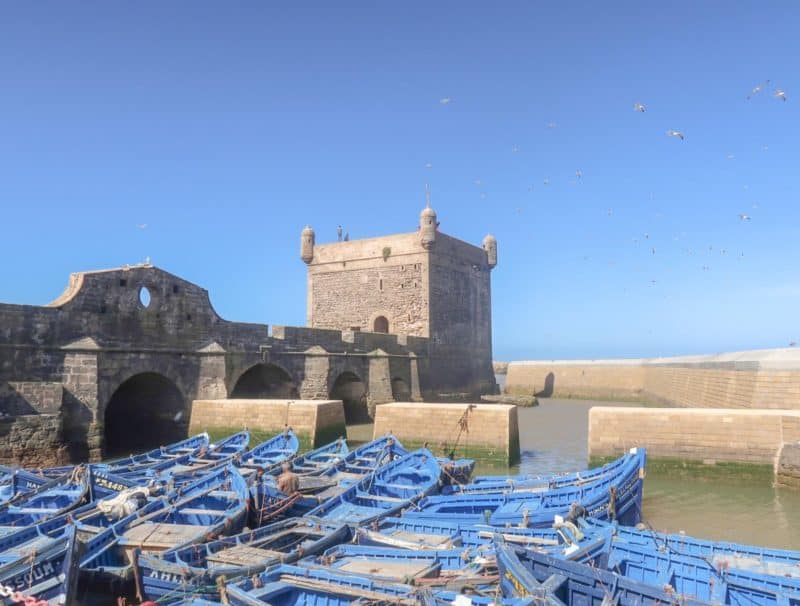 Essaouira Fish Market
After leaving the fort, on this Essaouira itinerary, head behind it and into the fish market. This is not for the faint-hearted or for those with a sensitive nose but it's part of everyday life on the coast.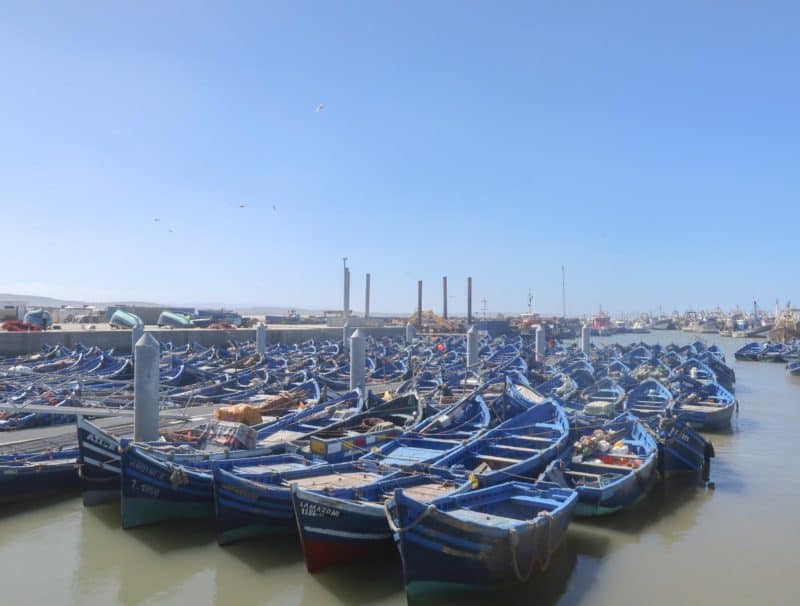 Essaouira Main Square
Have a look at the beach that's close by (although I recommend seeing it better tomorrow), and head back to the main square.
The main square of Essaouira is quite quiet but it catches the late morning sunlight well and there are a number of restaurants within and around it so I would suggest stopping and having a drink here, preferably a mint tea whilst reading a book or just watching the world go by.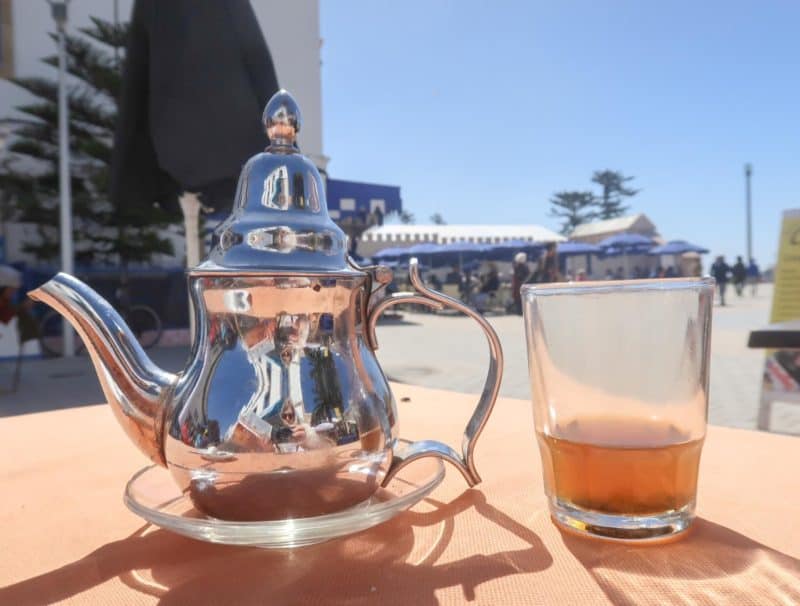 The streets of the Medina will be a lot busier now so explore some more of them. Put your map away and take any street you fancy, it's likely it won't lead to a dead-end and will instead have another street leading off of it. This is the best way to explore Essaouira.
Whilst you are walking around there will be many places now open for Lunch. There are many restaurants and cafes in Essaouira and one that I would recommend for lunch in La Tolerance. It's down a nice side street not far from the main square and sells really good Tagine!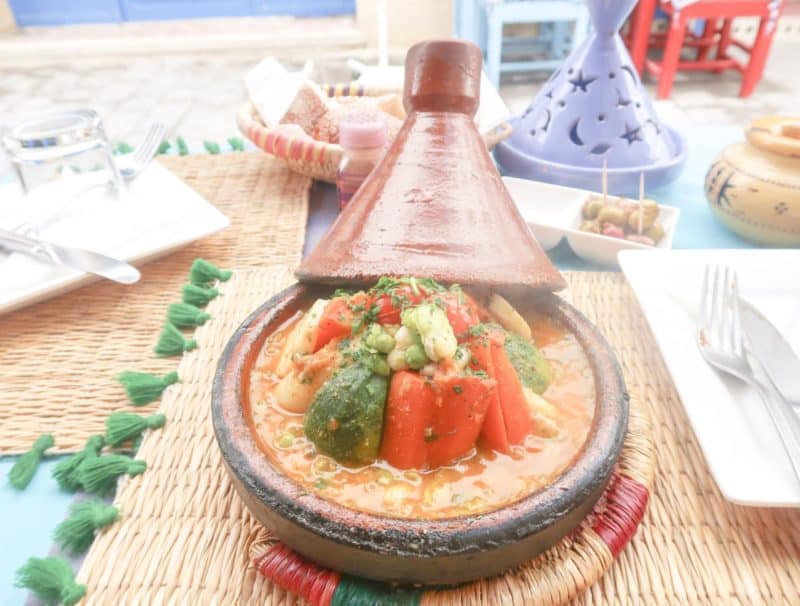 Bab Doukkala
The City Walls are split up between gates or 'Babs' as they are called, you will have entered the Medina by foot when you arrived to get to your accommodation as there are no cars allowed in the Medina and the feeling that I felt when walking through a Bab and entering into what felt like another world is something I needed to feel again so I headed out of Bab Doukkala at the top of the Medina for a walk around the streets, they feel the same as the Medina but are even more local and less visited by tourists.
I would suggest you do this too, even if you just pop out of Bab Doukkala its quite an experience walking back in and feeling the hustle and bustle of the busy market street that lies ahead.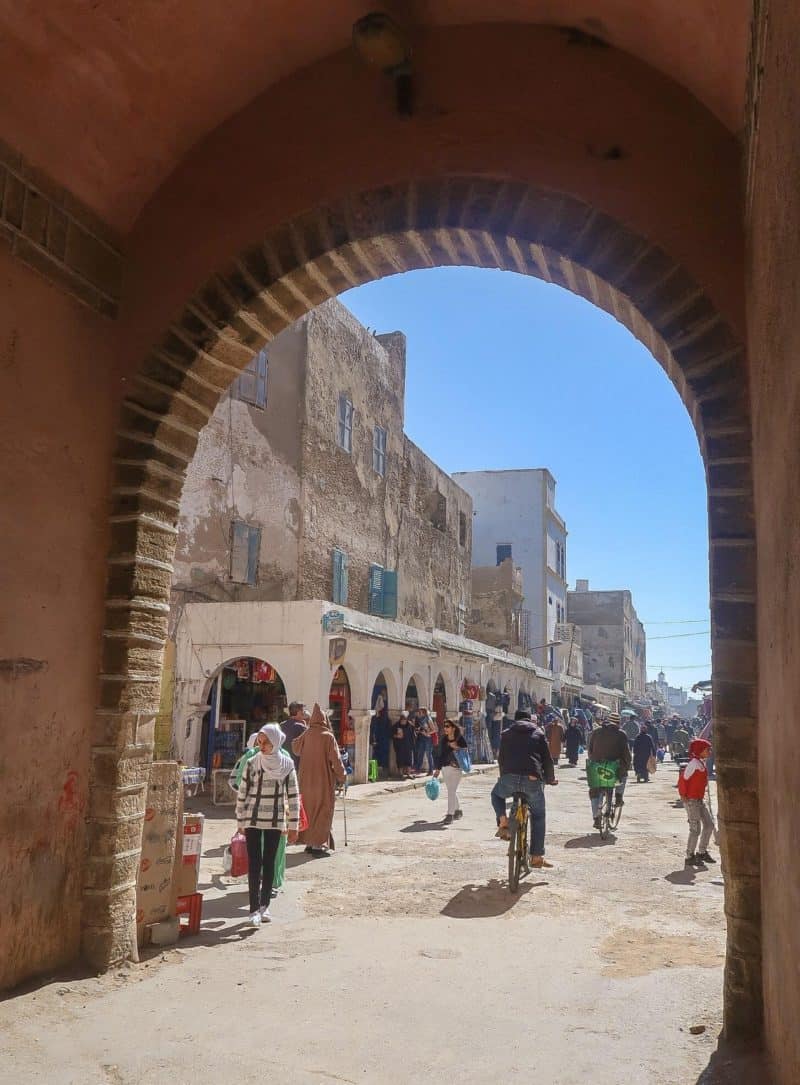 Related Post: 8 Reasons Why I Think you Should Visit Essaouira!
If you have a Riad with a rooftop or a nice chilled area use the afternoon to relax at your Riad, it's all part of the Moroccan experience of course.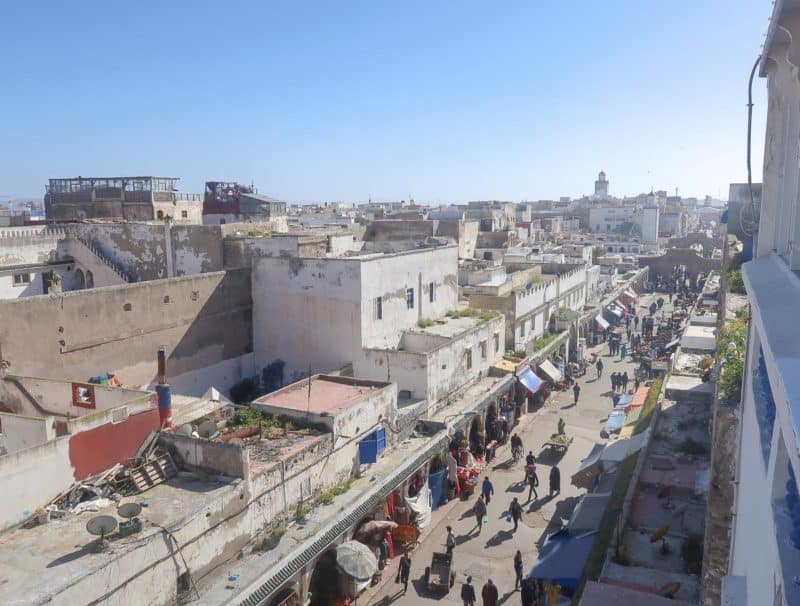 Sunset in Essaouira
A few hours before sunset head back out. I suggest visited Taros for Sunset which is on the corner of the Market Square. It's a popular place which is why I suggest getting there a good 90 minutes or so before sunset, although it does have a good amount of seating and different terrace areas.
Taros sell alcohol but it also sells mint tea which was my preferred sunset drink.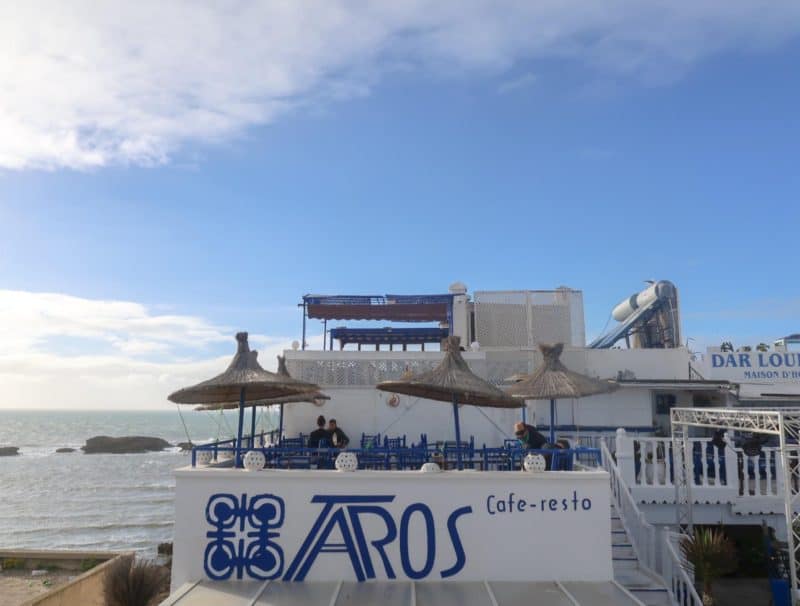 Dinner in Essaouira
Once the sun has gone down its dinner time and a chance to see the Medina in a different way. Head for dinner first, I recommend going to Mega Loft which is close to Taros. It's a really cool and quirky place with inside and outside seating, there is live music each night and although their menu isn't huge and is on the pricey side compared to other restaurants the service and food are good.
Live music and music, in general, is very much part of the Moroccan culture so its nice to enjoy it over dinner.
Essaouira is not a city with any nightlife so you're in for a fairly early night, which is just another reason why a break to Essaouira is a relaxing one.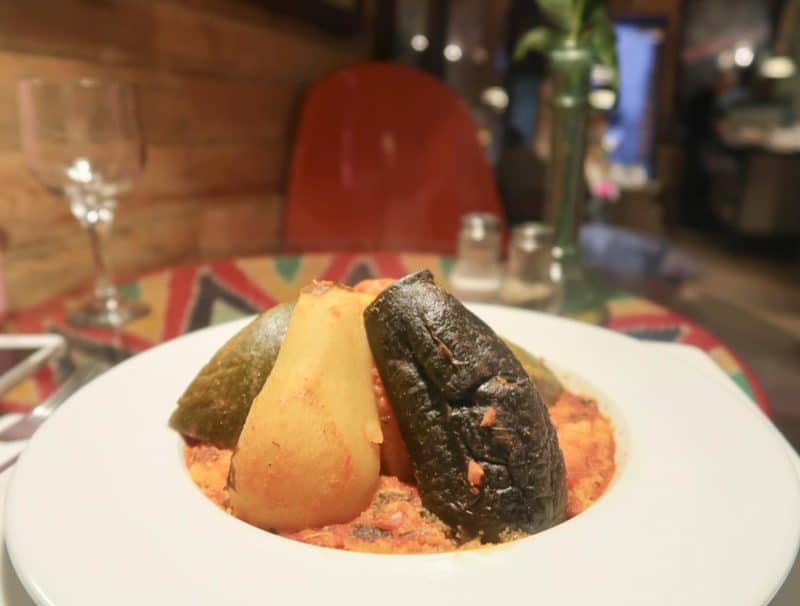 2 Days in Essaouira
Again, start the day with a slow breakfast and a wander around the quiet Medina, like me, after seeing the Medina in full swing in the afternoon I'm sure you'll appreciate the sleepiness in the morning.
Essaouira Beach
From the Medina, head to the main beach. Essaouira's beach is very big and it's not a typical sunbathers beach. It's wilder and part of the city. That being said there are sun loungers on the beach and a few beach bars with fancy outdoor seating and beds too.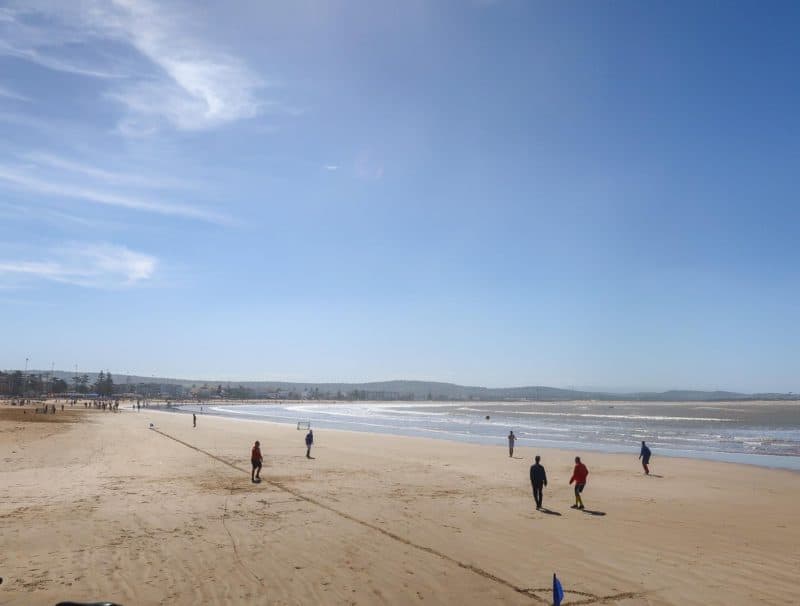 I would suggest walking as far down the beach and the beach promenade as you can as it's a great way to see another side of the city. It was very windy when I went so remember to take some layers in case the wind picks up but if there's wind it means there will be lots of windsurfers out that you can watch on the beach.
The far end of the beach seems to be where the locals offer a lot of camel and horse rides as well as quad biking but think before you do take part in any animal activities.
M Beach down the promenade seems like a nice place to stop for a drink and enjoy the views on some of their seating.
If you prefer a more local and quieter beach with great surf, check out Sidi Kaouki which is just a 25-minute drive or 30-45 minute bus ride from Essaouira.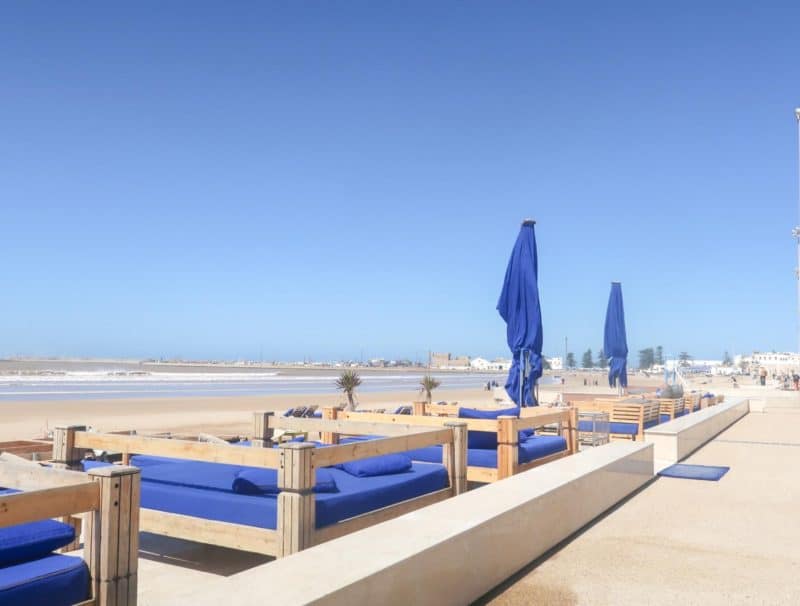 Bab Sbaa
After you are done with the beach, head back into the Medina, I would suggest heading in at Bab Sbaa and you can see this gate in front of you from the beach. Through this gate and straight ahead is Tour de l'horloge and just beyond that is a nice small square with a cafe and a few shops, I really liked the tree in the middle and the atmosphere in here.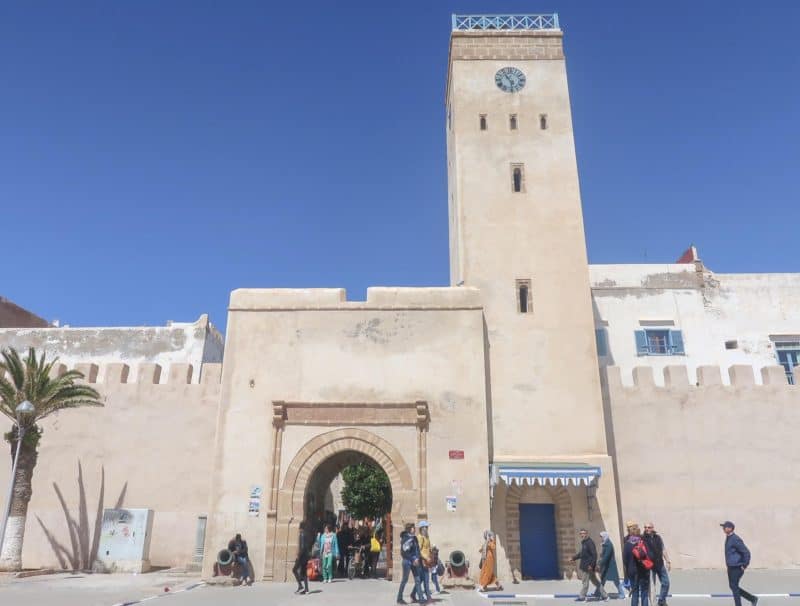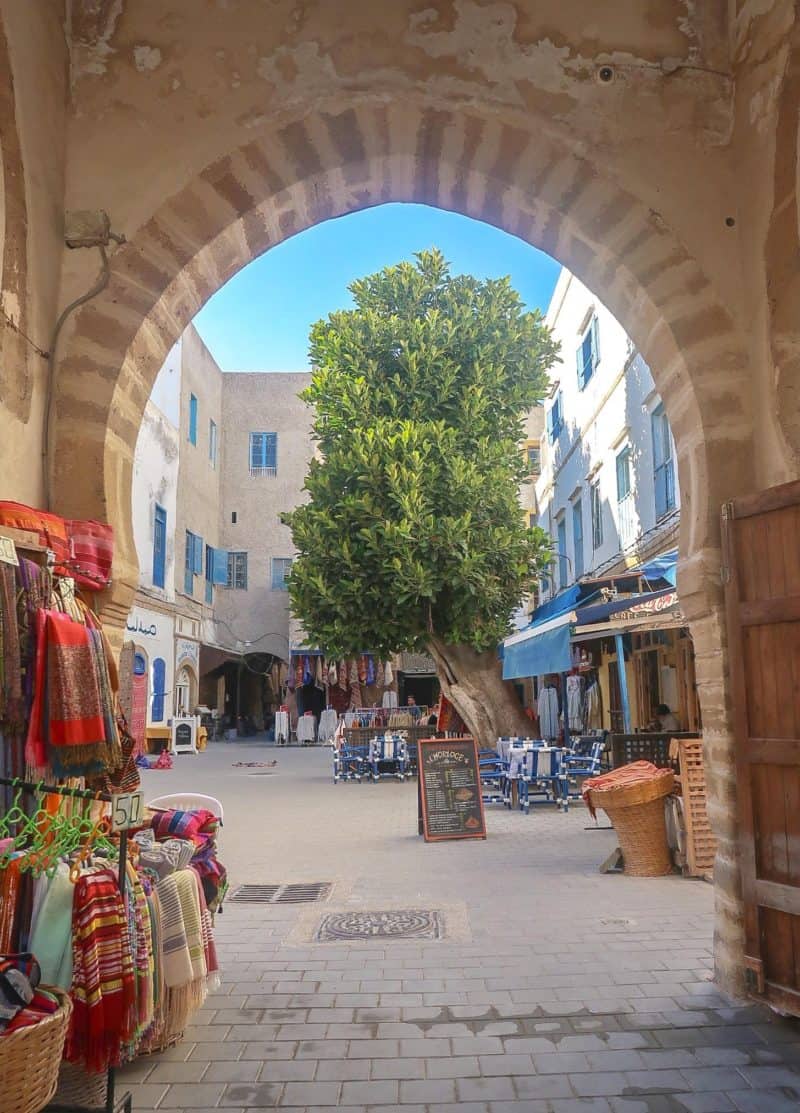 It's lunchtime again and by now you would have walked past so many places that you probably like the look of so enjoy a long lunch.
Shopping in Essaouira
I would suggest spending the afternoon the same way as before, maybe do some shopping now you know what's on offer, sunbathe on your rooftop if you have one, sit in a cafe and read a book, the relaxing options are endless!
Activities in Essaouira
If you would rather do an activity, have a look at one of these tours, Quad Biking in Essaouira is very popular!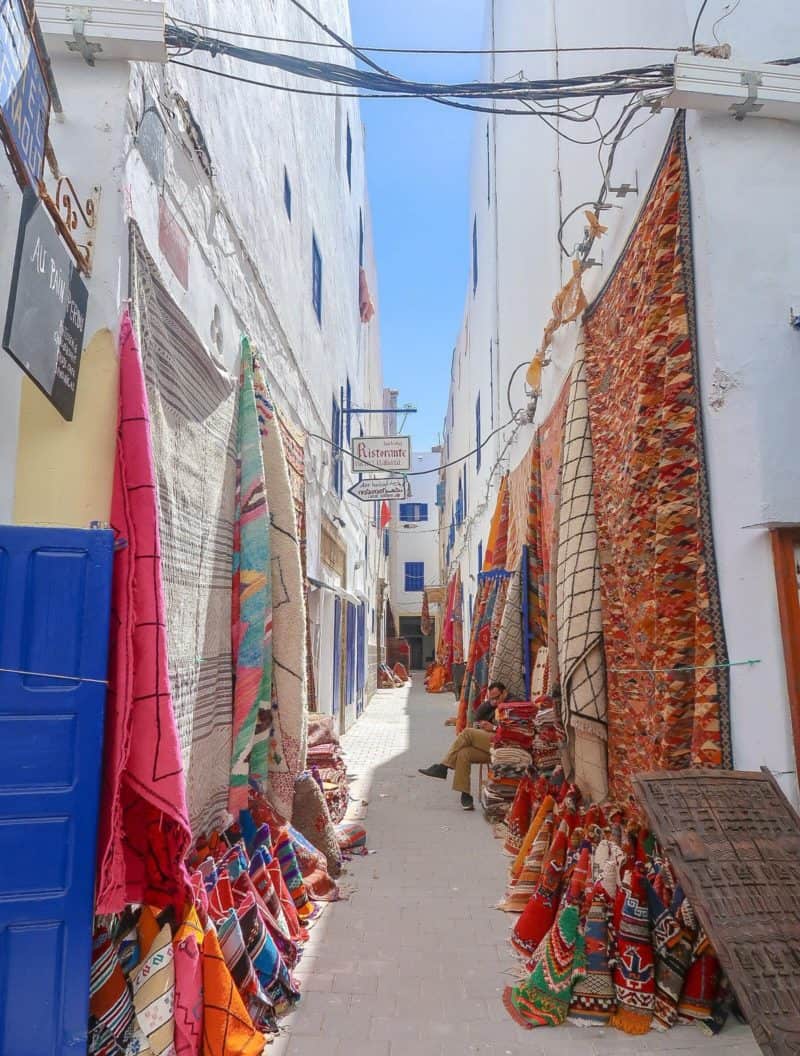 Sunset in Essaouira
For sunset head to Il mare which is a few doors up from Taros, Il Mare is slightly fancier and the prices reflect this but it has a nice little terrace overlooking the Ramparts and the ocean with a perfect view of the sunset. Again, get here a bit earlier to get a good spot.
You could eat dinner in Il Mare or you could go elsewhere, somewhere I didn't get to try but was recommended was Triksala Cafe which is close to Il Mare.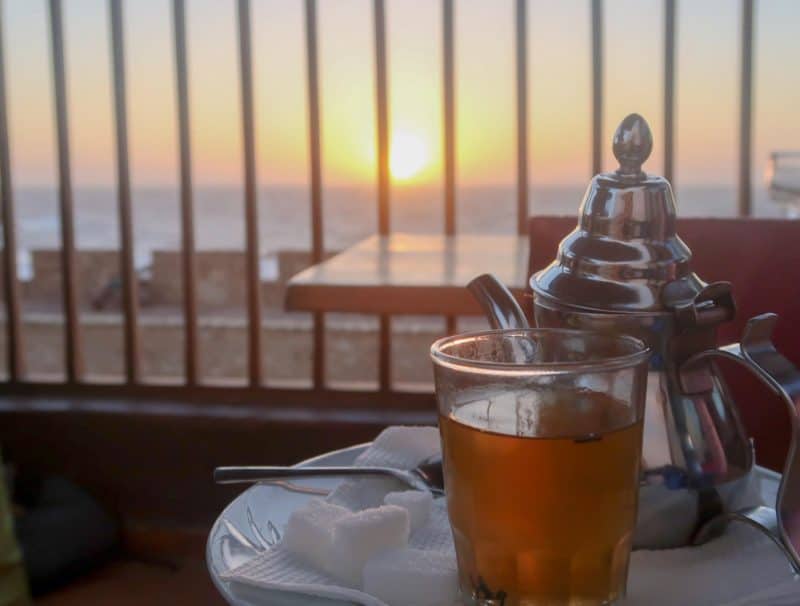 And that will cover you for this Essaouira itinerary and 2 days in Essaouira! If you have longer in Essaouira there are also many day trips from Essaouira you can do, including going to Marakkesh for the day!
---