This post may contain affiliate links. I will receive a small commission if you use these links.
---
Essaouira on the coast of Morocco is a gem of a City and it was a city that I had wanted to visit for some time so I wasn't disappointed with my time there!
I had been lured in by hearing it is a Moroccan City that is relaxed and I had been drawn in by the blue boats and pretty streets I had seen photos of. After spending 3 nights and 2 days in Essaouira I certainly wasn't disappointed and I was really glad that I visited before going back to the UK after a week of Yoga and Surf in the nearby Village of Taghazout.
In fact, I liked Essaouira so much I couldn't stop thinking about writing a post on why everyone else should visit too so here it is, my top reasons to visit Essaouira and why you should visit Essaouira next!
Reasons To Visit Essaouira Morocco
If you're convinced after reading this be sure to see My Relaxed 2 Day Itinerary for Essaouira Morocco!
1 – It's Chilled & Relaxed
Everything I had heard about Essaouira being relaxed and chilled is certainly true.
Firstly, there's not a huge amount to do in Essaouira, I'm not saying that to put you off though as there are still things to do but because it's not a city of iconic spots and it isn't that big, there's no need to feel like you should be somewhere and you by no means will have a jam-packed itinerary meaning it makes for a perfect weekend away from busy work and life.
Secondly, the people who praise Essaouira for its chilled-ness have usually come from the mighty intense Marrakesh. They say that compared to Marrakesh the people are lovely, its easy to get around and no one bothers you!
I agree with this however not 100%, the market sellers definitely do try to lure you in and don't let you look in total peace, there are people begging and being a solo female did get me a few catcalls however it is by no means intimidating or 'too much', it's just part of the culture and the tourist trade (not that catcalling should be accepted as either of these things!).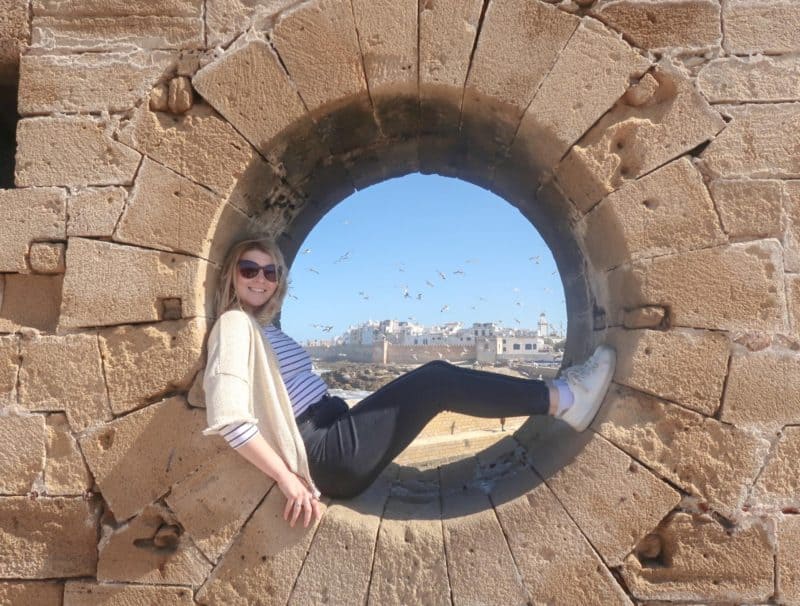 2 – It's a Culture Shock but not Too Much
The first point leads me to this point very well. Essaouira is very much an Arabic City, an African City too and it's easy to feel, see and smell this!
I have a love for Arabic Countries but I know that not everyone does. I would say that Essaouira is the perfect City break if you are a bit bored of European Cities, or you want a taste of Arabia but don't want to fly to the Middle East. It's good if you want something a bit more, but not too much!
In Essaouira, you will hear the call of prayer from the Mosque, see the men dressed in traditional clothing, the women too. You may not understand the menu and exactly what people are saying (unless you speak French), you will probably see sights in the food markets that perhaps you don't want to see but this is all part of indulging in the Culture and observing everyday life.
If my mum said she wanted to go to Morocco or experience some Arabic culture, this is where I would tell her to go, it's slow-paced, the people are friendly, it's small, she would experience Morocco and the culture but it wouldn't be too much!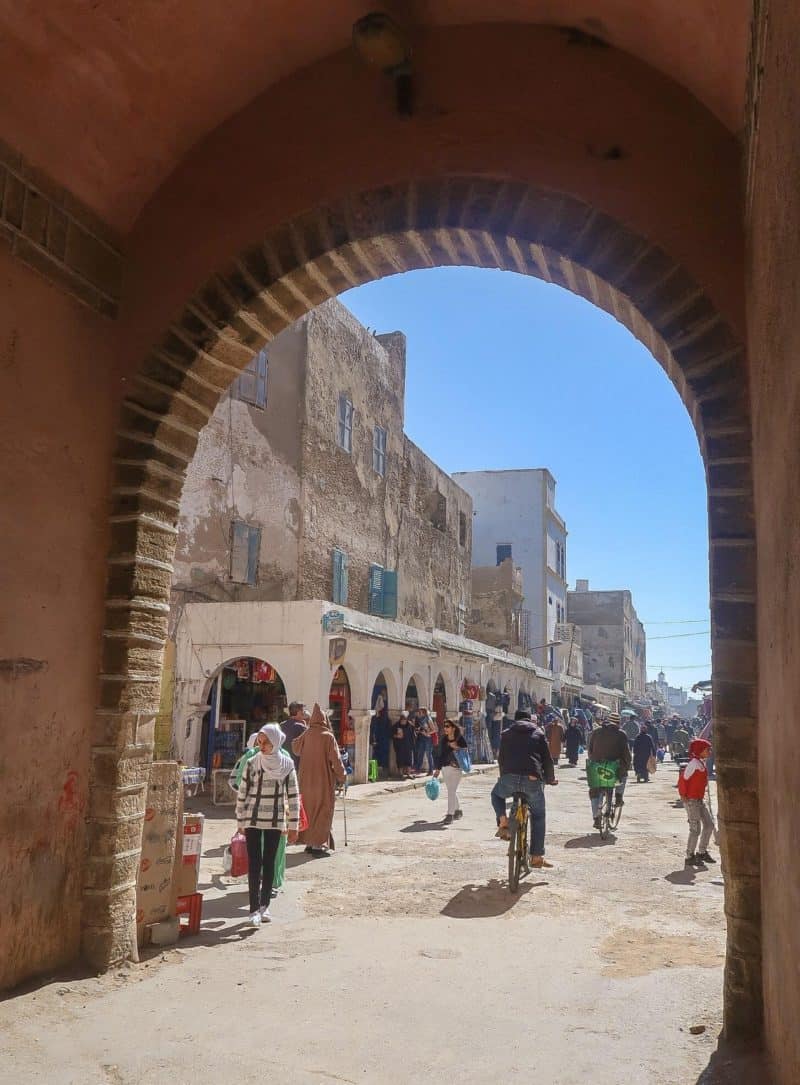 3 – Good Food & Quirky Restaurants
If eating good food is on your Morocco itinerary, you'll be pleased to know there are restaurants on every corner and a real range of restaurants too. Some very authentic, some more modern. Some cheap, some more glamorous. Some quirky and some very dated.
The restaurants in Essaouira that I ate at or enjoyed a Mint Tea in that I'd recommend are – Mega Loft, La Tolerance, The Coast Cafe, Taros, Il Mare.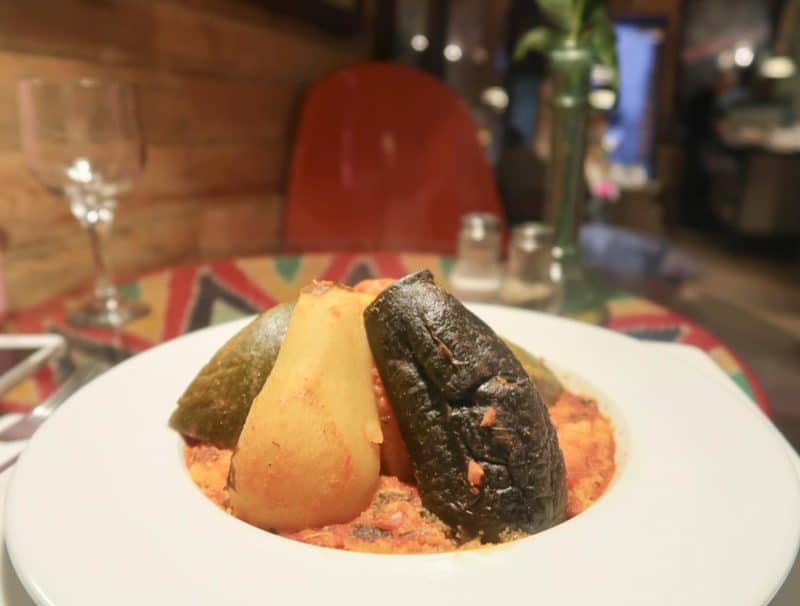 4 – Good Shopping & Easy to Navigate Medina
If you want to go shopping in Morocco Essaouira is the place for you!
The medina which is essentially the area within the old walls of the city that is the main place tourists visit is full of shops and stalls. There are enough streets to keep you wandering for a few hours but it is by no means confusing or hard to navigate. There are rugs for sale, clothes, furniture, bags, shoes, plus everything else!
Best of all the sellers are all very nice. They will jump on you as soon as you linger for a few seconds or look with your hands rather than your eyes but they are not extremely pushy.
From what I had heard and read this is what Essaouira is known for, especially compared to Marrakesh so I really hope the city keeps this charm.
I had read that there is no bartering in Essaouira and everything has a set written price however this isn't true. I only bought a few bits and looked at a few more bits and the prices being quoted did decrease as I bartered or walked away so keep this in mind, however, again, its done in a friendly way and its also all part of the culture so enjoy it!
Generally, the rule is, if there is a written price, that's the price. If there is no price bartering can be done.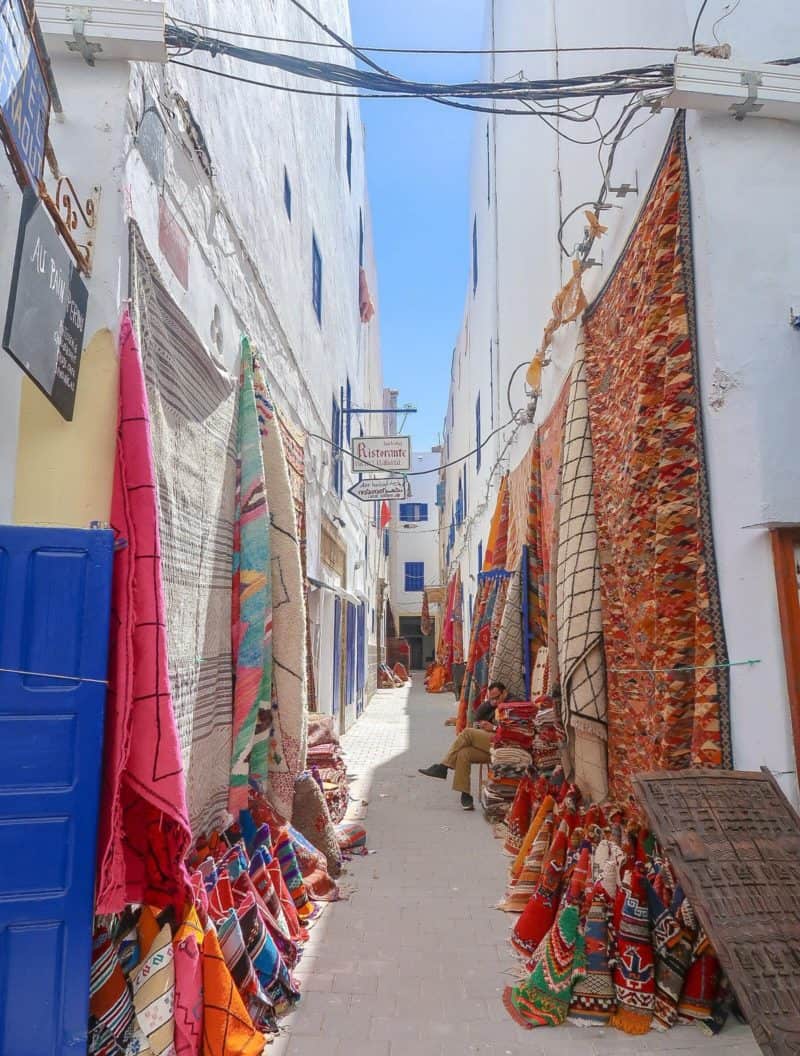 ---
Related Post: Relaxed 2 Day Itinerary for Essaouira Morocco!
---
5 – Riads & Rooftops
There are a number of rooftops and roof terraces in Essaouira that are great for people watching over the busy Medina streets or for watching the sunset from which is always nice when you're on holiday.
If you're staying in Essaouira then you really should stay in a Riad within the Medina and it'll be even better if you stay in a Riad with a Rooftop as I did.
I stayed at Riad Hotel Gnaoua and I was sold by its rooftop. It was a really nice rooftop however they were doing works to it so I couldn't fully enjoy it. (I also wasn't a fan of my room and found the rooms to be very loud at night so I'm not sure I would recommend where I stayed aside from the location and price!)
If this post is making you want to visit Essaouira and you want to check out some Riads have a look Booking.com here as there are lots available!
There are also so many amazing Airbnb's in Essaouira and you can get entire places like this one to yourself in the centre of the city for a great price! Here are some great options: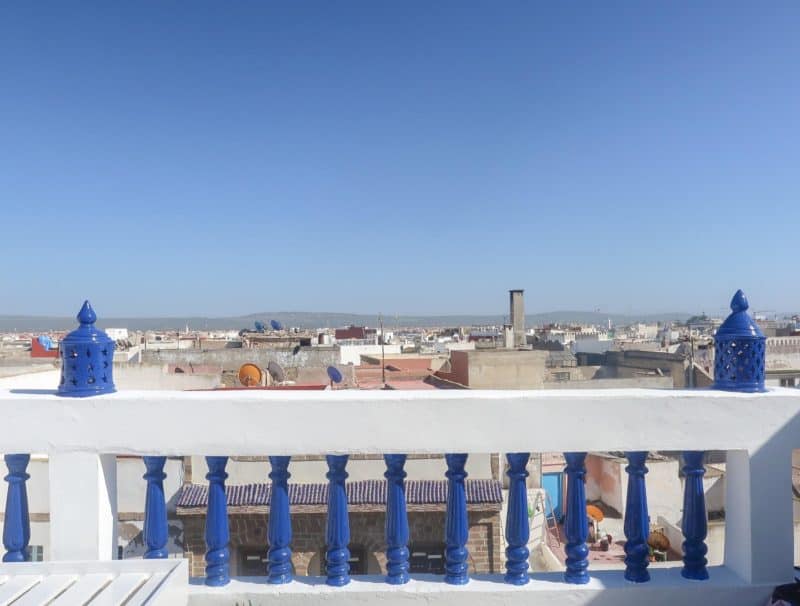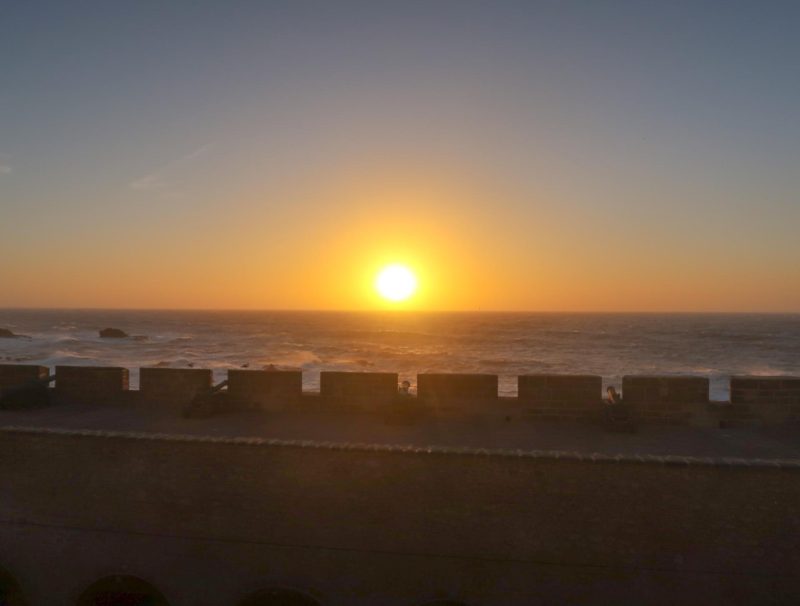 6 – Mint Tea & No Alcohol Culture
Ahh, mint tea! No trip to Morocco is complete without copious amounts of it.
A small pot of mint tea is around £1.00-£2.00 depending on where you go and it's perfectly excusable to sit in a cafe or restaurant and watch the world go by whilst drinking one.
Due to Morocco's religion, it is not a big drinking Country and Essaouira is certainly not a drinking and partying City either meaning it doesn't attract any big groups of stag do's etc.
Alcohol is sold, it's not overly expensive but it's not cheap like you may think and it's fine to have a drink if you want but it's equally fine to watch the sunset or finish off dinner with a mint tea instead and honestly, that's what I'd rather do!
7 – Essaouira is Easy to Get to
EasyJet flies in and out of Essaouira from London Luton Airport on a Tuesday and Saturday as it stands which is a perfect amount of time to spend in Essaouira. I got a flight from Essaouira to London for just £32.00 on a Tuesday which I was happy with!
Alternatively, Essaouira is just a few hours from Marrakesh and Adagir Airport. These airports are a bit too far to travel from for a weekend break but you could spend a week in Morocco and visit two places including Essaouira which is what I did. I spent a few days in Taghazout, a surf village 2.5 hours down the coast and ended my trip with 2 days in Essaouira.
If you want to visit Marrakesh too, be sure to read this Budget Guide to Marrakesh before you go!
Check out flights to Essaouira on Skyscanner here and remember that the places that are harder to get to are more rewarding once you're there!
I found leaving Essaouira airport to be a bit of a hassle, they were very strict on EasyJet's luggage requirements and there was a bit of queuing so make sure you do get to the airport 2 hours before your flight even though its such a small airport!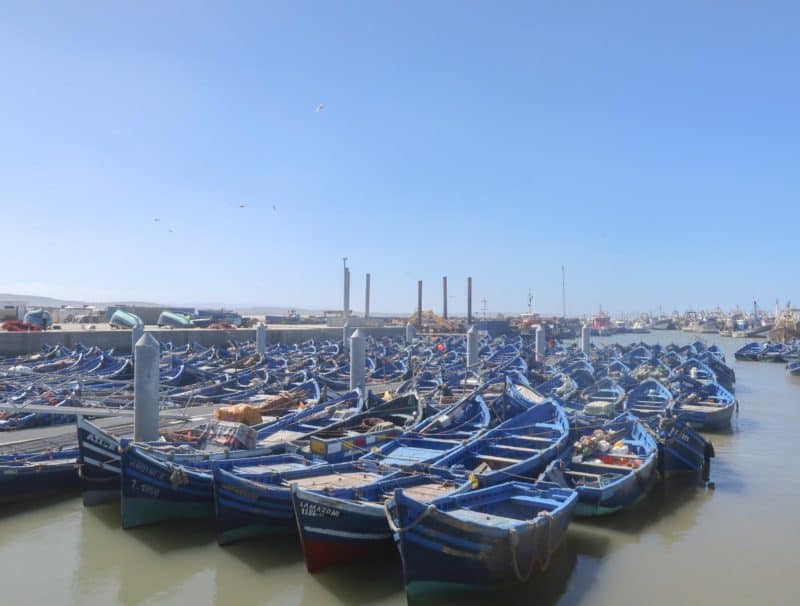 8 – All year round Sunshine
Essaouira is a city that benefits from nearly all year-round sunshine! The average temperature is 17° during the winter, 18° in the Spring and 21° in the summer and autumn which means it's comfortable to visit all year round.
I visited at the end of March and it was pleasant, I wore jeans and trainers and had to wear a light jumper and jacket later on and although it felt chilly in the shade the sun was shining and the sky was blue!
The reason for the chill is the wind! Essaouira is also known as the windy city because well, it is very windy! So keep this in mind especially in the Winter and colder months as the wind will create the chill.. however its likely there will be blue skies so that's fine!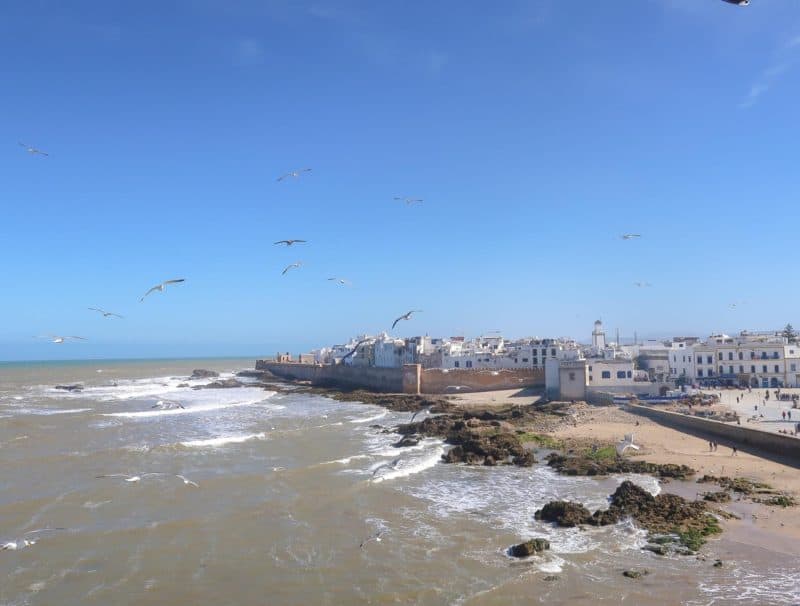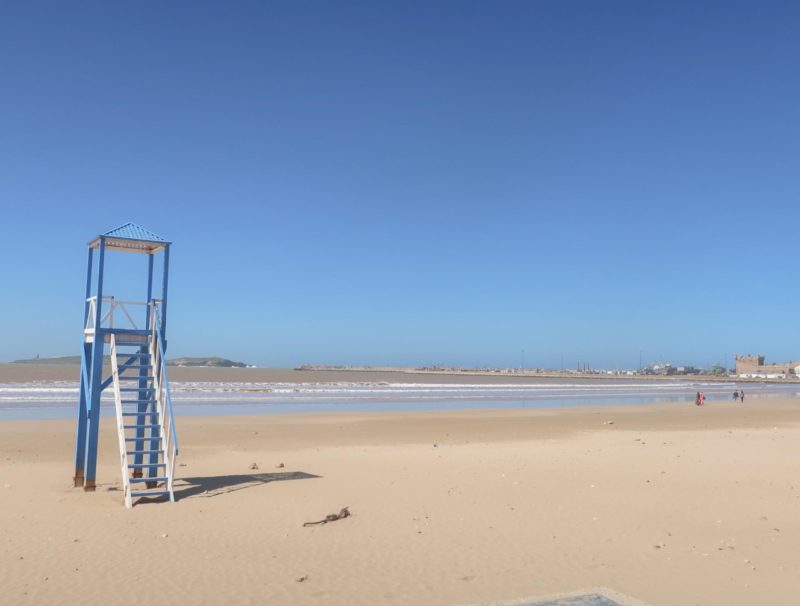 And there you have it, the reasons why I think you should visit Essaouira in Morocco for a holiday or a short city break!
---