Taghazout is a village on the coast of Morocco, not too far from Adagir. Taghazout is well-known for its surfing and its chilled out hippy vibe but you don't have to surf or be a pro surfer to enjoy Taghazout!
The village is made up of pretty white and blue buildings which are located literally on the coast with the buildings starting right at the edge of the beach only a few meters from the white crash of the waves.
Taghazout is well catered for tourists but it still has a really local feel which I loved. It's pretty but it's still very wild and authentic, a little bit dirty, an unpolished gem I found and I really hope it stays this way.
The village is home to a fair few surf houses thanks to its famous waves and recently these have transformed into a combination of surf and yoga houses, and retreats. If you like surfing or you want to try, Taghazout is the place for you! If you don't, you can still enjoy the village, the yoga, the beach, the chilled vibe and the nearby day tours.
Here is my guide to Taghazout in Morocco including information on how to get to Taghazout, where to stay, where to eat, what to do, how much it costs to stay in Taghazout and a few other things to keep in mind, like the lack of ATM!
Related Post: After reading this have a look at: 30 Photos To Make You Want To Visit Taghazout in Morocco!
To SEE what Taghazout is like, check out my 2 minute YouTube Video!
How to get to Taghazout
The best airport to fly into for Taghazout is Adagir. From here it is a 40 minute or so journey away. Otherwise you can fly into Essaouira which is a few hours away or Marrakesh, but this is a good view hours away and I wouldn't recommend it unless you have no other choice.
I found really good flights into Adagir from London and from Essaouira back to London on Skyscanner!
Taghazout is connected by bus to Adagir, Essaouira, Marrakesh and many other places in Morocco too however there isn't a bus station directly in the village so a taxi will be needed to get to and from the village.
After Taghazout I went to Essaouira, to get to Essaouira from Taghazout by bus I took a taxi from Taghazout to the bus stop, it was just on the side of the road so I'm not sure if this is the bus stop for all the buses or just a random stop. I was charged 70MD which felt quite high actually but the guy spoke good English and waited with me until the bus came, he also gave me the option of getting a shared car from there. The bus was a local bus and reasonably comfy costing 50MD, took about 2 and a half hours and dropped me right outside the Medina of Essaouira so with both costs added together it didn't feel too much and was actually a really quick and easy.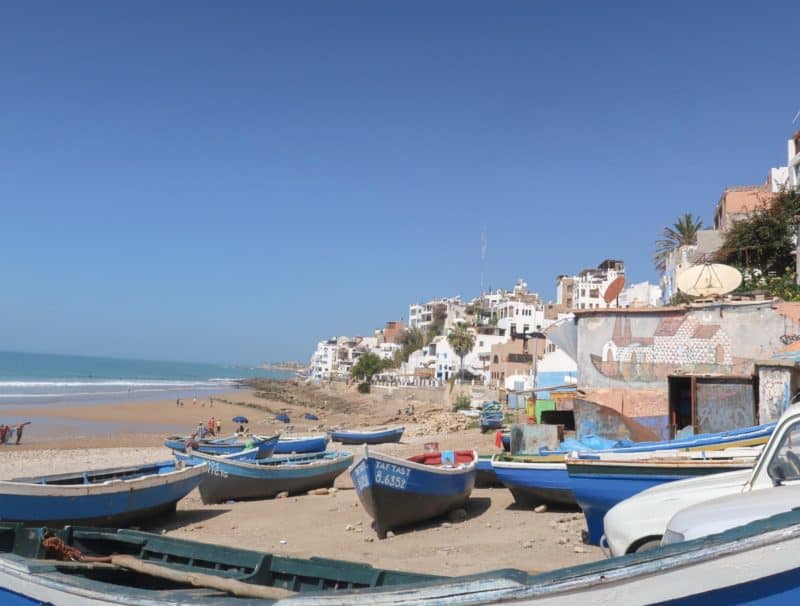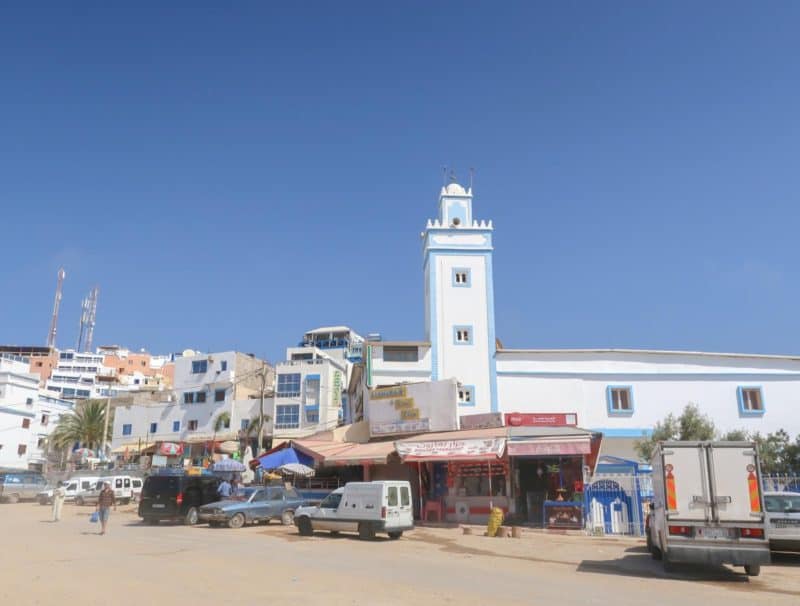 Where to Stay
Because surfing is the most popular thing to do in Taghazout there are endless surf houses, retreats and hostels which offer a bed and surf package.
There are also hotels and guesthouses that offer no surf option if surfing isn't for you.
I stayed in Dfrost Almugar Surf & Yoga House and loved it. You can read my full review on Dfrost Almugar here but the reason that I really loved it is because it's in a great location at the end of the town, the staff are great, its clean and comfy, and best of all Dfrost Almugar attracts a really good bunch of people so its easy to socialize, especially if you are visiting alone. Plus they offer sunrise and sunset yoga on their rooftop which was a selling point for me.
Other surf houses / accommodation that I saw that look nice are:
All of these range in prices too and you definitely get what you pay for here. Dfrost Almugar is not the cheapest but it's not the most expensive either and the quality there is really good.
Surf Maroc seems to rule the roost a bit, they have a few locations in the village with more being built by the looks of it. This does come at a cost as they are one of the most expensive.
I loved that Dfrost is a bit out of the main village and has a really private feel whereas a lot of the accommodation is right in the centre of the village surrounded by the restaurants and other surf houses etc.
Search more accommodation in Taghazout here!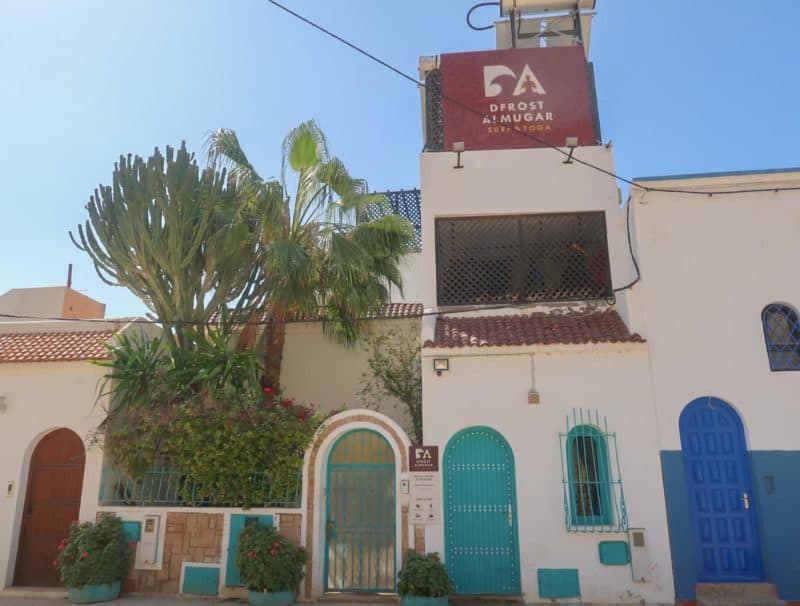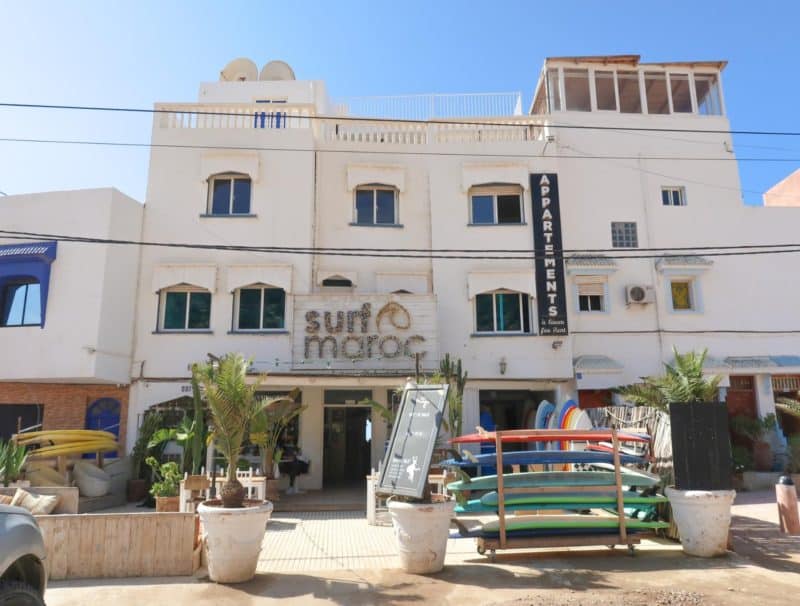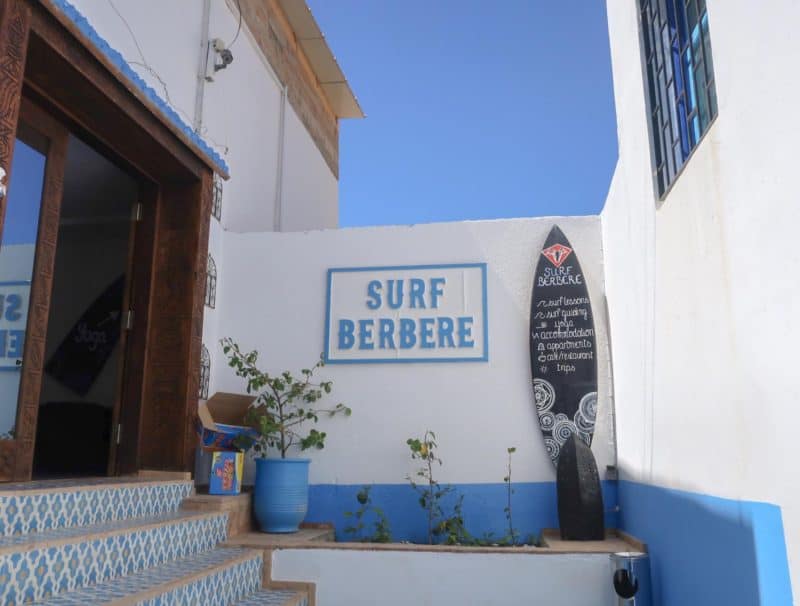 Things to do in Taghazout
Surf
Surfing is of course the first option! The surf teachers at all the surf schools and surf houses seem to be local guys, most of whom have grown up in and around Taghazout surfing these very waves since they were little. Firstly I think this is great as its providing jobs to the locals but secondly, these guys know their stuff and you will be in safe hands whether you're a pro or a newbie surfer.
There are so many different points to surf at in and around Taghazout and if you're doing a 'surf sarfari' you'll get taken to the beach with the best waves that day.
I went to K17 when I went on both days, the beach is huge but it is very dirty and full of rubbish which is a shame.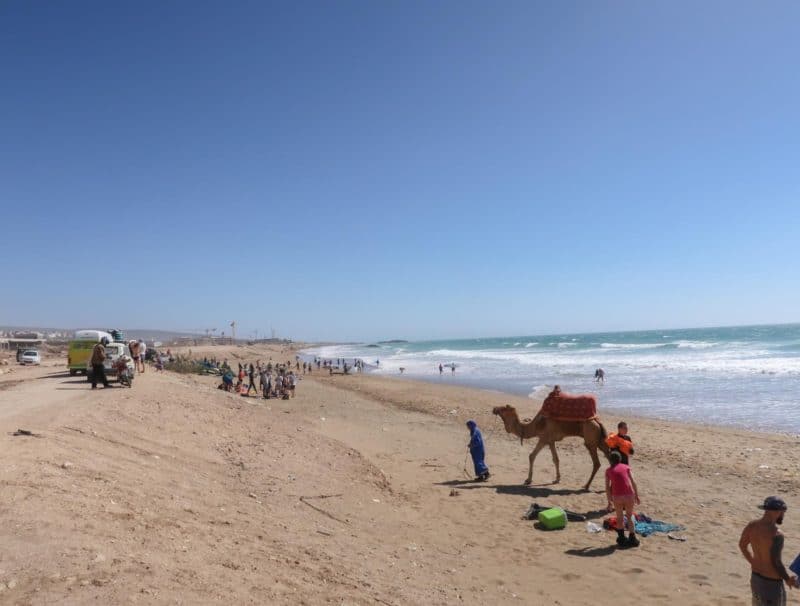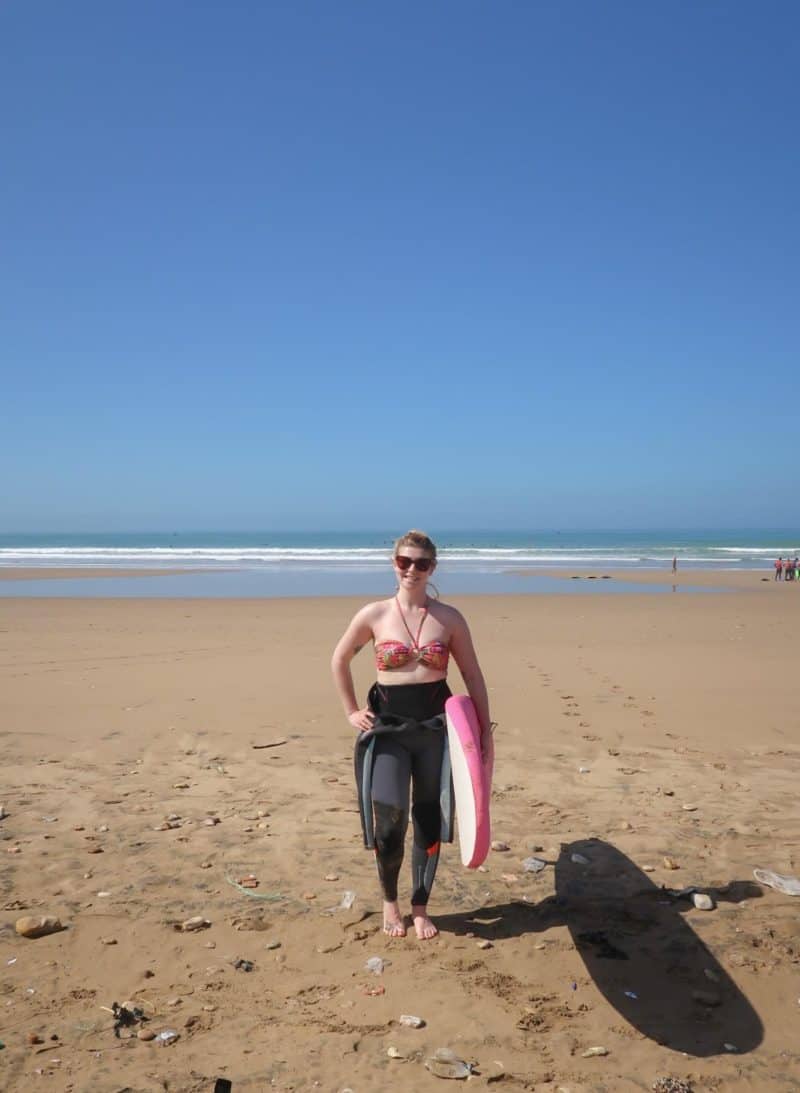 Yoga
As I said yoga is now quite a big thing in Taghazout with a lot of the surf houses and camps offering it. Yoga and surfing go together very well actually as a lot of muscles that are used in surfing are similar to that in yoga. If where you're staying doesn't offer yoga you can drop in on classes in other places for about €10.00 a session however being able to jump out of bed, walk up some steps and go to morning sunrise yoga like I did at Dfrost is pretty good!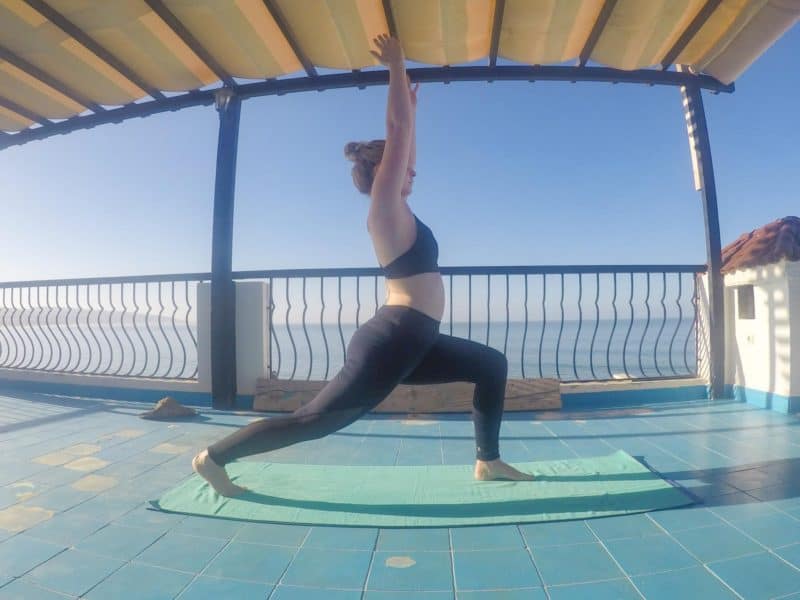 Sunbathe
The main beach of Taghazout is not the nicest beach to sunbathe on as it's quite small, very rocky and it's where all the fishing boats go in and out of but I saw plenty of people out on the beach and rocks sunbathing when the tide is out, plus there is a huge coastline down the way from Taghazout so you can walk or get a taxi to one of the bigger beaches.
If you aren't surfing but are staying somewhere that takes surfers out everyday why not join them and just chill on the beach that they visit?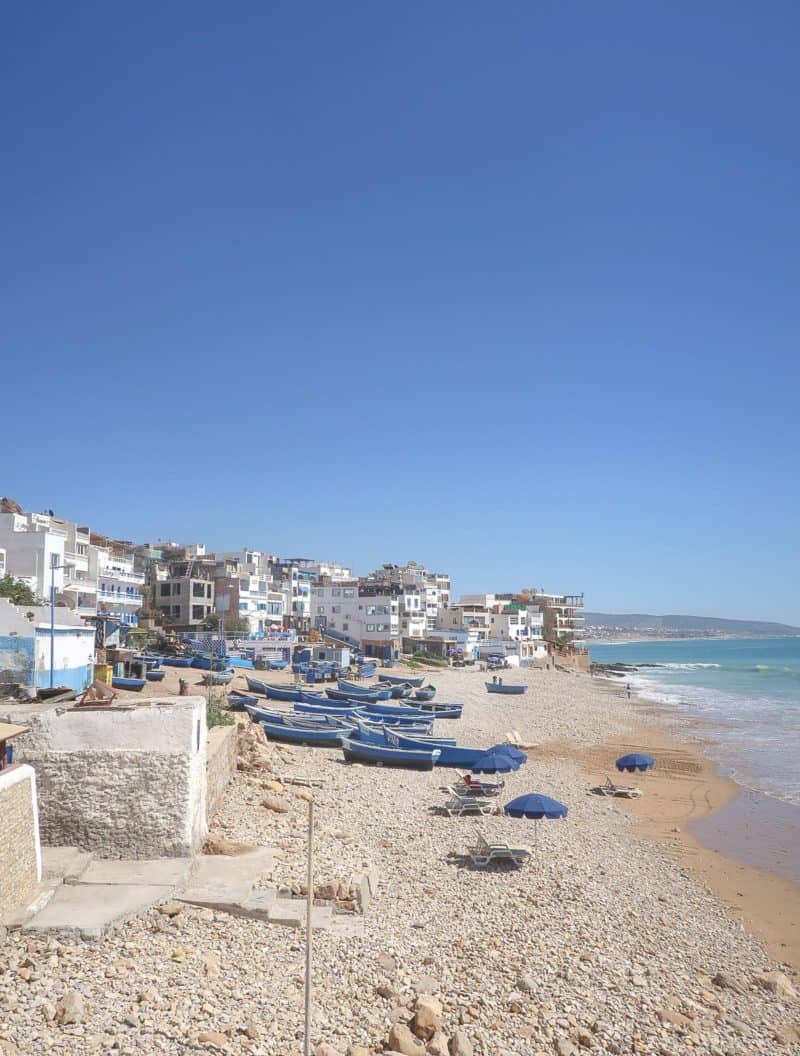 Explore the Village
Taghazout is full of windy streets and gorgeous white and blue buildings, most little streets lead down to the beach but you can spend a fair bit of time seeing them all and getting to know them all. Locals live in the windy side streets, some are quieter than others and give a really nice glimpse into local Moroccan life. Remember to be respectful though as these are people's home.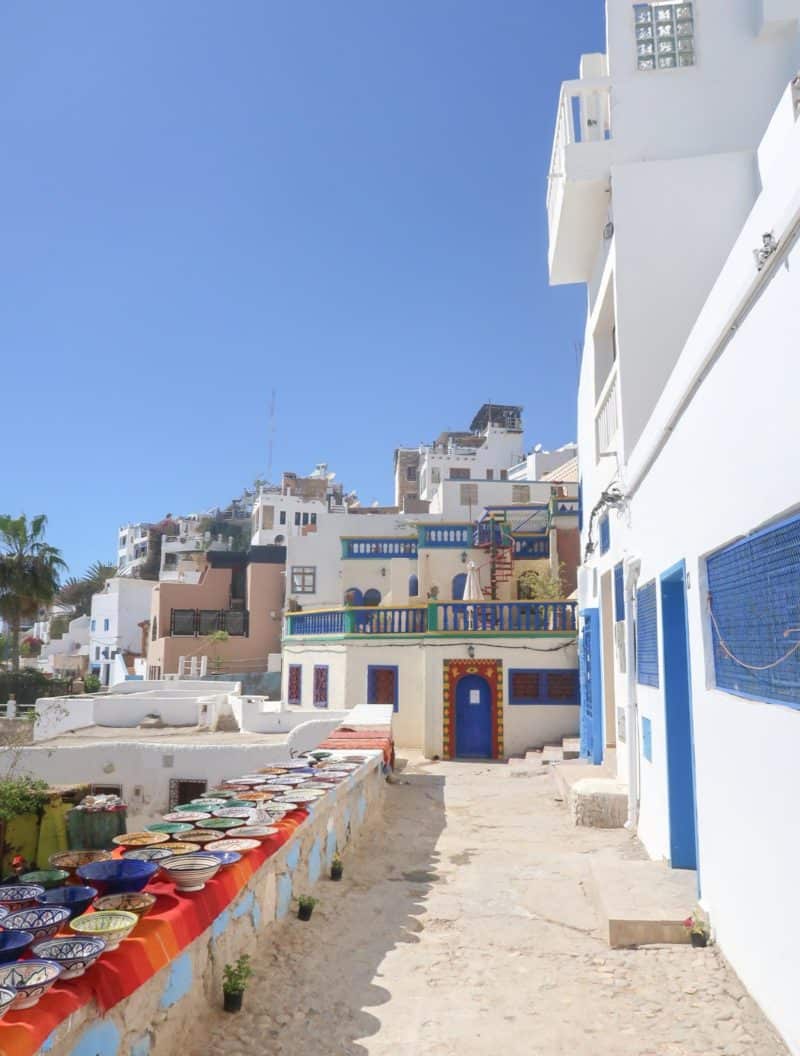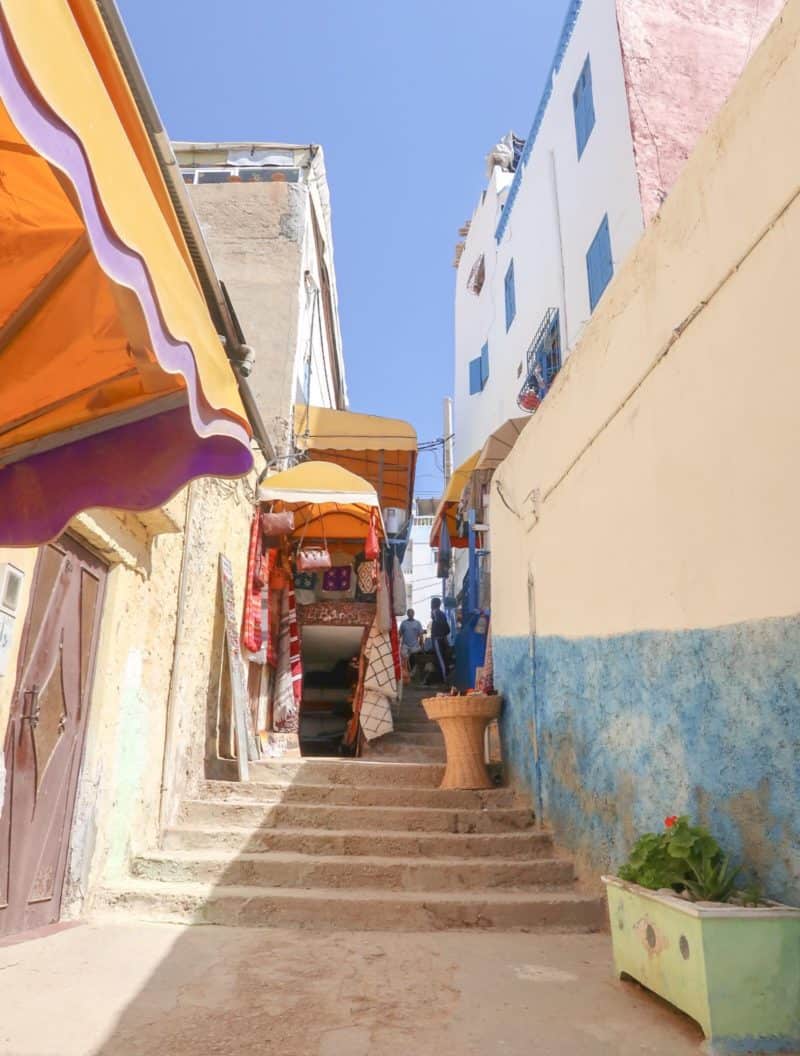 Take a Day Trip
There are a number of day trip possibilities from Taghazout, the main one being Paradise Valley which is the closest and cheapest trip starting at around €15.00, although you can get a public bus there yourself for cheaper. Paradise Valley is all about the waterfalls and swimming pools but they do take some hiking to get to. The first one is about a 30 minute walk, the other another 30 minute and the one after that the same, so be sure to pack some good walking shoes.
There are also day trips to Marrakesh and Essaouira available however these are very long days as they are quite far away and you do spend a lot of time in the car/bus.
Related Post:8 Reasons Why I Think You Should Visit Essaouira in Morocco!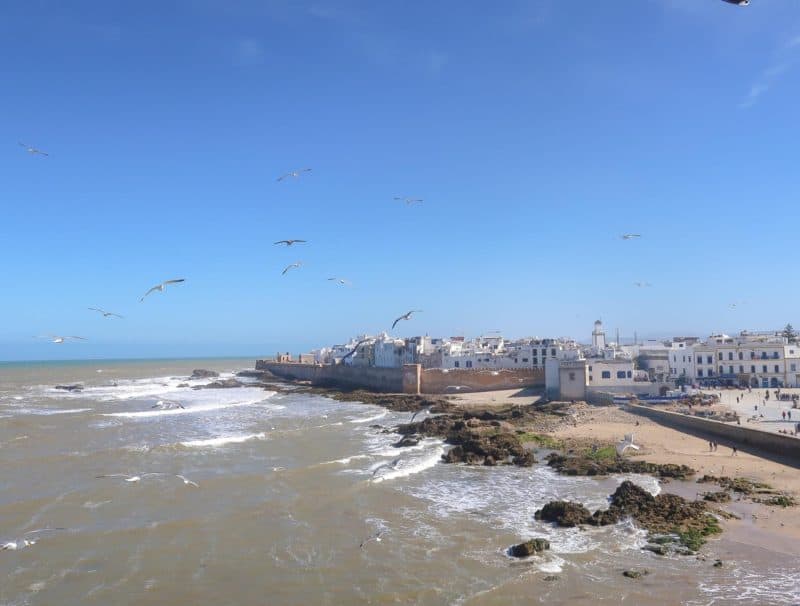 Horse Ride
It's possible to go horse riding up into the mountains and a long the beach for a full day or half a day. A girl I met did a full day trip for €70.00, she said it was great and it was just her and a guide. She did have very sore legs the next day though as she wasn't used to being in a saddle so if you're planning on surfing the next day a half day might be better! (Also just be sure to check that the horses are in good condition and being treated well, do not pay money and supply a demand for mis-treated animals.)
Where to Eat in Taghazout
If you are staying in a surf house or hostel its likely you'll be on a package that includes breakfast, lunch and possibly dinner. I would really recommend making sure you do eat out at least once in Taghazout though for lunch or dinner.
The main street has plenty of food options, during the day these are quite quiet and even look a little outdated however come nighttime the area is buzzing and has a really 'backpacker' feel to it, especially as these places are the cheaper options.
Here are some recommendations:
Le Spot – For Pizza but they serve other food too.
Sunset – For Burgers
La Paix – For Moroccan food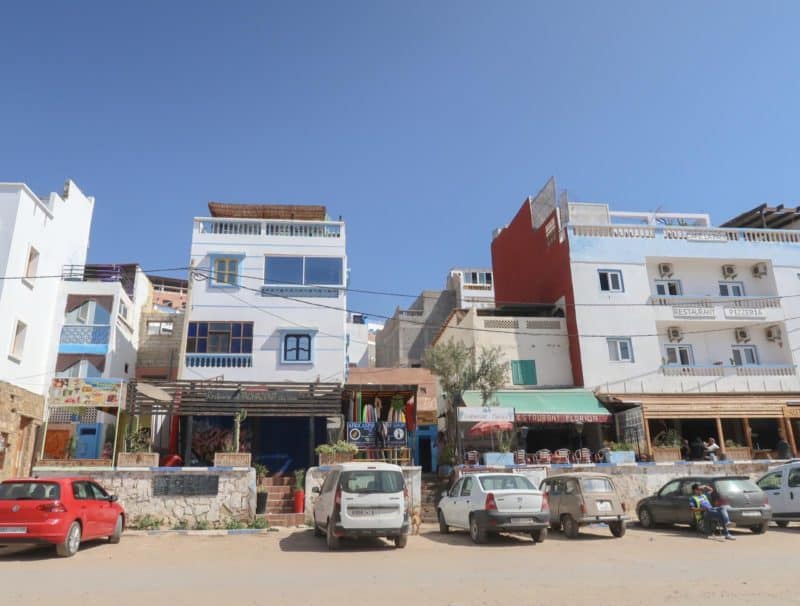 I thought this was all Taghzout had to offer but when I spent a morning waking through the village I found my self at the beach with a view of umbrellas in all colours in front of me and I couldn't believe how many ocean side cafes and restaurants there were and most of them are all very modern offering smoothies, pizza's, tagines, seafood, and best of all.. good wifi! These places come with slightly higher prices but they also come with a view!
Here are a few of the restaurants I either ate at or came across that I really liked:
World of Waves – This place is super modern and very 'instagramable', they offer breakfast smoothie bowls which I was pleased to see along with other breakfast items, great smoothies, lunch and dinner.
Windy Bay – I loved the pastel colourful vibe here and its chilled vibe
Munga – The bar close to the road has a really cool vibe with its wooden interior. I didn't eat or drink here but I heard good things about it!
L'Auberge – Located slightly away from the row of cafes and closer to the fishing boats I liked this place for its friendly staff and vibe.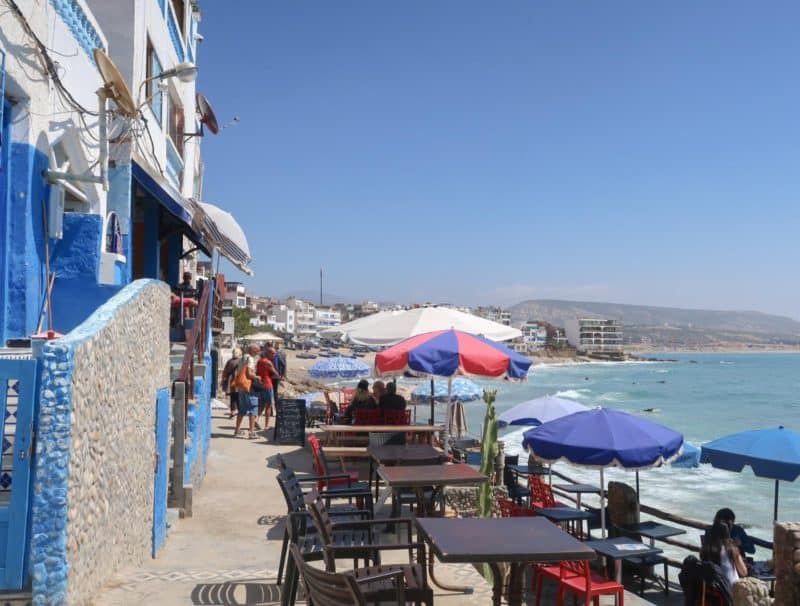 Costs in Taghazout
It's worth noting that Taghazout doesn't have an ATM. The closest one is in the town up the road so you need to take enough cash with you.
Once you have your accommodation costs covered there's not much else to pay for, especially if you have surf, yoga and most of your meals included in your package.
As I said there are some really nice cafes and restaurants in Taghazout and they're worth checking out, I found that prices were around the following:
Mint tea – 10MD/£0.77/€0.88
Smoothie –  25MD/£1.95/€2.20
Lunch – 45-65MD/£3.50-£5.00/€4.00-€5.70
Dinner from 50-80MD/£3.85-£6.20 /€4.40-€7.10
As Taghazout is a muslim village there is very limited alcohol in the area. Some of the surf houses now have licenses to sell alcohol- Dfrost, Surf Maroc & Sol House are some of those with licenses but you won't find many other places selling alcohol. The price of alcohol is not super cheap either because it's not readily available. A tap beer is around €3.50, a cocktail €6.00, a glass of wine €4.00, a bottle of wine €15.00.
If you're looking to do a day trip it costs around €25.00 to go to Essaouira and back, €35.00 to Marrakesh, €15.00 to Paradise Valley and horse riding is €70.00 for a full day. If you don't have yoga included in your package but you'd like to join a class the going rate from what I saw seems to be around €10.00.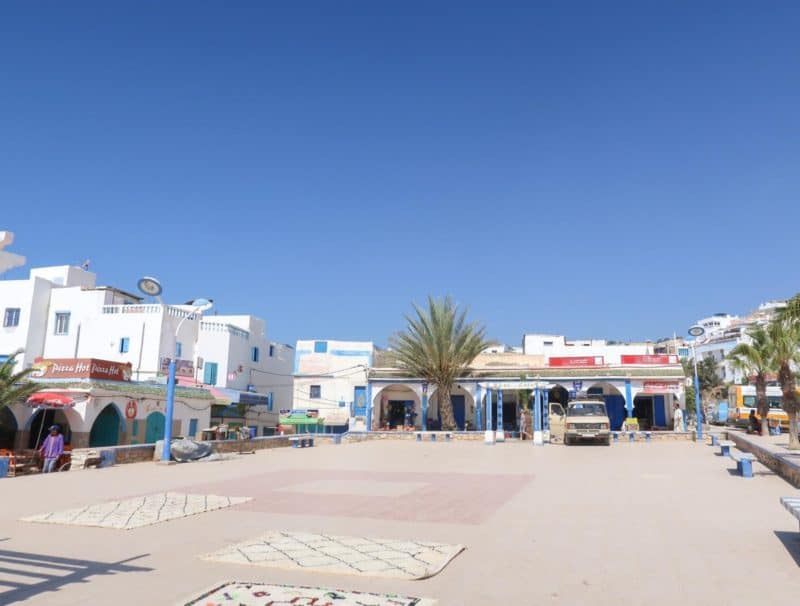 How to Dress in Taghzout
Taghazout is very chilled out and not like the rest of Morocco even though it is a Muslim Village so for females it's definitely possible to wear what you would wear to any other beach town. The men do stare and do comment now and again but not in too much of a harassing way and generally everyone is very friendly.
The main beach isn't really popular for sunbathers because its more of a fishing beach but people do go there to sunbathe in bikini's and that's totally fine.
Remember that this is a Muslim Village though so don't sit at a restaurant in a bikini, save that just for the beach or in your accommodation, and be respectful.
I felt a bit more comfortable walking around in a long dress but equally fine in shorts too!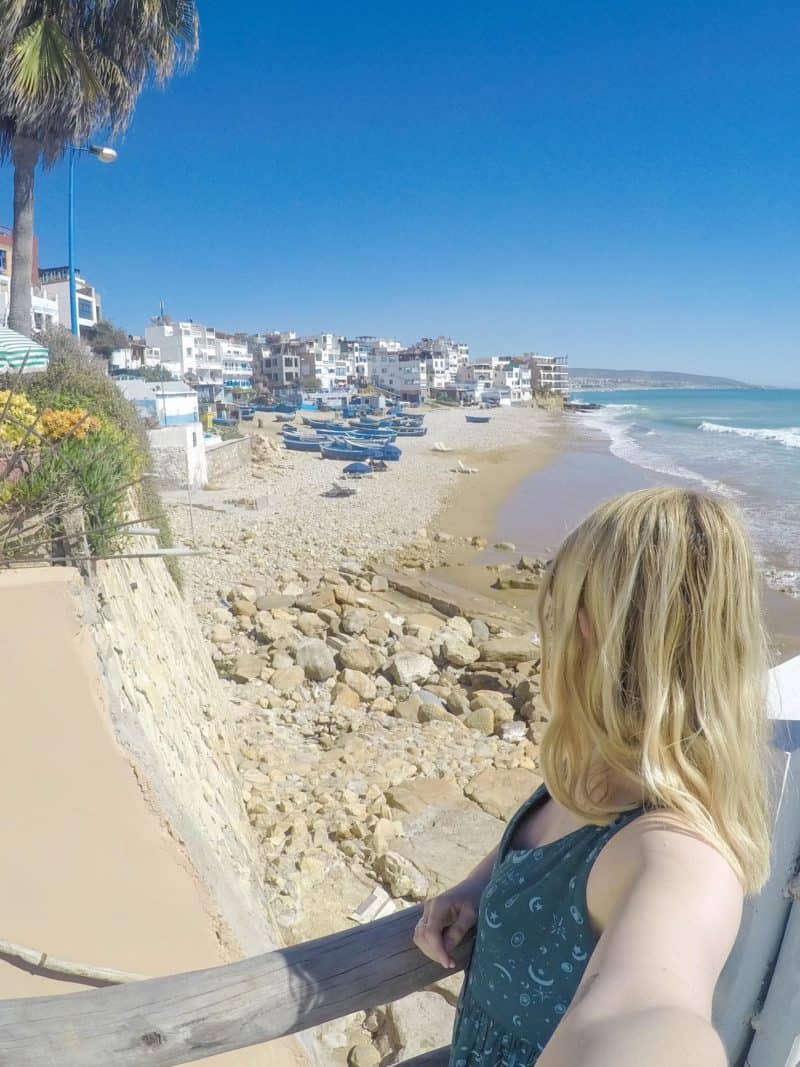 The Future of Taghazout
We went surfing at K17 a few times which is a mile or so away from Taghazout Village and this area is deep in heavy construction. A Hilton Hotel and a Fairmont Hotel are being built, both of which are huge, there are lots of fancy apartments with private pools going in too, plus restaurants and clubs.
I spoke with some locals and although they are a little worried that this might affect the hipster vibe of Taghazout they are positive that the more tourists that come, the more jobs there are and the more the Country will thrive and create more infrastructure as Morocco is still a third world Country.
These hotels are also going to be attracting a different crowd than the surf houses of Taghazout too, they probably won't be attracting suffers and although they might pop into the town the Fairmont looks like its going to be a town within itself.
I hope that Taghazout keeps its charm and its chilled out vibe, however if you need more of an excuse to go, I say that you should go sooner rather than later, just incase!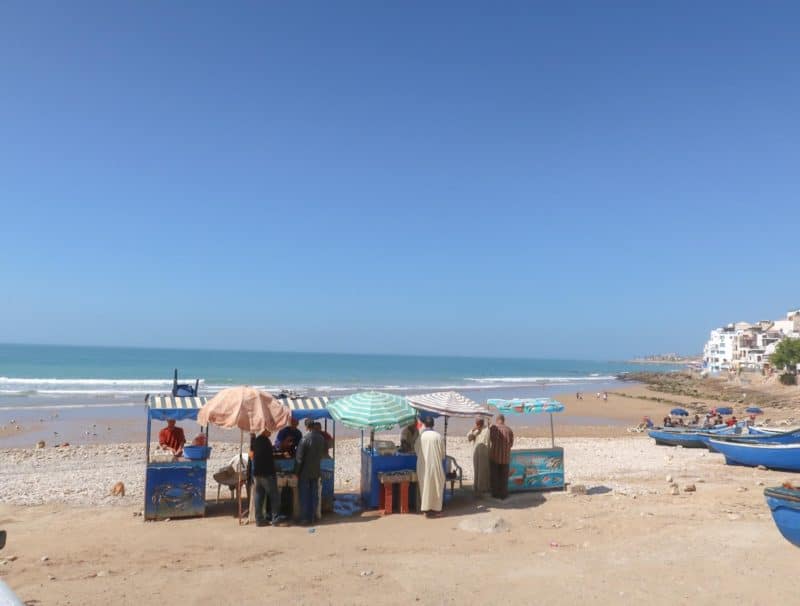 I hope this gives you the information you were looking for on Taghazout! I loved my week there and would go back in a heartbeat!
Search for the Best Accommodation in Taghazout here!
---
Have I made you want to visit Taghazout? I'm a total Skyscanner addict and find some great deals through their site. Why not look up some flights on Skyscanner now!?
To look on their app, click here!
---
More Taghazout posts:
30 Photos To Make You Want To Visit Taghazout in Morocco!
My experience staying at Dfrost Surf & Yoga House!
More Morocco Posts:
8 Reasons Why I Think You Should Visit Essaouira in Morocco!
A Relaxed 2 Day Itinerary for Essaouira Morocco!
---
Did you find this helpful? Are you going to Taghazout soon? Let me know in the comments below or by tweeting me @wandering_quinn
---
To SEE Taghazout check out these videos:
Some of the links in this post may contain affiliate links but at no extra cost to you, I want you to keep your money for travelling!
SaveSave
SaveSave
SaveSaveSaveSaveSaveSave
SaveSaveSaveSaveSaveSave
SaveSaveSaveSaveSaveSave
SaveSaveSaveSave
SaveSave