This post may contain affiliate links. I will receive a small commission if you use these links.
---
'So this is where all of the iconic photos of Cappadocia are taken!' I thought as I was in the middle of the Red Tour in Cappadocia.
Cappadocia day tours are very popular because unless you hire a car or hire a private driver there's no other way to see the area and most of the popular places to visit in Cappadocia are not in the main tour of Goreme, therefore a day tour is needed and the 2 most popular Cappadocia day tours are the Red Tour Cappadocia and the Green Tour Cappadocia and this is my review on the Cappadocia Red Tour, the highlights of the Red Tour and what to wear and pack for the Red Tour in Cappadocia!
Red Tour Cappadocia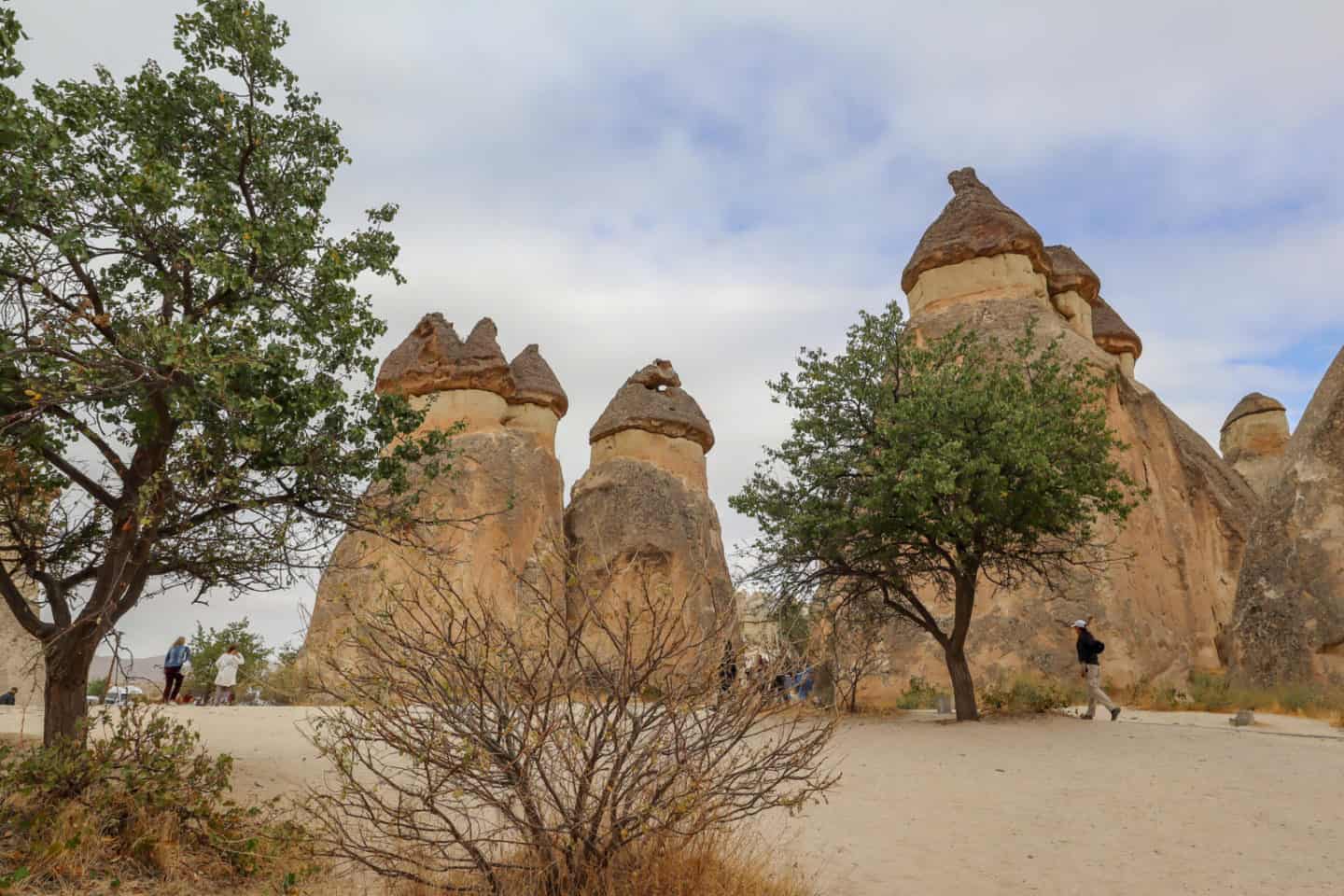 Find What You're Looking For Easily Here!
Green Tour Vs Red Tour
I first visited Cappadocia in 2015 and on that trip I did the Green Tour which took me out into the Countryside to do a Hike, visit a Monastery and see an Underground City. It was great but I felt like I was on the bus for a long time, I didn't get to see the iconic Valley's that I had seen so many photos of online and it's more expensive.
So on my return trip and with more and more photos of Cappadocia online and Instagram especially, I decided to do the Red Tour which took me to those Instagram spots.
Highlights of the Cappadocia Red Tour
These are the highlights of the Cappadocia Red tour:
Uchisar Rock Castle
I got picked up just before 10:00 am and it wasn't long before our first stop at Uchisar Rock Castle. The top of the Castle is the highest point in the area but we didn't have time to climb up there, not that I was too bothered. Instead, our guide Tugba who was a complete gem and such a good guide to have explained to us what the Caves that surround the Castle had been used for.
People used to live in them but now they don't. Some of them are unused but some of them are still used for storage as the weather here is extreme, it ranges from -20°c in the Winter with highs of 40° in the Summer, however, the Caves keep the same temperature of about 15°c all year round and are therefore really handy to store the food produced in the local area which is a lot of food considering that aside from tourism, agriculture is the biggest industry in the region of Cappadocia.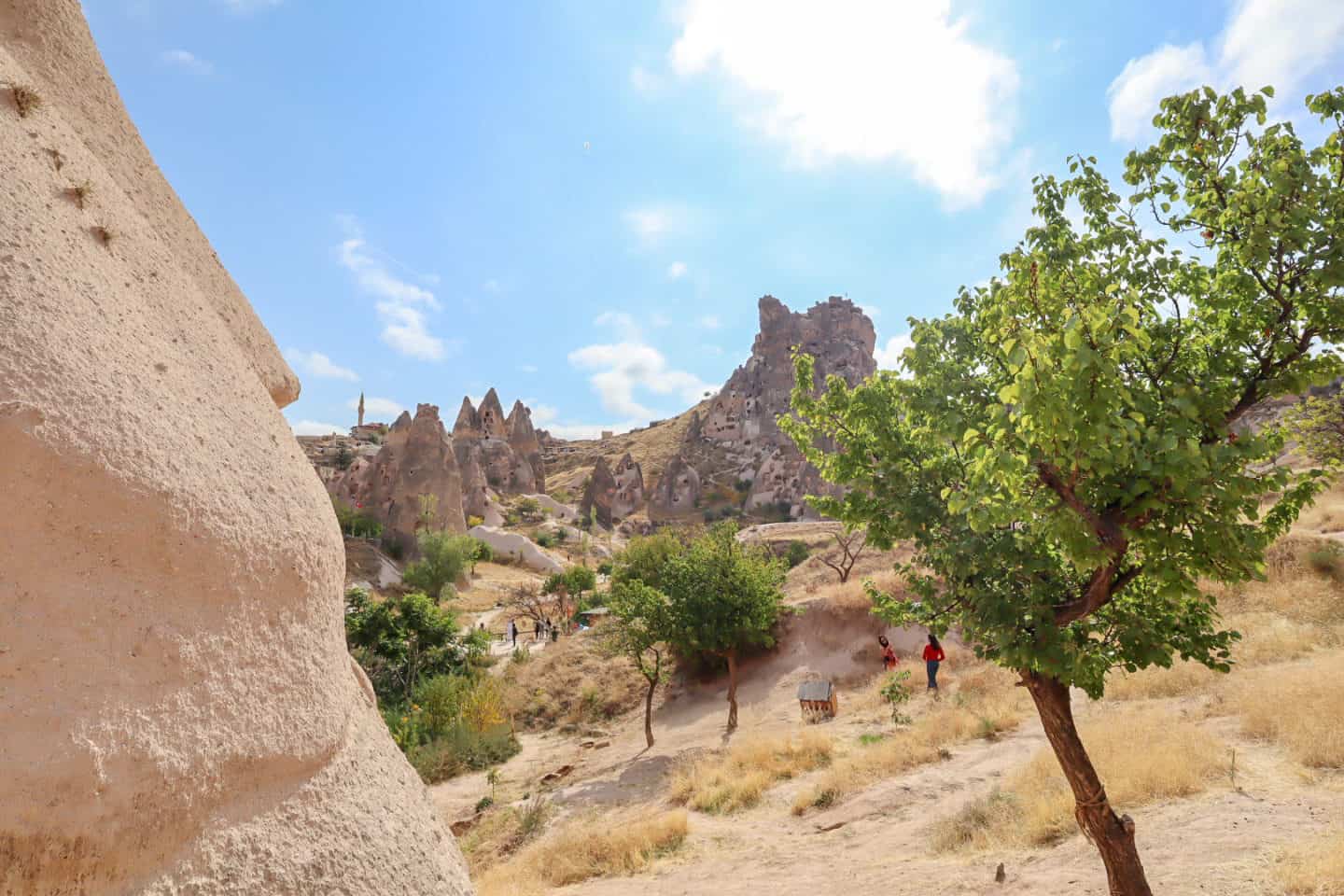 Goreme Open Air Museum
It was pretty busy at the Castle as it seemed to be a popular start to everyone's day. After Tugba told us about the Castle and Caves we were given 15 minutes to walk around and take photos before getting back into the minibus and taking the short drive to the Open Air Museum just up the road from Goreme.
I visited the Open Air Museum on my first visit to Cappadocia, I wasn't on a tour and I think I got the audio guide, but I remember not really understanding the museum's original use. A positive to the Red Tour in Cappadocia is that you visit the museum and have a pretty in-depth guided tour.
A lot of people think the museum used to be a Village, but the people of the area lived in the Village that is Goreme and other surrounding Villages. The museum is full of centuries-old rock-cut Churches and Monasteries instead.
We spent about 1 hour 15 minutes at the museum and after the guided tour we were able to explore on our own and take photos. The museum is 30TL to enter but the ticket price is included in the tour package.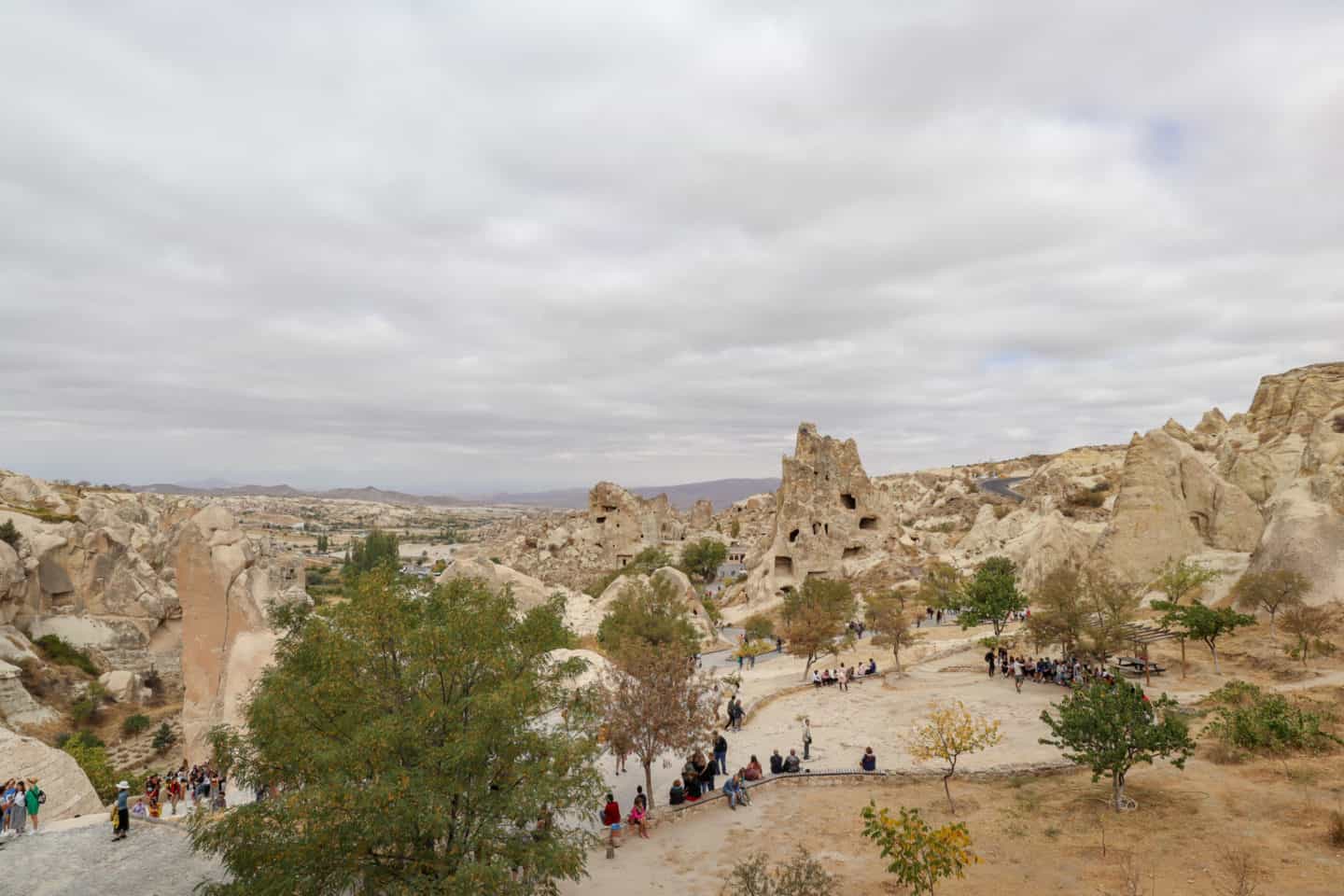 Love Valley
Our next stop on the Red Tour in Cappadocia was Love Valley which was about 10 minutes away, on the way Tugba gave us some information on the area including telling us that the word Cappadocia is a Persian Word and means the land of beautiful horses. I didn't know that but I really liked finding that out.
Love Valley is very much a photo opportunity stop, and a bit of a cheesy one at that, however this is where some of those iconic photos are taken as it's decked out with swings, benches, and even an old car with the beautiful backdrop of Love Valley.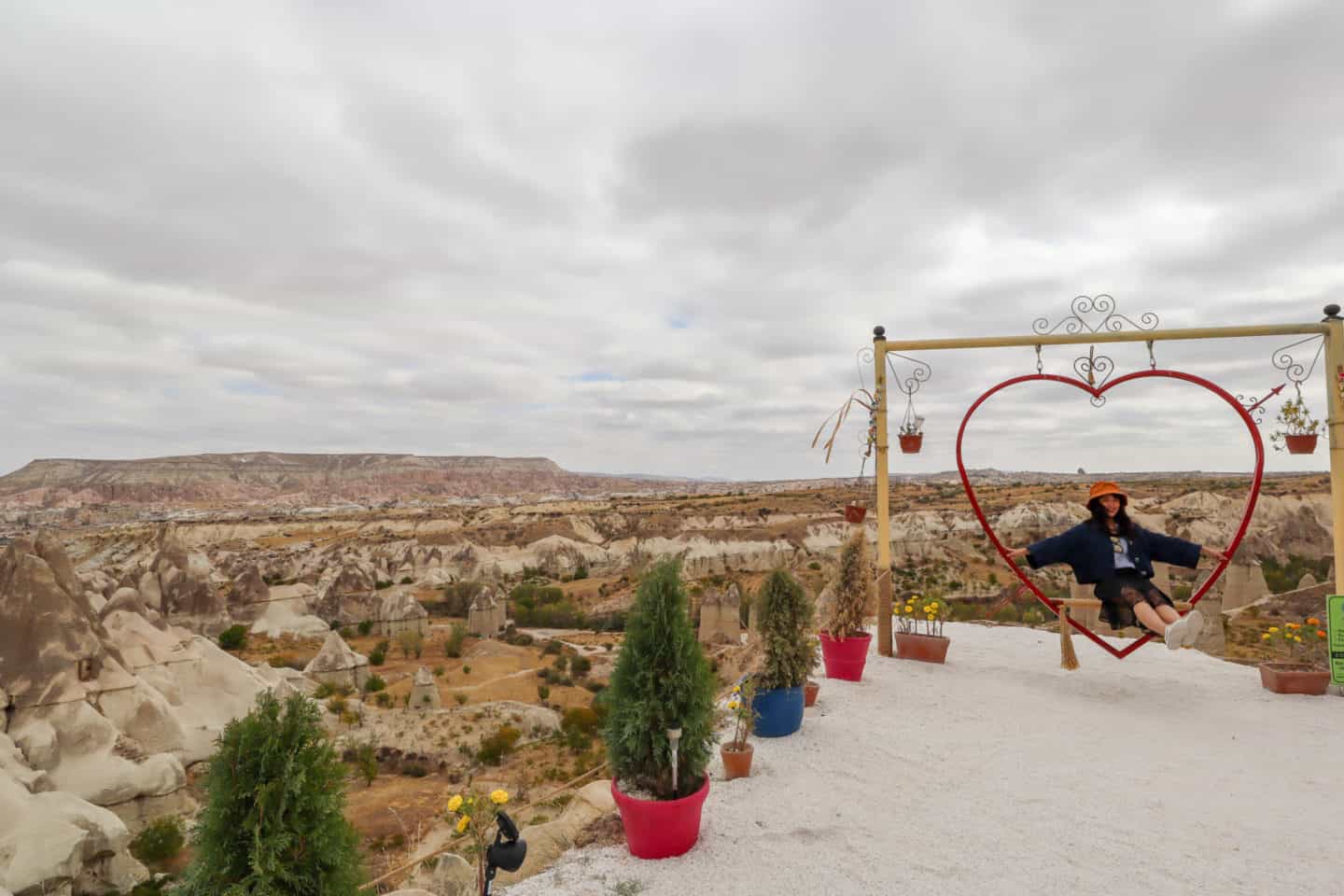 Lunch
Lunchtime was approaching and luckily our next stop was lunch at Han Restaurant. Again the drive was pretty quick, the Red Tour is centred around Goreme and therefore the longest bus journey was about 20 minutes and the shortest 5 minutes.
The restaurant for lunch appeared to be purpose-built for buffets and tour groups but what it lacked in the atmosphere it made up for in the food options and quality.
There was an array of Salads, Hot Main Options and plenty of Middle Eastern Desserts meaning we could try lots of local food. There were plenty of Vegetarian & Vegan options which I was pleased about and the only thing we had to pay for were drinks if we had one.
To SEE the Red Tour, have a look at my YouTube video here!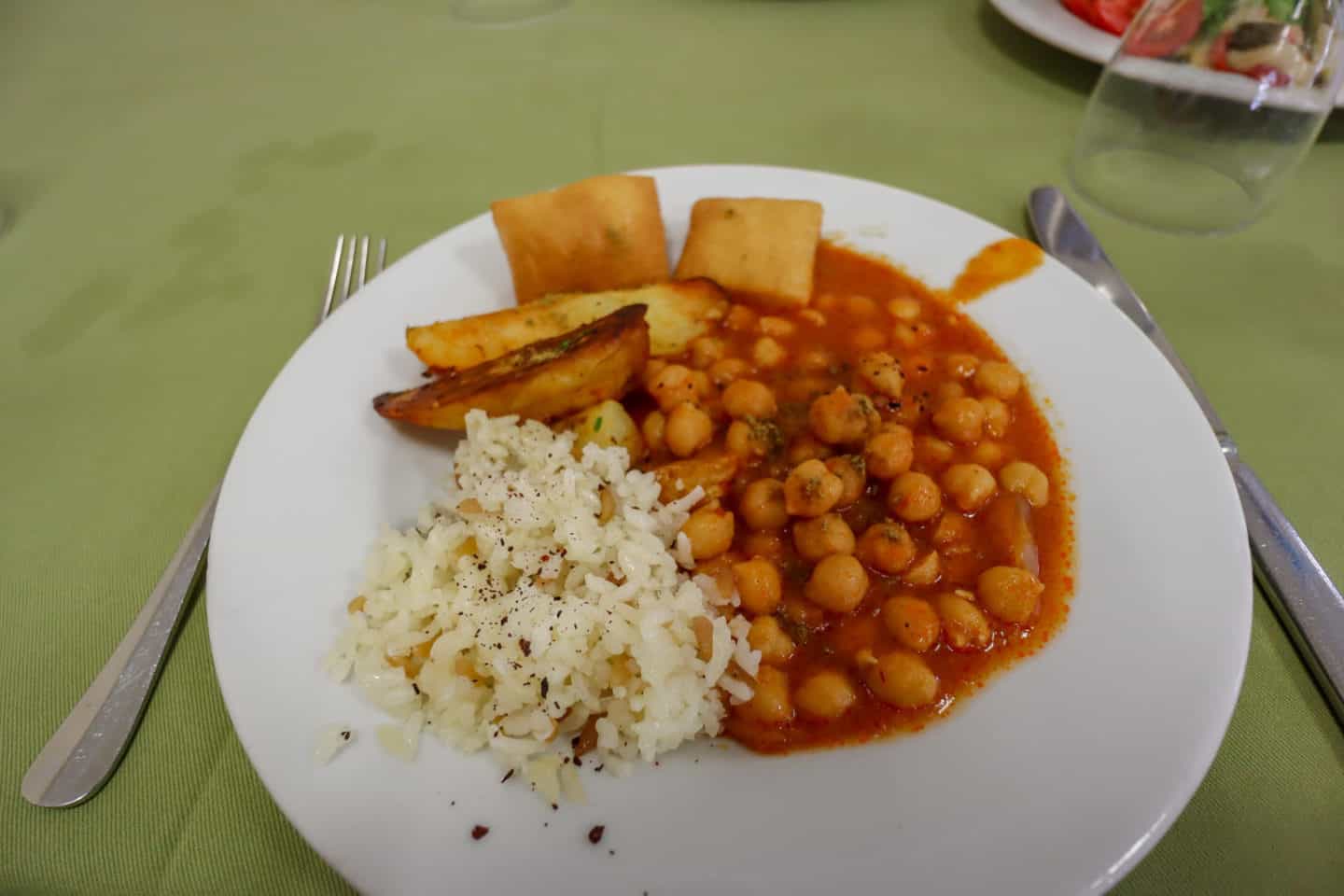 Pottery Class
Next to the restaurant are a few Pottery Houses as Pottery is a big and very important industry to the local area, and our next stop was to one of them.
Most tours like this and especially in places like Turkey have a 'sales' section, usually they can be pretty boring and a bit awkward if no-one is interested or wants to buy anything but to my delight this was not like this.
We started off being shown a demonstration on how a Pot is made, the guy made it look incredibly easy but I knew it was a skill and we were told he had been making Pottery for 19 years! Next up a member of the group is given a chance to have a go, this was a bit awkward as no-one wanted to but luckily a brave member put her hand up to have a go and proved how difficult it was. As with most of these demonstrations it made me realise and appreciate just how much effort goes into products that are locally made and made by hand.
We were taken into their store which held an impressive about of clay goods and had I had a home to deck out I might have purchased something, but I don't so I didn't.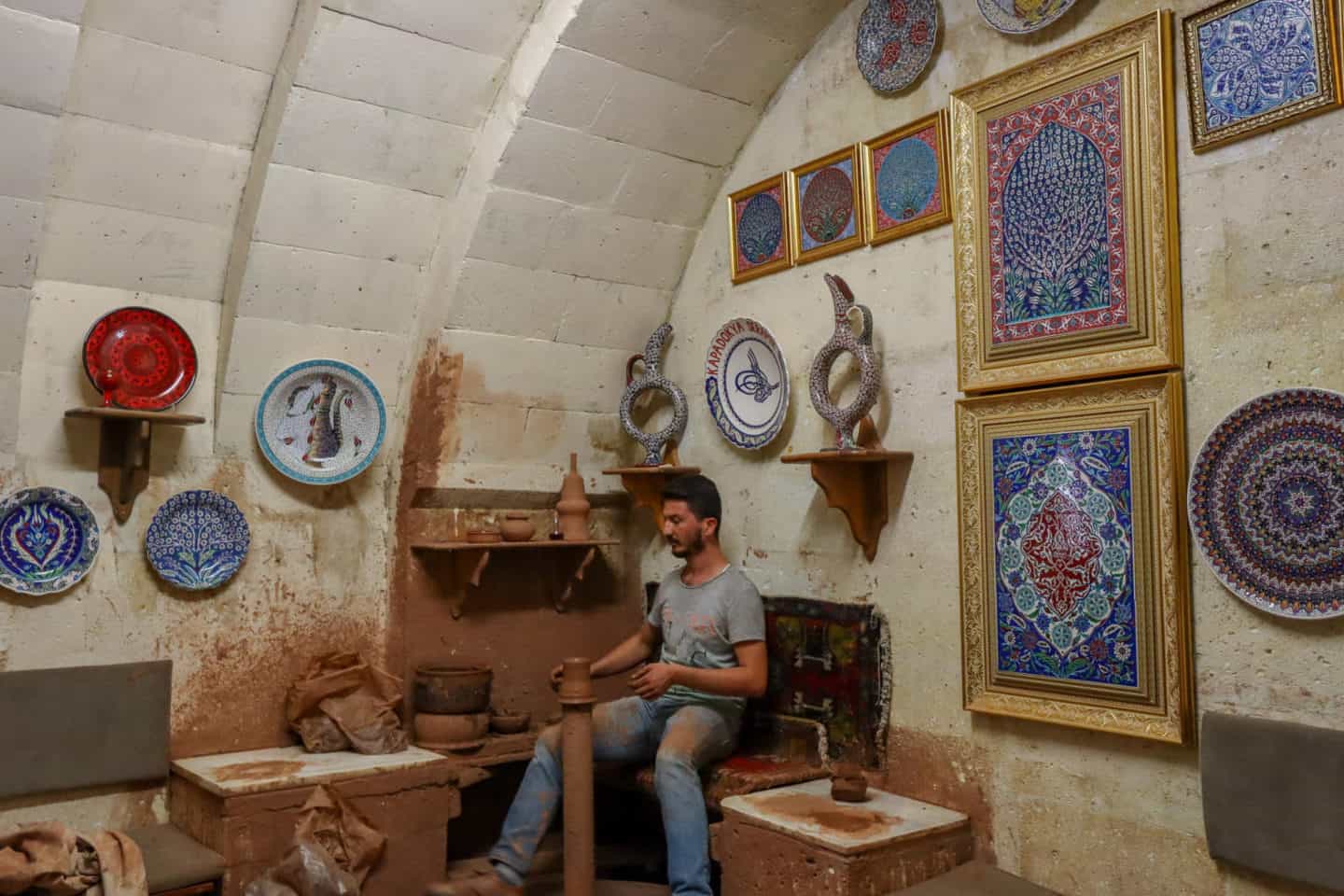 Devrent Valley
The next stop was my favourite Devrent Valley or Imagination Valley because we actually got to have a walk around and in that time we only saw our group and no other tour groups, hooray!
The Valley has been nicknamed Imagination Valley thanks to some people using their imagination as to what the rocks look like, we saw the Virgin Mary, Kissing Donkeys, a Thumbs Up, a Ghost and a Baby Frog. These kind of things are a bit silly and cheesy but they lighten the mood and I enjoyed walking around the rocks.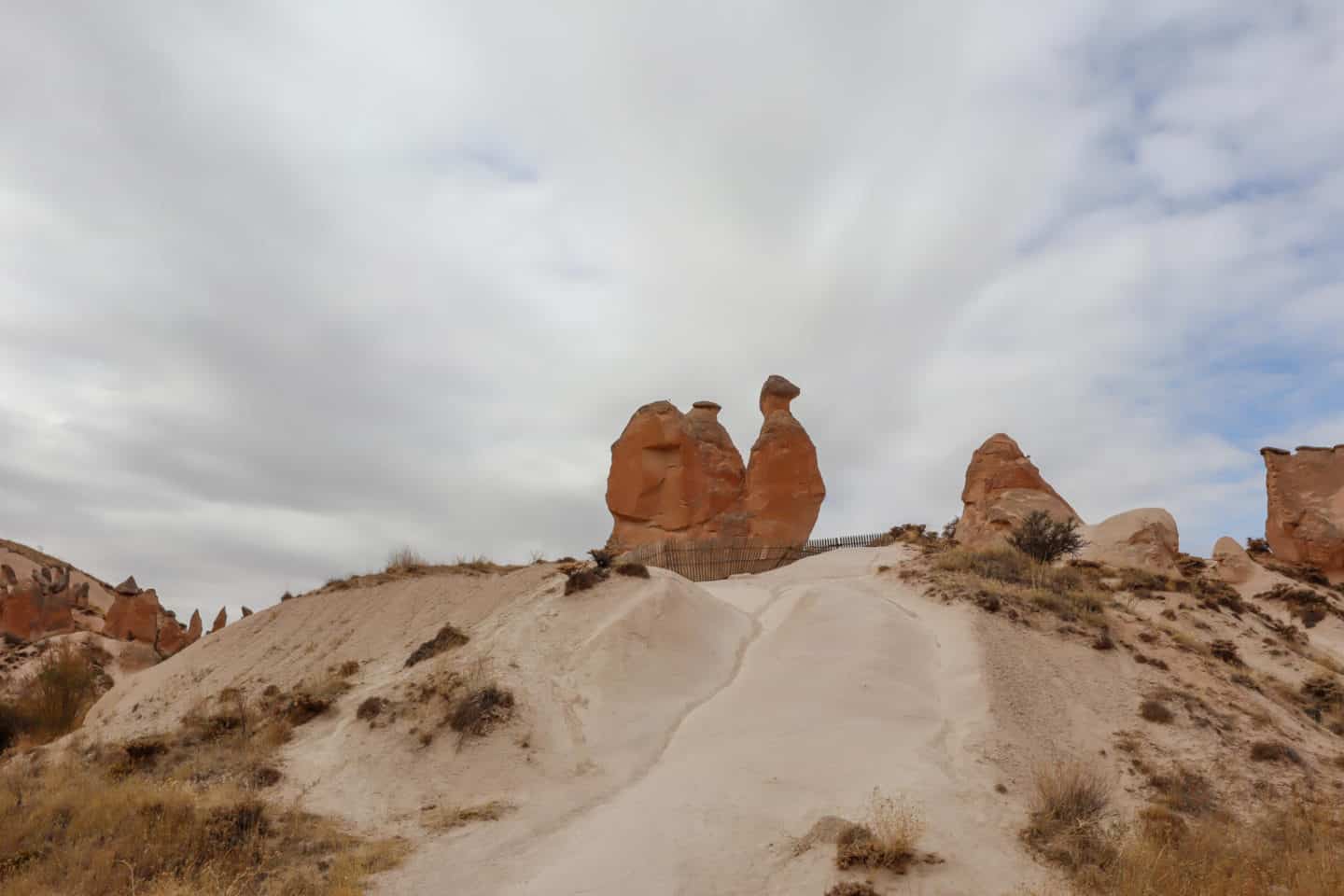 Pasabag Valley
Our final stop of the day was Pasabag Valley or Mushroom Valley as it's also known because the rocks kind-of look like Mushrooms. This was my least favourite stop actually because it was super busy and although the Castle we visited first had camels near the car park with the 'opportunity' for people to sit on them too, here they were walking them up and down which I really don't like!
We were told a bit about the Valley and it was interesting to hear what Tugba had to say about the formations and how they change over time and how the lids which make the 'mushrooms' will eventually fall. Afterwards, we had 30 minutes to walk around and take photos which was plenty of time.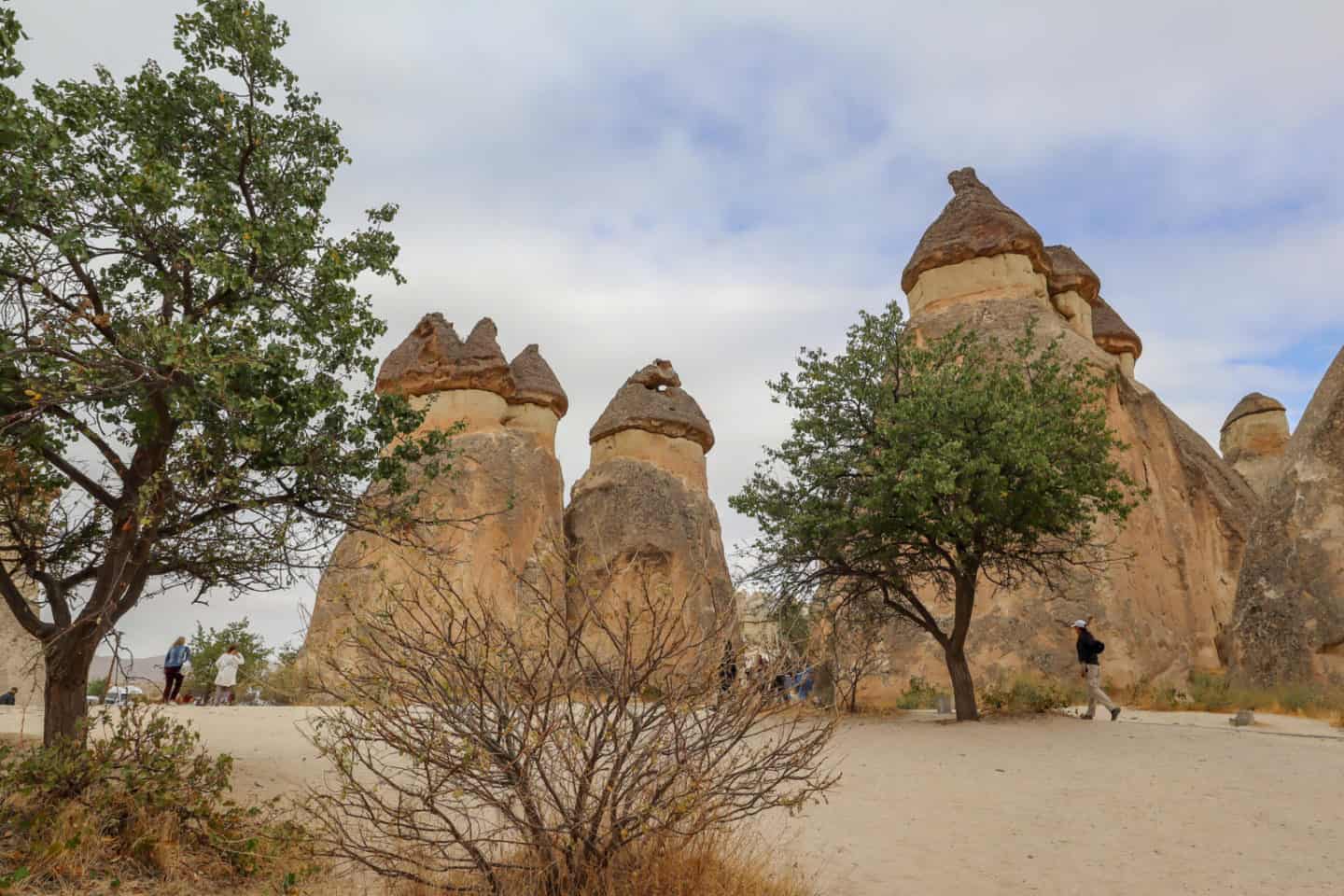 Goreme is just a 5-10 minute drive away from here and that was the end of the tour. I was picked up last and dropped off first from my hotel Cappadocia View Hotel and I got back at about 4:30 pm. Because the tour does stay close to Goreme the finish time of the Red Tour is a lot earlier than the Green Tour as that goes further away.
Red Tour Cappadocia Review
I had a good time, it was well organised with a comfy minibus, good driver and a brilliant tour guide and therefore I really recommend it to you.
The only thing to note is that as you will see from the description of my trip compared to the itinerary online is that we did switch some of the locations about, we visited some extra places and didn't visit some of the featured places but I can imagine this happens on all tours as they depend on the weather and the busy-ness of the area.
Booking the Red Tour in Cappadocia Online
The link below will take you to the exact tour that I booked and paid for myself, and you can view it here!
What To Wear and Pack for the Red Tour Cappadocia
As you can tell there is not much walking involved in the Red Tour Cappadocia and most people were wearing fashionable clothes including dresses which is fine but the MUST DO is to wear appropriate footwear with a grip.
The sand on the rocks can make them really slippy and even walking on just a small incline or decline of rock can cause people to slip and hurt themselves, I slipped over and I saw someone hurt themselves quite badly.
Do not wear fashion sandals or anything with no grip on this tour.
The weather in Cappadocia is very changeable, some days it's very hot, other days is chilly and clouded over and some day's it pours down with rain out of nowhere to be sure to take layers and prepare for rain, just in case. I found it was safe to leave things on the bus so it's better to take too much than not enough.
There are market stalls at most of the stops if you want to buy snacks or drinks or souvenirs so take extra money for that if you think you might want to.
I hope this has helped you make a decision as to whether to do the Red Tour in Cappadocia.
To SEE the Red Tour, have a look at my YouTube video here!