This post may contain affiliate links. I will receive a small commission if you use these links.
---
Here is my Cappadocia travel blog and the perfect Cappadocia itinerary on how to spend 2 days in Cappadocia or 3 days in Cappadocia doing all of the best things to do in Cappadocia.
After my multiple trips to Cappadocia, I want to give you my important Cappadocia travel tips, like how to not miss out on the iconic Cappadocia hot air balloon ride and the best time to visit Cappadocia!
Cappadocia in Turkey really is the dreamiest of dream places. All of those photos you've seen on Instagram really do look like the real thing, actually no, I think Cappadocia is even better in real life, I honestly love it and it's why I keep going back!
In my mind, it's at top of the list of the most beautiful places in Turkey to visit!
Cappadocia Itinerary!
3 Day Cappadocia Itinerary
When you land in Cappadocia, or your first stop in Turkey, maybe you are travelling from Istanbul to Cappadocia, be sure to pick up a tourist sim card for Turkey when you land as this is the easiest way to get a sim card for Turkey and then you'll have data for your whole trip!
Day 1 in Cappadocia:
Hot Air Ballooning in Cappadocia
You have to spend your first morning in Cappadocia on your Cappadocia itinerary doing a Hot Air Balloon ride!
You probably know by now that Cappadocia Balloon Rides are very popular and I must say that I think they're the only thing that makes mass tourism look good.
Hundreds of Balloons leave the ground in and near the town of Goreme and soar into the sky for the next hour and this is without a doubt a must-do attraction in Cappadocia!
After your perfect morning up in the sky, you'll still have time to head back to your hotel and have breakfast (and maybe even a cheeky nap) as your hot air balloon will finish at about 8:00 am.
Prices for Balloons Rides start at about €140.00 like this one these days in Cappadocia.
The options below are great options to book as they are the cheapest options online, and make sure you do book as far in advance as possible as they get very busy now and often sell out!
Where to Stay in Cappadocia
I stayed at Design Cappadocia Hotel on my most recent stay in September 2020 and I really recommend it. It's in Goreme town which is the best place to stay in Cappadocia in my opinion as it is the main tourist town.
Design Cappadocia Hotel is in a quiet location but just a 2-minute walk from the centre, all of the rooms are cave-like rooms with huge bathrooms and a feeling of luxury but for a great price.
It is family-owned with a beautiful roof terrace to watch the balloons from when you're not in one in the sky and a really yummy breakfast!
CHECK BOOKING.COM HERE FOR THIS HOTEL AND OTHERS IN CAPPADOCIA!
Cappadocia Travel Tip:
The reason I suggest you book a hot air balloon ride on your first morning, even though you might not feel like waking up this early on your first morning is because they do sometimes get cancelled because it's too windy.
Your company should be able to tell you the night before if it's cancelled so you won't have to get up, but if you only have 2 or 3 mornings in Cappadocia on your Cappadocia itinerary, trying to do it on your first morning gives you another 1 or 2 mornings to do it if it does get cancelled and if there is space another day.
Plus, it's a great way to start the trip!
Look for the best flights to Cappadocia here!
I use Skyscanner to book all of my flights! I'm a huge fan of Skyscanner because I love how easy it is to compare different dates and routes to help me find the best flight at the best price!
Open Skyscanner by clicking here and search for the best flights as you read this post.
Things to do in Cappadocia
Goreme Museum
In terms of what to do in Cappadocia, there are plenty of walks and hikes to do in and around Goreme which is the main town of Cappadocia (Cappadocia is the region) thanks to its many nearby valleys.
I would suggest having a little walk through the town in the morning and heading towards the Open Air Museum.
If you are going to do a day tour in Cappadocia (more on that in day 2's section) which includes the museum don't go in today, but if your tour doesn't go then I would recommend going into the Open Air Museum and getting the audio guide so you can understand what you are seeing.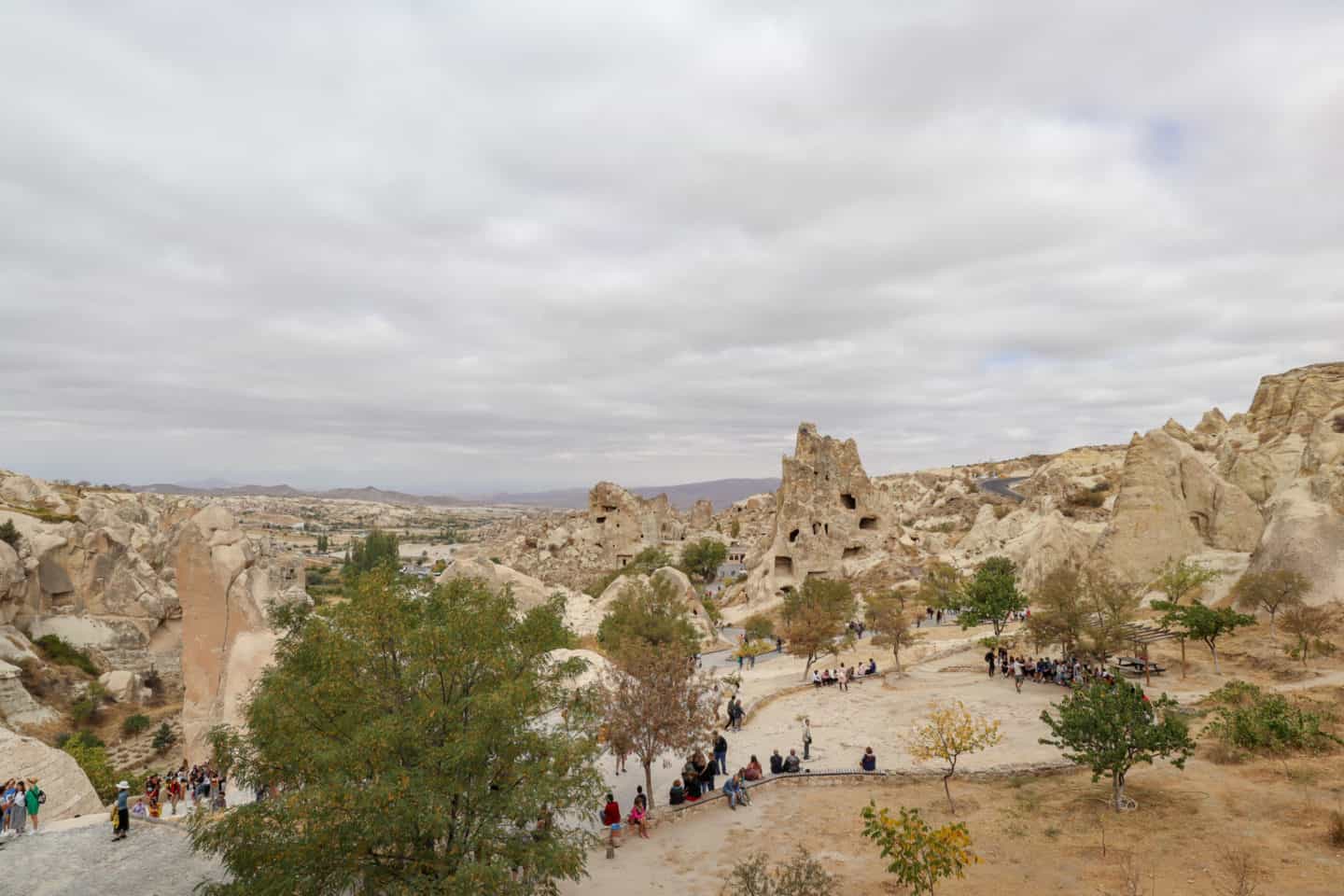 Hiking in Goreme
Before or after visiting the Goreme Museum you can go for a walk in the nearby valleys, and even if you don't want to go into the museum, it's good to head towards it because this is where you find Sword Valley, Rose Valley and Red Valley which are all really great places to go exploring and hiking in Cappadocia on your own.
The best thing is that you can leave the road into the valley and walk for just a few minutes, take some photos and leave, or carry on on a big walk!
For more detailed information on walks around Cappadocia, I found this post helpful: 8 Short but Sweet Cappadocia Hikes.
I also loved visiting Pigeon Valley From Goreme!
Cappadocia Travel Tip:
When walking around the valleys, be careful! Firstly it can be quite hard to find the paths that are on the map and it is easy to keep walking and get very lost. Secondly, the tracks going up and down can often be slippy with a lot of loose sand and rock.
So wear appropriate footwear to go hiking in, take some water in case you end up out longer than you thought, and don't keep walking unless you feel comfortable and confident in doing so!
I don't say this to scare you but this area really is like nowhere else in this world and therefore it can be a bit confusing to navigate! Hiking Tours are also popular though so if you'd rather join a tour to hike the Valleys you could do that.
Lunch in Goreme
If you return from your walk and you haven't had lunch, have lunch in the town of Goreme, there are so many places to eat and all of them serve Turkish food and there are plenty of places to find Western food in Goreme too.
The best restaurants in Goreme where you can visit for lunch are Old Cappadocia, Dibek, Organic Cave Kitchen, and Viewpoint. You'll also see so so many more!
A good place to go for a coffee in Goreme town is Coffeedocia, they also serve food but it's more western food, however, I love the colourful outside terrace to have a coffee in.
The most popular Local food to try in Cappadocia is a Pottery Kebab which is an Anatolian speciality prepared in a clay pot or jug, they do vegetarian versions too!
In the afternoon, because there are so many things to do in Cappadocia and things to do in Goreme, I have broken them down into sections so you can choose what feels right for you on your Cappadocia itinerary!
Horse Riding in Cappadocia
I'm very cautious with horse riding in touristy places because I want to ensure the horses are well looked after. Horse riding in Cappadocia is very common, they offer sunrise rides, daytime rides and sunset rides.
Based on my experience, the horses that I went out with all looked very good and healthy and they were well behaved, lots of people in my group did not know how to ride and they enjoyed it.
I did the 2-hour sunset ride which I also recommend to you, it's much cooler at this time of day, especially if you visit in the summer and it's a great way to see the sunset!
Just be aware that the horseback riding tours in Cappadocia are not tours where you will be told about what you see, it's likely that the guys who take you out don't speak much English. It's more about the experience of riding and seeing the landscape on horseback.
You can wait until you get to Goreme to book a horse riding tour or book this one in advance here if you want to get your itinerary all organised.
Quad Biking in Cappadocia
When you get to Goreme in Cappadocia you will see a lot of people out on quad bikes and ATV's. Although this is a very popular Cappadocia activity these days, a lot of locals do not like it.
They said the quad bikes are really destroying the natural landscape of the area and you only need to see them for 1 minute to see this for yourself.
Remember, just because activities are on offer in a location, it doesn't mean they are good, they are there because of tourist demand.
I love the landscape of Cappadocia, we all do, that's why you visit, so personally, I recommend that you do not go quad biking because of the negative impact of them. They can also be very dangerous and so so dusty!
Hammam Massage in Cappadocia
Have you ever heard of a Hammam? A Hammam is a hot steam bath followed by a massage and a popular thing to do in Turkey.
There are a few places in Goreme that offer a Hammam in a Turkish Bath. Heybe Hotel is a really good option as their website is very up-to-date and user-friendly with all the information and prices, I also popped into the spa and it's really nice and relaxing, and pretty fancy.
Otherwise, you could book a Turkish Bath Experience in one of the top Cappadocia Spa's online here.
I would suggest booking in advance especially if you are not that flexible with your time in case they are busy. A Hammam would be a great way to spend an afternoon in Cappadocia.
If you are going to Istanbul too, here's my review of one of the top Hammams in Istanbul!
Cooking Class in Cappadocia
Food is a big part of Turkish Culture and there are plenty of Cooking Classes available on offer when you arrive in Cappadocia.
Cafe Hop in Goreme
If you'd rather have a chilled afternoon, be sure to head to a cafe or restaurant terrace, or even your own hotel terrace if you have one, get a Turkish Coffee or Turkish Tea and enjoy the views of the town for a few hours because this really is a fairytale land and you don't have to be doing lots of busy activities to appreciate it!
I enjoyed sitting on the terrace in Coffeedocia so I recommend going to this Goreme cafe.
Sunset Point in Goreme
Come evening be sure to head up to Sunset Point in Goreme for Sunset. You may need a map on your phone as the roads are quite twisty but basically just head up the hill towards the huge Turkish Flag on the hill above Goreme.
If you are feeling a bit more adventurous though you could head to Uchisar Rock Castle instead for sunset in Cappadocia, it's the highest point in Cappadocia and a popular place to visit for sunrise and sunset.
There are public buses that run from Goreme Town past the Castle. Be warned you do need to climb up to the castle though!
Either way, watching an amazing sunset in Cappadocia should be on your Cappadocia itinerary.
Shopping in Goreme
The shopping in Goreme is really good! It's mainly touristy bits but if you are looking for carpets, Turkish lamps, leather products, sweets, clothing and more, you'll find it here!
If you're looking for the instagram carpet place, head to Sultans Carpets to see some amazing carpets and get some cool photos!
Dinner in Goreme
After sunset you can head straight to dinner, the best restaurants in Goreme for dinner are Dibek, Organic Cave Kitchen, Viewpoint, Keyif, Topdeck Cave, Inci Cave, Pumpkin Goreme Restaurant.
Nightlife in Cappadocia
There are limited things to do in Cappadocia at night I found, it's not a town for nightlife, probably because tourism is so centred around the hot air ballooning where people get up very early in the morning.
There are some restaurants that are open until late and you will be able to find some shisha lounges. Traditional Hammam's until 22:00 so this is another option of something to do in Cappadocia at night.
I went up to sunset point when it was dark one night and it was amazing to see Goreme town all lit up at night so I recommend going up here if you want a walk after dinner!
2 Days in Cappadocia
Watching Balloons at Sunrise
If you didn't do a Hot Air Balloon Ride the morning before, be sure to book one in for this morning on your Cappadocia itinerary. If you did, I still recommend you get up early and watch the Balloons in Cappadocia from the ground!
Pretty much all of the hotels in Cappadocia and Goreme especially have rooftop terraces to see the balloons from, just be sure to have a look at their photos when you book online to ensure they do!
I really loved seeing them from my hotel Design Cappadocia Hotel with its beautiful terrace with seating and flowers, and this is one of the big reasons I would recommend Design Cappadocia Hotel if you are wondering where to stay in Cappadocia.
If you do not have a terrace or you want some adventure in your morning, go up the hill in Goreme. It's the same hill as the sunset viewpoint, it's just that you'll see the sunrise from the other side!
Be warned that it does get busy up here and a lot of tour groups do tend to go up but you should be able to find a quiet spot and it's well worth going anyway.
Day Tour from Cappadocia
I would recommend spending the second day on your Cappadocia itinerary on a day tour around Cappadocia as it's the best way to see the area and see all of the places to visit in Cappadocia safely and with a knowledgable guide.
There are 2 popular day tours from Goreme, the Green Tour and the Red Tour so with your 2 day Cappadocia itinerary or 3 day Cappadocia itinerary, you should do one of them and here's how to pick which one!
Green Tour from Goreme
I did the Green Tour on my first trip to Cappadocia a few years ago which took us to Derinkuyu Underground City as there are huge amounts of Underground Cities in this area, Ihlara Valley for a 4-5km trek, a typical Anatolian village where you have lunch by the river and see some Churches and then to one of the largest rock-cut monasteries in Cappadocia.
It is a good tour but it is quite a long and it takes you far away from Goreme so there is a lot of time spent in the bus, and you do not explore the local Valleys of Goreme in this tour. It's also quite a bit more expensive. You can book a Green Tour like online for a great price:
Red Tour from Goreme
On my second trip to Cappadocia, I did the Red Tour which took us to the Open Air Museum just outside Goreme with a guided tour around it, Uchisar Rock Castle, Love Valley for a photo stop, Devrent Valley and Pasabag Valley with a lunch stop at a restaurant and then to see some Pottery being made.
We visited all of the valleys that are now really famous online so if you want to do this too, I suggest booking a Red Tour for day 2 of your Cappadocia itinerary!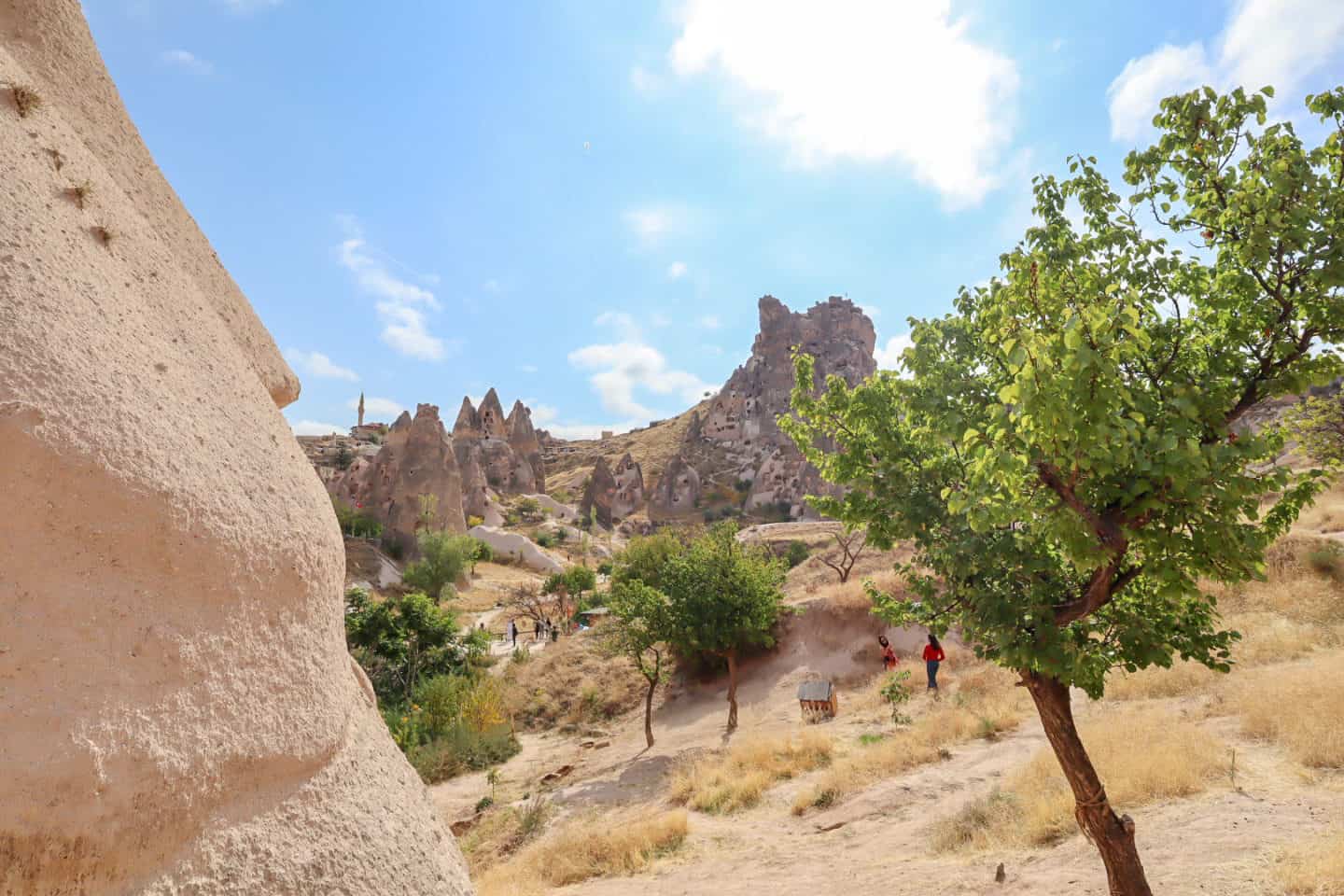 3 Days in Cappadocia
As you can probably tell, there are so many activities and things to do in Cappadocia and Goreme so use this day to do something you haven't done yet like:
Following this Cappadocia itinerary for 2 days or Cappadocia itinerary for 3 days will give you a brilliant few days there and ensure you see a much as possible!
To help you out even more, here is more information about Cappadocia to help you plan your trip and Cappadocia itinerary!
Best Time to Visit Cappadocia
If you are still in the planning stages of your Turkey itinerary, definitely look at my post to read about the best time to visit Cappadocia because in Winter Cappadocia gets very cold, and in Summer it gets very hot!
How to Get to Cappadocia
There are a few options and ways to get to Cappadocia. If you are travelling from or through Istanbul, the best way is to fly. I flew from London to Cappadocia in one day with Pegasus Airlines connecting in Istanbul S.Gokcen Airport for 2 hours, both of my flights went really well and although it was a fairly long day it was totally worth it and stress-free.
I flew back to Istanbul with Pegasus Airlines on a flight which took 1 hour 20 minutes where I spent 2 days before finishing my trip in Turkey.
Goreme does not have an airport and Cappadocia is the region so there is not an airport called Cappadocia either. Cappadocia's airports are Kayseri Airport which is where I flew in and out of with Pegasus Airlines or Nevsehir Airport.
Book a minibus with your hotel in advance so they are there to pick you up, mine cost 35TL. It's about a 1-hour drive from Kayseri Airport to Goreme.
If you are travelling from elsewhere in Turkey, Pamukkale for example or somewhere on the coast that does not offer flights or has an airport you can get a bus or an overnight bus to Cappadocia. I got an overnight bus from Pamukkale to Goreme. Bus travel and overnight bus travel is very popular in Turkey and safe so although you may not get the best sleep, the bus is a popular way to travel to and from Cappadocia.
Also, remember that most nationalities need a Visa for Turkey. You can apply for an E-Visa online in advance.
Related Post: How to Travel From Istanbul to Cappadocia. A Detailed Guide!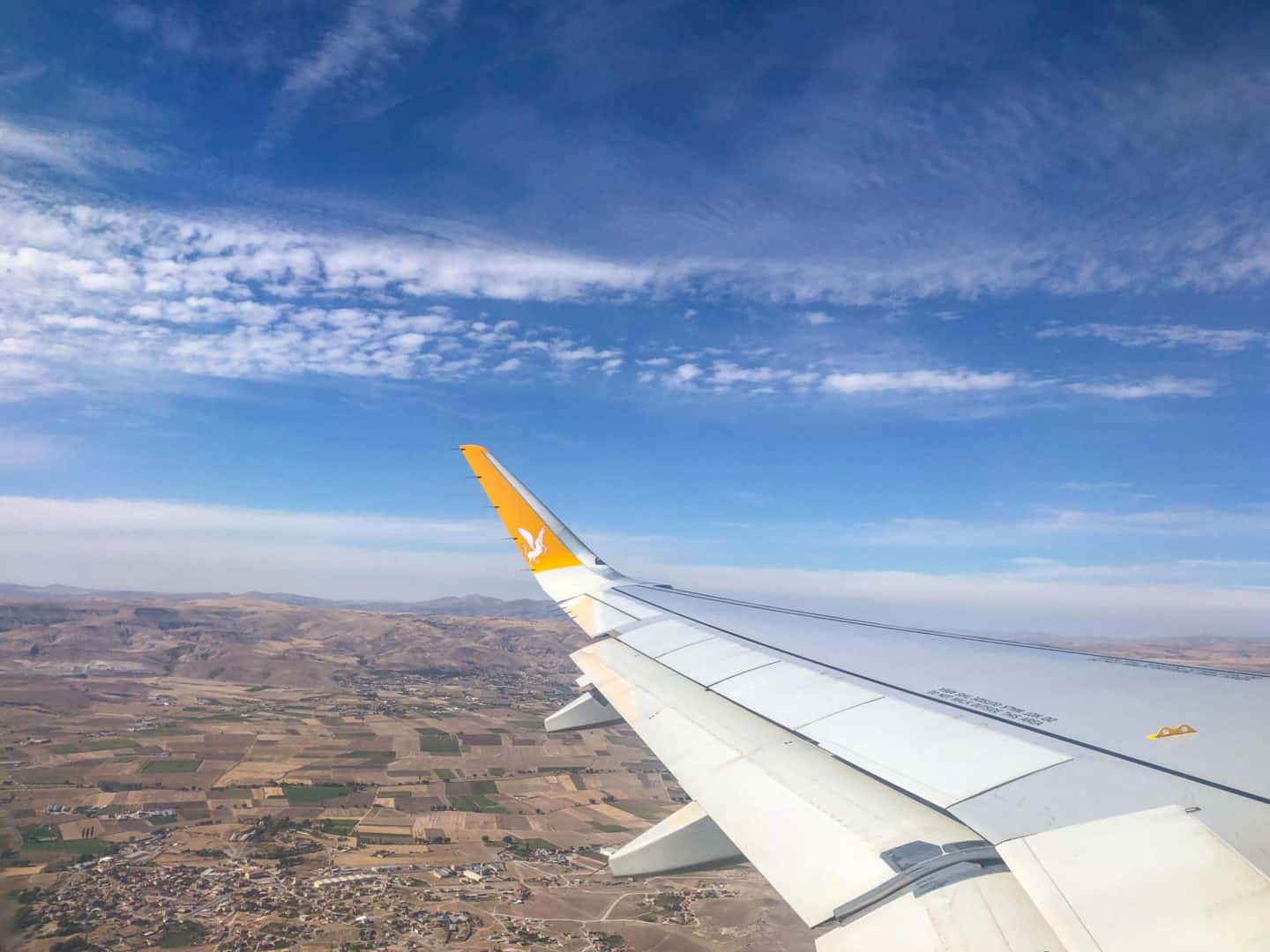 Where to Stay in Cappadocia
Cappadocia has so many Hotels of all different budgets, plus there are plenty of hostels available too so Cappadocia can be visited on a budget.
I loved my recent stay at Design Cappadocia Hotel, I have also stayed at Cappadocia View Hotel which I would recommend for a more budget option. On my first visit, I stayed at the Diamond of Cappadocia Hotel which is right in the centre of Goreme. I also enjoyed my stay there.
Cappadocia also has hostels which are perfect if you're backpacking Turkey or on a budget in Cappadocia. Hostel Terra Vista is rated highly.
Have you booked your flight to Cappadocia yet??
I use Skyscanner to book all of my flights! I'm a huge fan of Skyscanner because I love how easy it is to compare different dates and routes to help me find the best flight at the best price! Open Skyscanner by clicking here and search for the best flights as you read this post.
How Long to Stay in Cappadocia
Hopefully, you can see that 2 days in Cappadocia is a good amount of time, ideally, 2 full days with 3 nights is best.
However, if you wanted to spend 3 days in Cappadocia there are plenty of activities and things to do in Cappadocia to keep you busy.
In fact, you could even spend 5 days in Cappadocia or 1 week in Cappadocia if you really wanted to and still find things to do!
How to Get Around Cappadocia
Unless you are hiring a car to drive yourself around Cappadocia, which people do occasionally do, you will have to rely on minibuses, taxis and tours to get around the area.
Goreme is walkable and it's possible to walk into some of the Valley's from the town but there's a reason why the day tours are so popular and that's because to properly see the area you do need to do one, use the public bus system or hire a private driver.
This is why I also recommend staying in Goreme as it's well catered for tourists, you could stay in another village or town nearby if you hire a car that perhaps isn't as touristy, but without your own car staying anywhere else but Goreme would be difficult.