This post may contain affiliate links. I will receive a small commission if you use these links.
---
Pushkar in Rajasthan is a Backpacker and Traveller's dream, it's pretty chilled (compared to other places in India that is), small, cheap and it has a very spiritual vibe, all the things that keep people there a lot longer than they initially planned!
I spent one week in Pushkar and really loved it and I think you will too! However, there are some things to be aware of before visiting Pushkar and once you're in Pushkar to make your stay there even more enjoyable so here are some Pushkar travel tips!
Pushkar Travel Tips
Best time to visit India
Before we get into this Pushkar travel blog, it's worth thinking about the best time to visit Pushkar or India as the country get's very hot and wet in the middle of the year. November to March are the best times to visit both North & South India.
South India will be warmer than North India in the winter months of December and January, Delhi and further North actually get cold in these months but are still enjoyable to visit with the right clothing.
Outside these months, you can still visit but you'll find that the heat and humidity will be much higher, especially as you go further South.
SIM CARD FOR INDIA
I really recommend having a sim card in India as it makes travel in India so much easier! You may have heard that it's hard to get a sim card in India but you can get a sim card in Delhi Airport, read this post to see how to buy a sim card in Delhi Airport or if you fly in elsewhere 3 ways to buy a sim card in India and you'll be connected in just a few hours!
WHAT TO WEAR IN INDIA
If you are a woman, here's what I recommend you pack and wear in India. Technically you can wear what you like in India in most places but to get fewer stares and feel more comfortable, read my post!
DON'T GET SCAMMED IN DELHI
Most people arrive for the first time into Delhi and get scammed within a few hours! Read my Delhi Travel Tips to help you enjoy Delhi, and the best places to stay in Delhi which is so important!
Pushkar is all Vegetarian with no Eggs either
As Pushkar is very spiritual and holy it is a totally meat-free town and area, and there are no eggs either. It's not Vegan as Cow products like milk, cheese and yoghurt are available but if you have been eating meat in India up until now, you won't have access to any meat in Pushkar.
That's not a problem though as there are so many great places to eat in Pushkar and it's a great place to enjoy some Western and International Cuisine, as well as some Healthy Food too! Be sure to check out my post on The Best Places to Eat in Pushkar!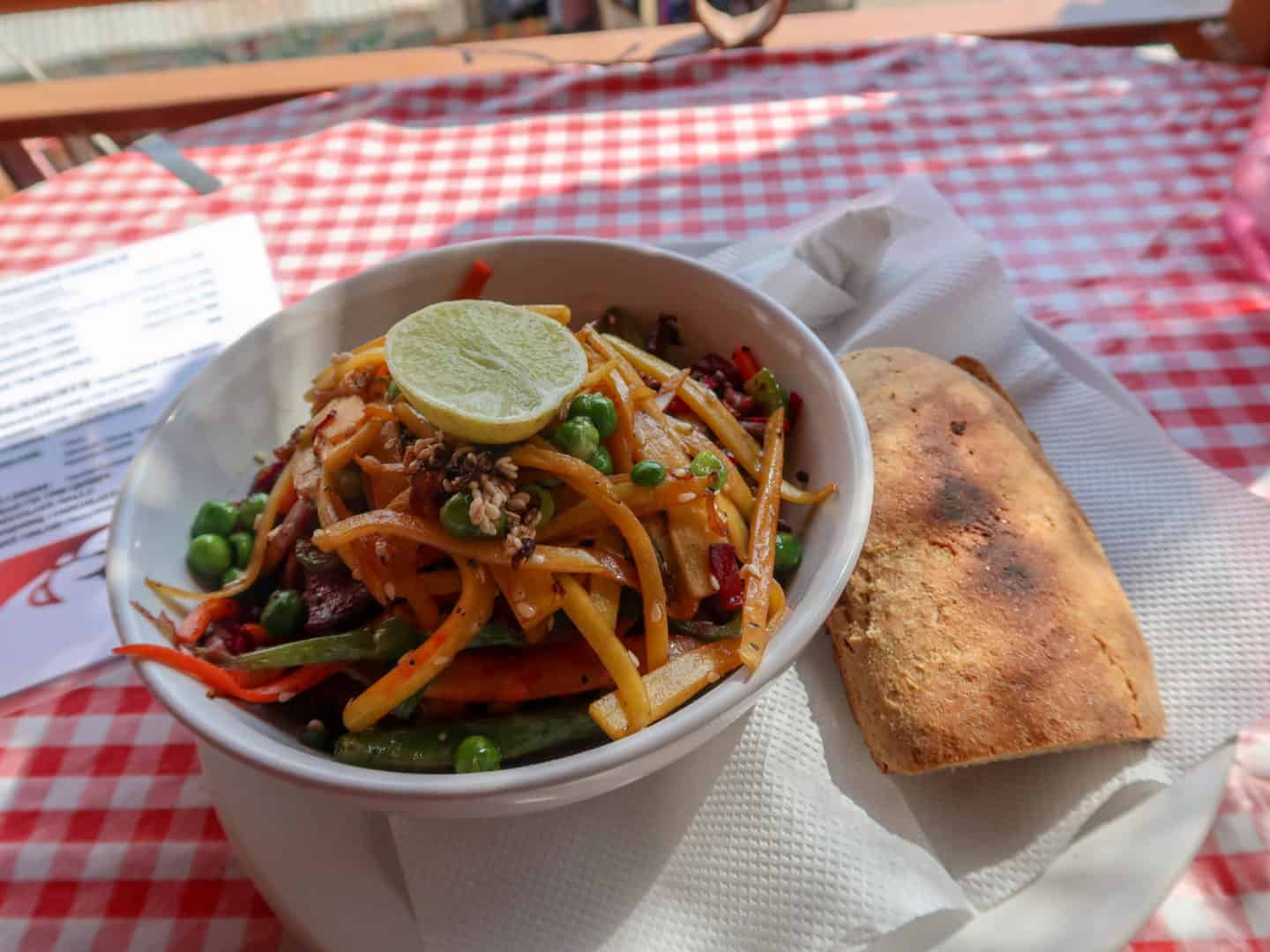 It's a Dry Zone
As well as there being no meat or eggs, there's no alcohol in Pushkar, again for religious purposes. I re-visited Pushkar in 2020 and I noticed a few places offering alcohol in Pushkar however they will not put it on the menu, the staff will either ask you or you have to ask them! There are plenty of chai and juice stands though.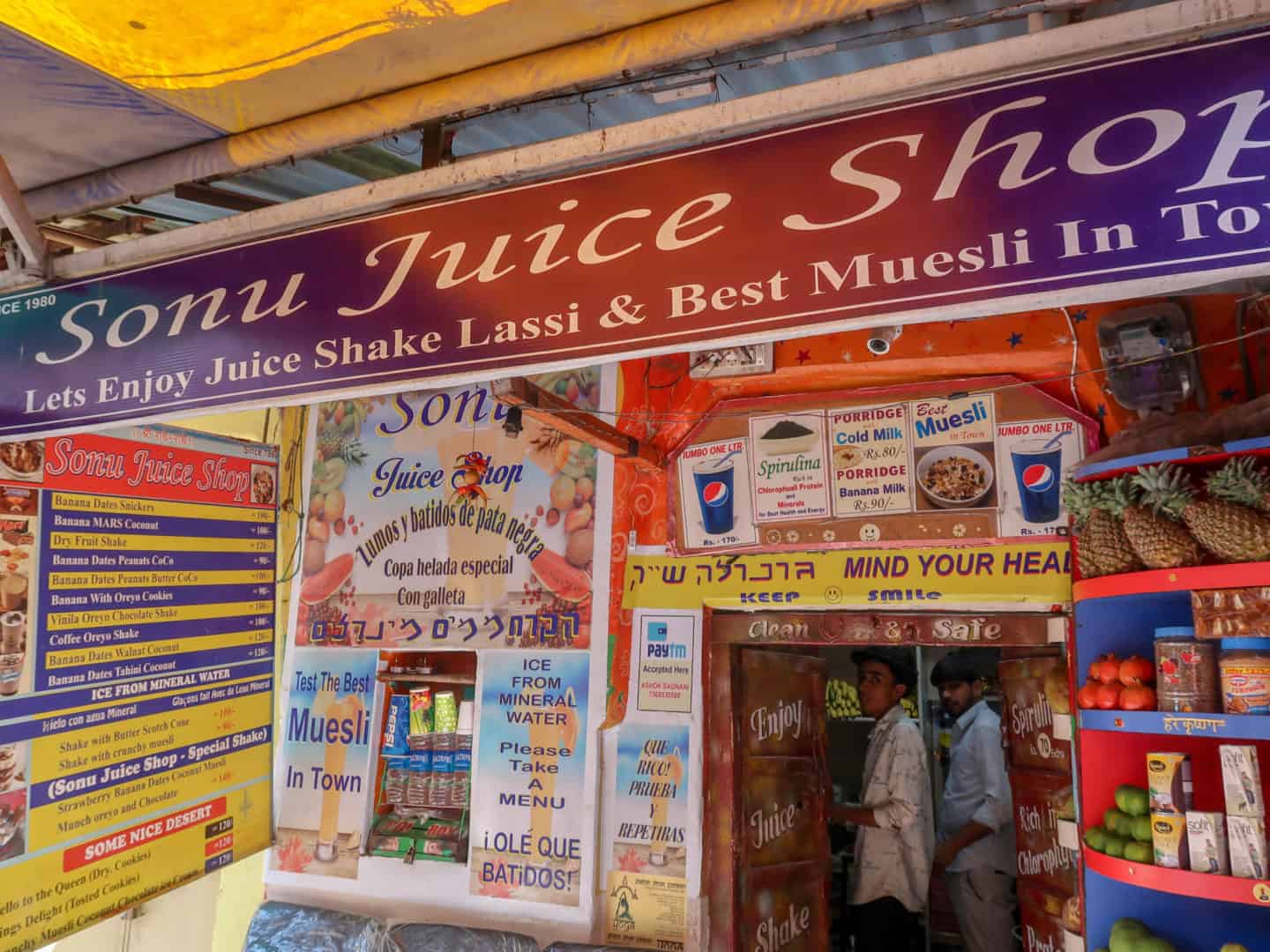 Take off your Shoes around the Holy Lake
Out of all of the places to visit in Pushkar you'll probably find yourself at the lake a few times.
A big Pushkar travel tip is that no shoes are allowed on around the lake, but to be honest if you forget or don't realise you'll be told pretty quickly by the locals! As soon as you start walking down one of the many sets of stairs towards the lake you'll see signs for no shoes and a place to put your shoes. It is a big no-no to wear shoes by the lake and even crossing the bridges over the lake.
It's also a no-no if you're sitting down and have your shoes out lying on the floor next to you, basically, do not let your shoes touch the area by the lake!
There are a lot of cows and therefore cow food and cow dung on the floor so watch where you're stepping but it's all part of the experience too!
You can leave your shoes, walk around and come back but to be honest I'd recommend putting them in your bag, that way you don't have to return back to the same place you left them.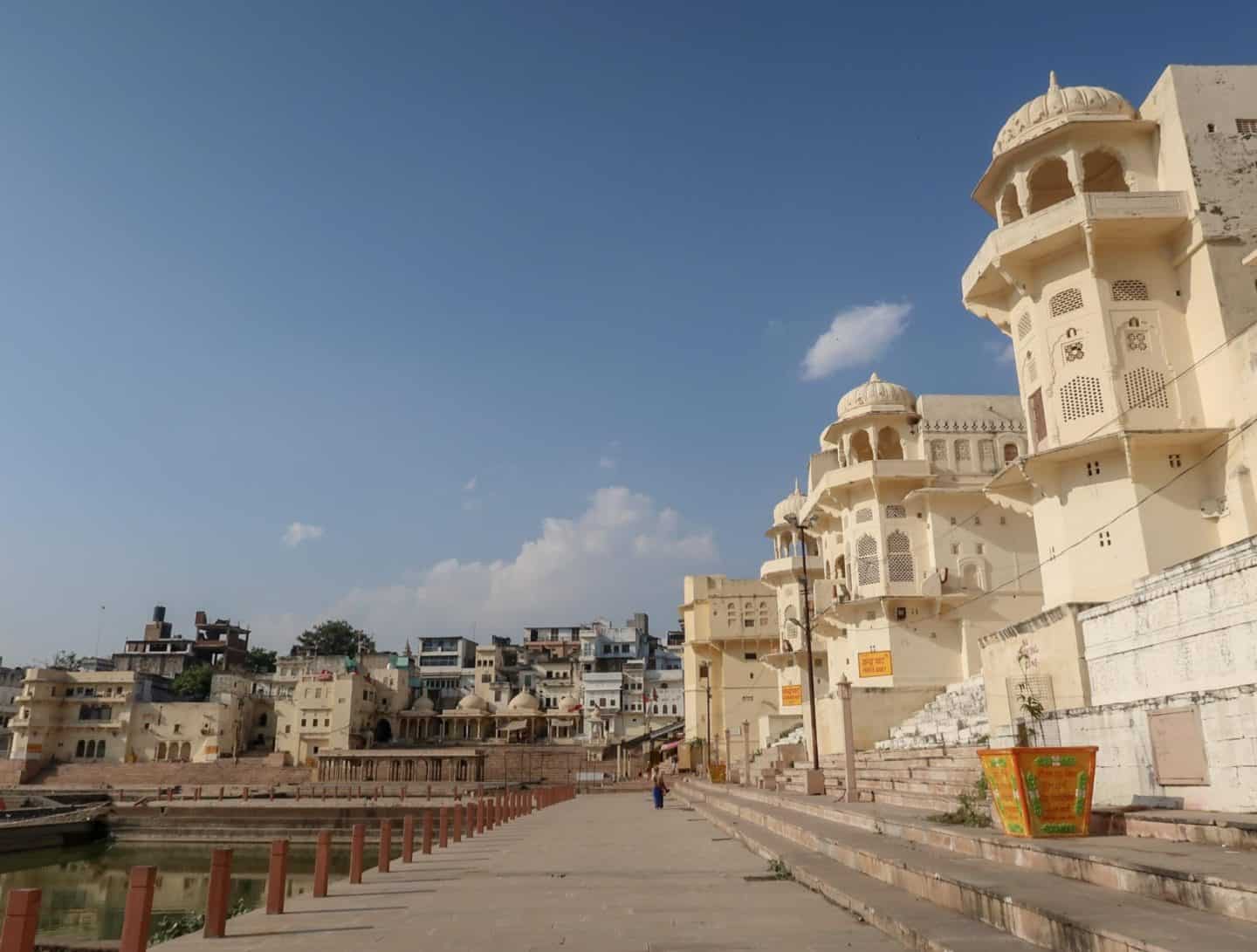 BOOKING TRAINS IN INDIA
India is best travelled by train because its the quickest, cheapest and best way of getting to know the country. For an EASY option of booking trains in India use 12GO to search and book trains really easily. If you'll be in India for awhile, you can use the local booking system, it's a bit tricker but possible, here's my post on how to book trains in India as a tourist.
BEST ACCOMMODATION IN INDIA
I always use Booking.com to book my hotels in India and Hostelworld to book my hostels. India has a great range of accommodation with brilliant hostel chains like Moustache, Zostel and Backpacker Panda as well as homestays to luxury hotels.
GUIDED TOURS IN INDIA
Many cities in India are best seen with a guide, even if it's just a half day tour on your first day. Cities in India are chaotic and complex and what better way to taste the food and get to know the city than with a local. I recommend Get Your Guide & Viator for the best tours in India!
Watch out for the Scams in Pushkar
Related: Top Tourist Scams In India & How To Avoid Them!
The only place you can really get scammed in Pushkar from my experience is around the Lake and in the Brahma Temple when it comes to blessings and being shown around.
As a foreigner you'll be handed a flower near the lake and asked to put it in the water, if you refuse like me you'll be told you are rude. If you don't want the flower and don't want to get into a situation with them, just keep walking and they will stop shouting at you.
From my experience usually, the person who gives you the flower will want to talk you through what to do with it and how to offer it to the Lake and this will come with a price tag.
I wanted to be blessed as it felt like an experience but I didn't know how to go about it. As it turns out when I visited the Brahma Temple in Pushkar, a guy pretty much got hold of me straight away showed me around and then took me to the Lake without me really being able to say no (although I could have if I really wanted to, it wasn't in a scary or dangerous way).
We went down to the lake where a priest came and he started the blessing, it's a shame as I was very on edge as to when he might ask for money and I had heard people being told they need to pay thousands of rupees and I didn't want there to be a scene.
Towards the end, he asked me how many days I wanted to feed the people who worked here for. One day is 1000Rs. I wasn't about to give him 1000Rs and I didn't have that on me anyway.
I told him that during the blessing (which took away from how special it is meant to be) and instead offered 200Rs as that's all I had in small change. He said that was fine, although wasn't that impressed and directed me to a donation window where they take the money after the blessings.
A few days before I had a not so nice situation as a guy gave me a flower and directed me to the Lake, I got up from the water as soon as I started to feel like this wasn't genuine and I said I wouldn't pay. The guy got very angry with me and shouted at me a lot telling me to leave the lake. I shouted back, in the end, telling him to leave me alone and that did the trick.
Basically around Pushkar Lake and around Brahma Temple just be wary, be confident in saying no and walk away if you feel uncomfortable.
You are allowed by the lake without offering anything to it and you can walk around as you please (just not wearing shoes), if you want to be blessed then ask one of the priests you see but have a few hundred rupee ready and don't pay anymore than that. Say that is all you have.
No Smoking and No Photography around the Lake
Again, this area is very holy so no smoking is allowed and there are also a lot of signs saying no photography. I did take a few pictures but I was wary where I took them so just be aware of this and respectful.
On a more light-hearted note..
Have Room in your Bag!
The shopping in Pushkar is really good! The streets are full of stores selling all kinds of things, so so many clothes, books, crystals, CD's, bags, scarfs, everything you could ever want and need, plus more! It's also really cheap and it must be one of the cheapest places in India to shop, or at least the best place to shop in Rajasthan so have room to pack it all in!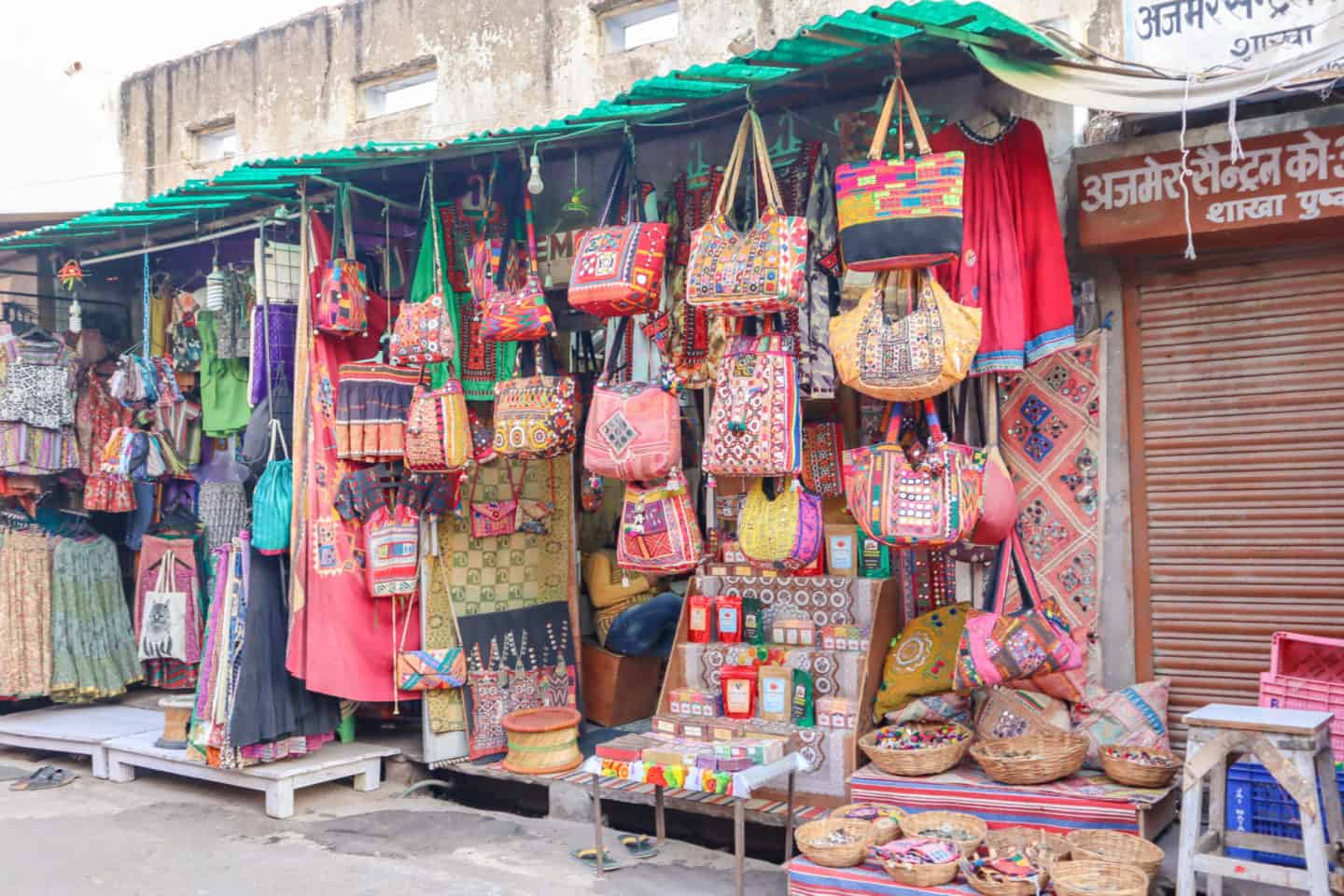 Prepare to stay here longer than Planned!
Pushkar is a traveller and backpacker haven, down by the Lake and the Ghat's it can be quite crazy and intense and the streets are still fairly busy with traffic but it also has a very relaxed vibe. It's easy to fall into a routine of going to yoga, going to get chai, having lunch, walking around the markets, watching the sunset and having dinner at your new favourite place.
I could tell a lot of foreigners in Pushkar had been there for a while and I overheard some people say they'd been there for a few weeks which I can totally tell and see why to be honest.
If you need a break from travelling or need to get on with some work and need a base in India (which is why I stayed there for a week) I'd recommend Pushkar as the best place to do this in India and I'd recommend booking a few extra days than you initially thought!
Check for the best hotels in Pushkar here on Booking.com. I use Booking.com for all of my bookings as I love the flexible cancellation options just incase my plans do change!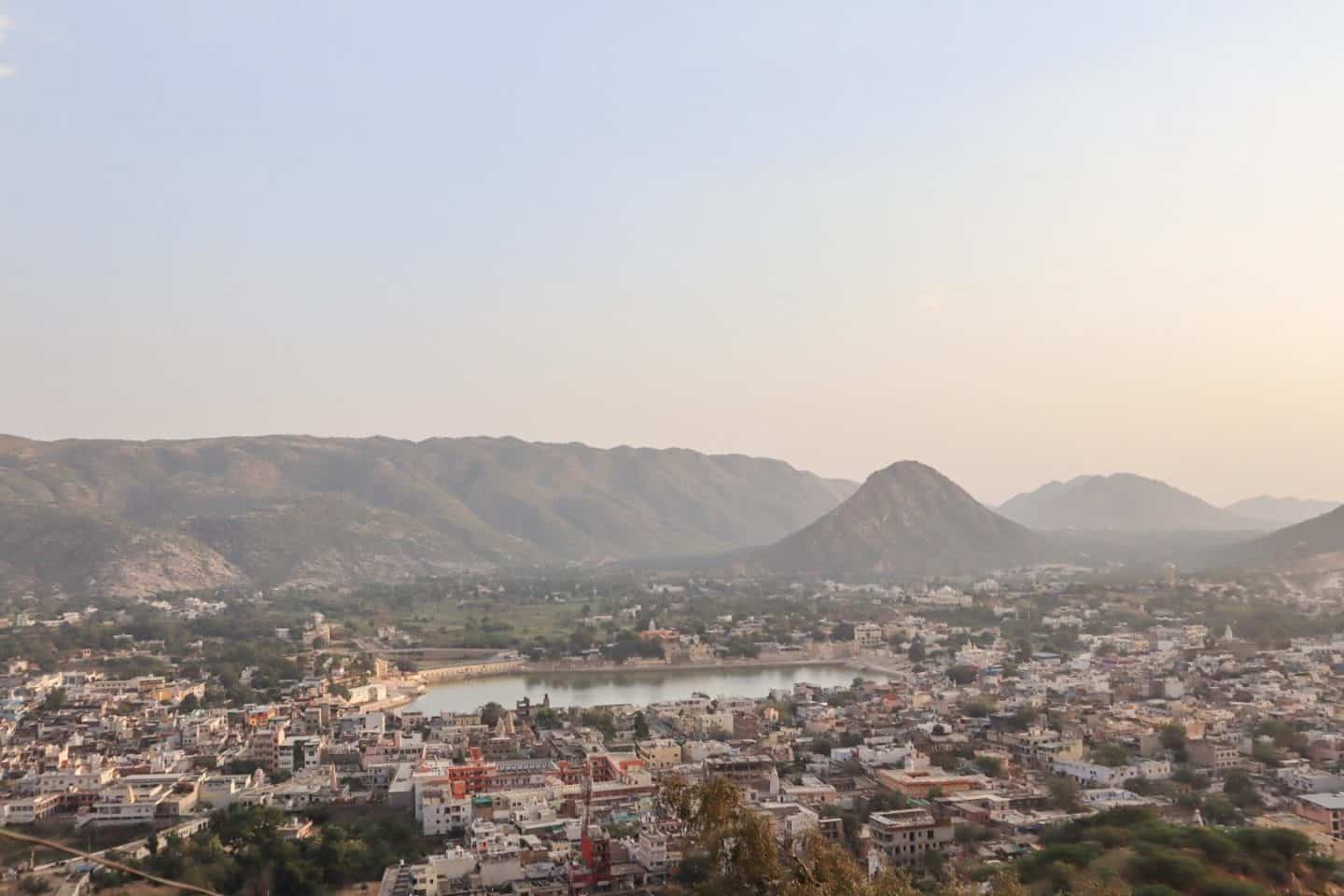 I hope these Pushkar Travel Tips help you have a great stay in Pushkar India!
To SEE Pushkar, have a watch of my YouTube video here