This post may contain affiliate links. I will receive a small commission if you use these links.
---
Whether you live in London or you're just visiting London, here is how I recommend you spend one day in Hampstead!
If you ask a Londoner what the prettiest neighbourhood in London is they'll probably reply with Hampstead!
Not only is it beautiful but it makes you feel like you're a million miles away from London in a small village with beautiful old houses, colourful front doors, endless cafes, cute side streets and the huge green park of Hampstead Heath.
But, actually, you're still in Zone 2 of London City and from the top of Hampstead Heath, you have an incredible view of the city skyline below reminding you just how close you actually are!
Hampstead Guide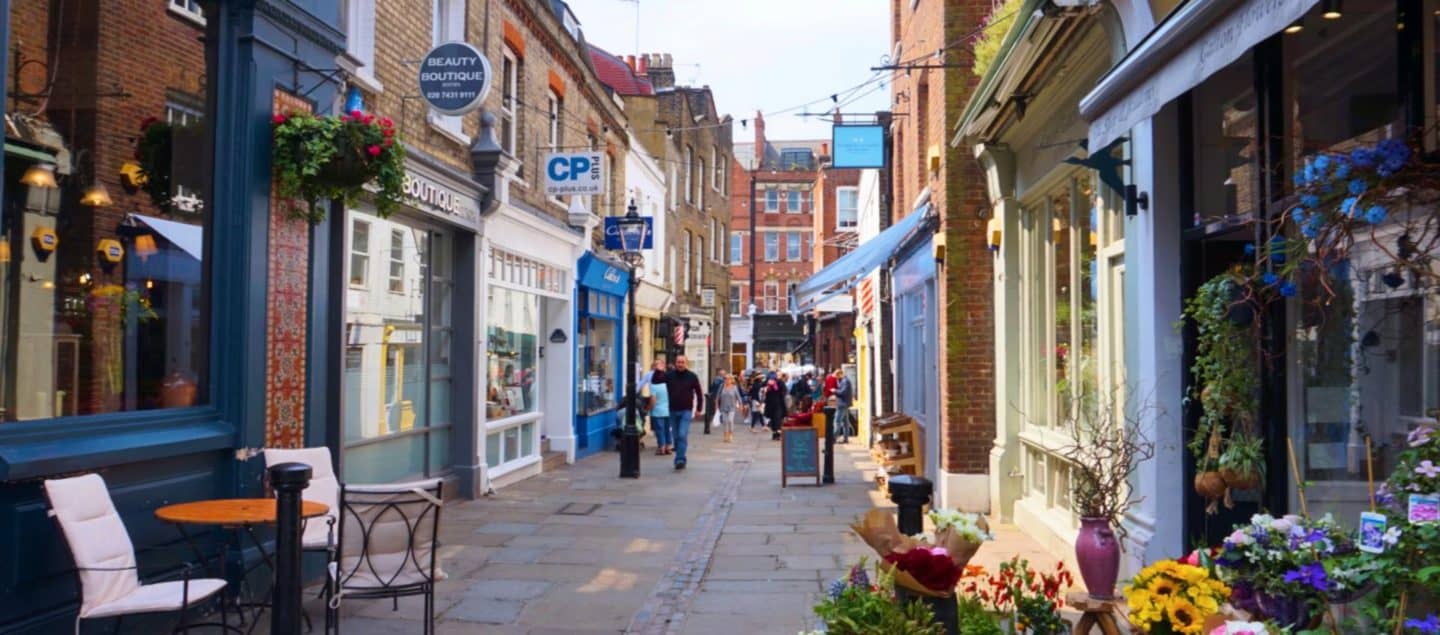 Best Time To Visit Hampstead
Any day in Hampstead is a good day, trust me I lived there for 2.5 years and I love this neighbourhood so much, but weekends in Hampstead are particularly lovely as everyone is making the most of their days off work, leisurely walking around with a coffee and browsing the stores so they are the best time to visit Hampstead.
In terms of the best time of year to visit Hampstead, Hampstead offers something different in all seasons so there's no best or worse time of year to visit.
How to Get to Hampstead London?
Hampstead has 2 stations- Hampstead Station on the Northern Line and Hampstead Heath on the Overground Line. (FYI- I'm basing the below guide to Hampstead on you getting off at Hampstead Underground station)
If you're not in London already and need to book train tickets to London, be sure to check out The Train Line. I use them all the time to compare the best train times, journey lengths and prices!
How To Spend a Day in Hampstead
Hampstead High Street
The first thing I would suggest is checking out the High Street and making sure that you take all the little streets off of the high street too as they are so lovely! Perrins Court is one of my favourites!
Related Post: 30 Things To Do in Hampstead London!
Brunch and Coffee in Hampstead
There's an array of places to get breakfast and/or a coffee in Hampstead from the chain cafes of Le Pain Quotidien, to Pauls, to Gails, to the independent cafes like Ginger & White, Coffee Cup and Melrose and Morgan.
Related Posts: Where to Eat Brunch in Hampstead and The Best Cafes in Hampstead to Visit!
Shopping in Hampstead
Hampstead is also home to lovely shops and stores, again a few chain stores and some independent stores.
They are, however, fairly upmarket stores (Hampstead is pretty fancy!) but if you want a bargain then there are a few charity shops which are more upmarket than you're usual charity shop elsewhere if you know what I mean!
Once you have had a walk around the High Street head up Flask Walk which is the little street next to Pauls Bakery.
This section of the street is only small but it's lovely, especially with the antique shop and the florist shops spilling out onto the street.
Related Post: A Walking Guide Around Beautiful Hampstead, London.
If you're hungry or need a sugar pick-me-up then stop off at Oddono's Italian Ice Cream shop on Flask Walk, I can tell you first hand that their ice cream is amazing and during the Summer there's usually a queue right out the door to prove it!
CAR HIRE IN HAMPSTEAD

If you're reading this post with future dreams of going Hampstead but don't have a car, visit Rentalcars to get a quote. They search all of the top rental companies like Budget and Hertz to get you the best price!

Search car rental prices here!
Burgh House and Hampstead Museum
From here carry on down Flask Walk Road where you'll pass by the dreamiest houses with lovely coloured doors and onto Wells Walk Road where you'll pass by the Burgh House and Hampstead Museum which is a beautiful building and one of the museums in Hampstead if you fancy popping in and they also have a cafe.
Alternatively keep going straight, straight, straight until you enter Hampstead Heath Park.
Hampstead Heath
Hampstead Heath is a pretty huge park so I would suggest deciding whether you want to visit the famous Kenwood House– a 17th century Country House or whether you want to see the view of the city from Parliament Hill.
Personally I would head to Parliament Hill and then continue walking around and seeing some of the ponds.
If you're visiting in the Summer then why not pack a picnic and enjoy a picnic with a city view AND if you're brave enough then pack some swimming gear and go swimming in one of the swimming ponds!
Related Posts: What To Do On Hampstead Heath and How To Swim in the Hampstead Heath Ponds.
Pubs in Hampstead
After you've spent enough time in the park the exit at Downshire Hill and walk down South End Road which is where Hampstead Heath Overground station is and there's a few cafes, restaurants and pubs down here that are perfect for lunch and a drink.
There is also an amazing Italian restaurant in Hampstead Heath called Mimmo La Bufala or there are some coffee shops if you just want a coffee.
Related Post: The Best Pubs in Hampstead to Visit!
From there you can take any of the streets back up to the main High Street but Keats Grove is one of my favourites and from the High Street I suggest you carry on up past the Station and head uphill up Heath Street.
Then just wander the small streets that come off either side of Heath Street, you'll find that some of these really make you feel like you're in a village in the Country!
Wander until you find your way back down to the station!
After all of this, you'll probably be ready to leave Hampstead but at the same time, you'll probably never want to leave either!
Hampstead is great to visit any day of the week but as I said there's such a different vibe on the weekends so if you can visit then, I would!!