This post may contain affiliate links. I will receive a small commission if you use these links.
---
I ended by 10 days in Turkey with 3 days in Istanbul! I had high expectations for Istanbul as I knew there were so many things to see in Istanbul and so many things to do in Istanbul. What I hadn't quite expected was how huge and spread out the city is especially if you want to see tourist attractions in Istanbul and local neighbourhoods!
I managed to see a lot on my 3 day Istanbul itinerary though including going over to Kadikoy, the Asian side of Istanbul. So here's my Istanbul itinerary and how I recommend you spend 3 days in Istanbul too!
3 Day Istanbul Itinerary
This 3 day Istanbul itinerary is your ticket to the city's most iconic landmarks, hidden gems, and unforgettable experiences. Read below to explore more:
1 Day in Istanbul
Sultanahmet Tourist Attractions
Step into the pages of history as you explore Sultanahmet, Istanbul's treasure trove of ancient wonders and captivating tales
Galata Bridge
Once arriving in Istanbul centre I recommend heading straight to the Sultanahmet side of the city because this is where all of the main Istanbul tourist attractions are. I had to cross over the Galata Bridge to start with which gave me a fantastic view over the river and the mosques on the other side, it was a good way to start my 3 days in Istanbul!
Blue Mosque
There are many attractions and activities in Istanbul. I started off visiting the Blue Mosque which isn't as blue inside as you may think but it was very beautiful and best of all its FREE to enter!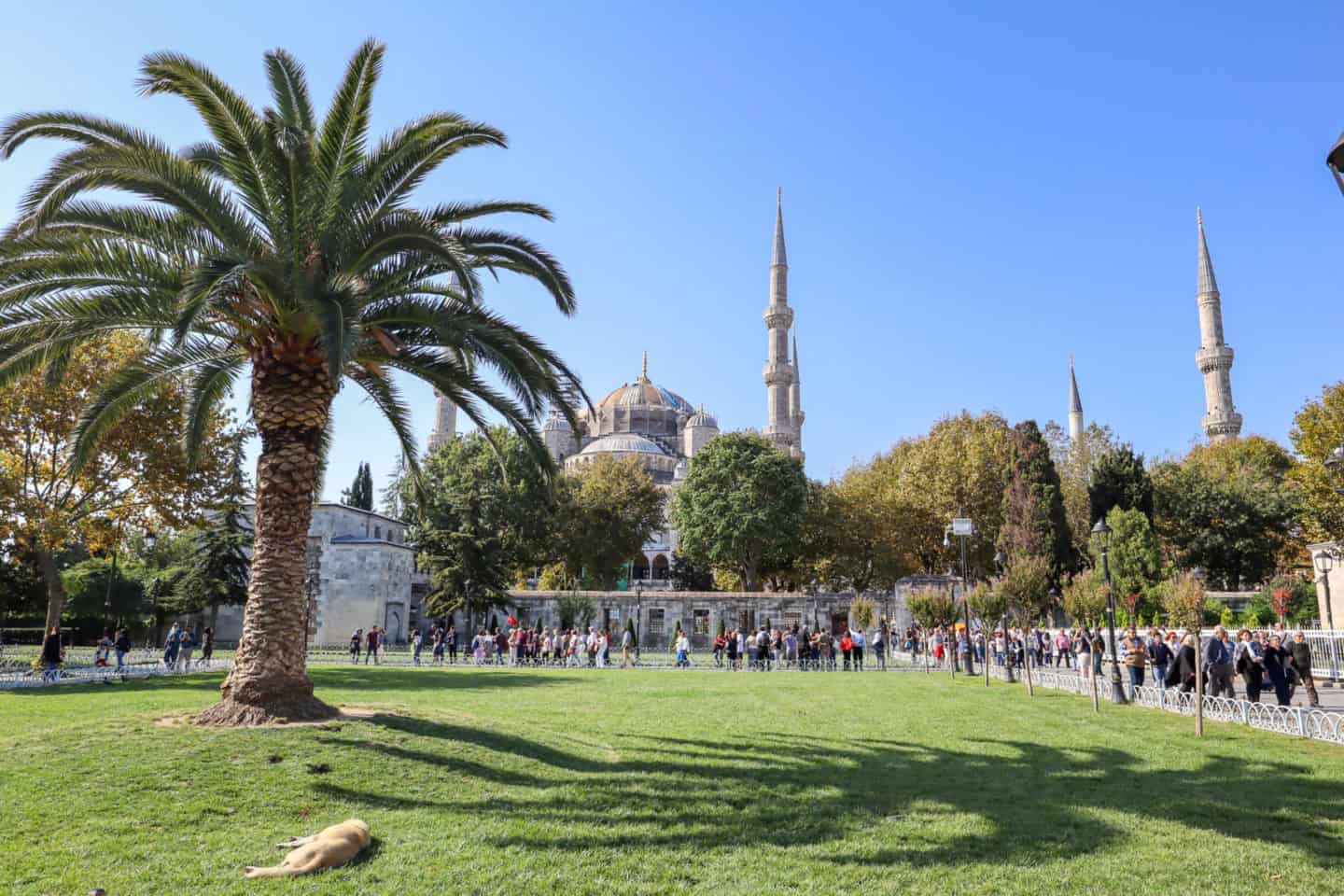 Hagia Sophia
I then crossed the square and headed to Hagia Sophia. Earlier this year I read Dan Brown's book Inferno (which I highly recommend!) and this building plays a big part in the book.
I'll warn you now that you do have to be careful around here. A lot of men will be selling themselves as a tour guide, which is fine if you want one but it can get annoying if you don't so be firm in your response if you don't want one.
I would recommend booking a guided tour online and purchasing a skip the queue ticket in advance as the queues here can get very long. You can book a ticket online like this: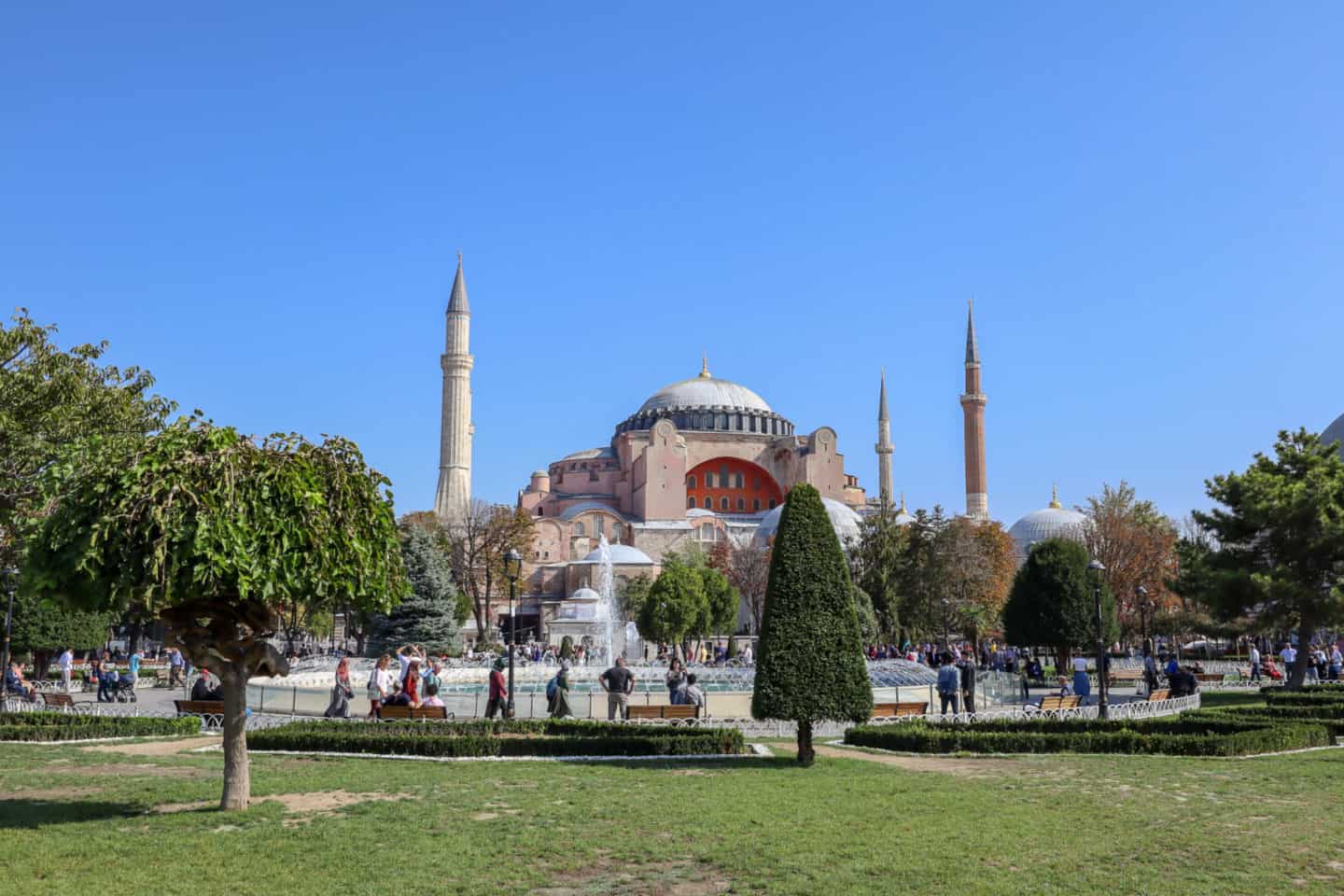 Basilica Cistern
My next stop, as with Dan Brown's book (although writing this may have just given away part of the ending so sorry!) was the Basilica Cistern, which took some finding as there's only a small building on the street level where the tickets are sold and then it all goes underground!
This is a huge area used to hold water for the city built in AD 532, and from the outset, it sounds quite boring but along with reading the book and the ery-ness down there it was quite an interesting place to visit.
Grand Bazaar and Spice Market
From things to do in Istanbul, you are very close to the Grand Bazaar and Spice Market so they are a good place to visit next and to keep your Istanbul sightseeing together with just 3 days in Istanbul!
Both markets are a fun place to visit although the men working in there can get a bit annoying as they are very salesy and I had a few inappropriate comments as a solo female in Istanbul.
Other attractions you can visit in the Sultanahmet area of Istanbul is the Topkapi Palace, Dolmabahçe Palace and Suleymaniye Mosque!
Istanbul Guided City Tours
This part of Istanbul is big, busy and fascinating. If you want to see the area in the easiest way possible and learn a lot whilst you're seeing it, I really recommend booking a city tour like these tours below so you can see all the things to see in Istanbul in 3 days but also learn a lot too!
2 Days in Istanbul
From sunrise over the Bosphorus to sunset atop the Galata Tower, 2 days in Istanbul promises an adventure of a lifetime
Taksim
Taksim Square and Istiklal Avenue is a completely different part of the city, it's much more modern with high street shops. It wasn't my favourite area when I visited but I think with 3 days in Istanbul, it's good to see this side of the city too.
To get here, you can use public transport which includes taking the tram and funicular which is an experience. You'll also need to get an 'Istanbulkart' to use the transport. In this post, I detail how to get an Istanbulkart and use public transport!
Galata Tower
If you keep walking all the way from Istiklal Avenue you'll soon reach the Galata Tower and neighbourhood which is a good area of Istanbul to see and it has plenty of cafes and restaurants for lunch.
You can also go up to the top of the Galata Tower to see an amazing view of Istanbul!
Bosphorus Boat Trip
Come afternoon or evening on day 2 of your 3 day Istanbul itinerary, I recommend getting out onto the Bosphorus which is one of the most enjoyable things I did with my 3 days in Istanbul!
3 Days in Istanbul
3 days in Istanbul might seem bried, it's a gateway to centuries of history, a palette of flavors, and the heartbeat of a city like no other.
Kadikoy
On your last day of the 3 days in Istanbul, I recommend going to an off the beaten path place in Istanbul!
Personally, I headed over to Kadikoy which is the Asian side of Istanbul. This was something I had really wanted to do seen as the city is split over two Continents, how cool that you can visit Europe and Asia within an hour!
I have written another post on my day on the Asian Side of Istanbul here and I would highly recommend adding it into your Istanbul itinerary as it really made my 3 days in Istanbul!
Turkish Hammam
To end your 3 days in Istanbul in a mildly relaxing manner, I suggest visiting a Turkish Bath or Hammam as they are known which is an experience, to say the least.
To end your 3 days in Istanbul, head back to the Galata Bridge to catch the sunset!
Accommodation in Istanbul
It is really important that you stay in a good area of Istanbul and close to the tourist attractions if that's what you want to see. Have a look at accommodation in Istanbul here